---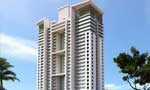 The newly constructed Fairways SkyGardens was ceremonially handed over to its valued clients yesterday.The 31-storey Fairways SkyGardens is located in scenic Rajagiriya, the fast growing urban residential area in Colombo. It is adjacent to the wetlands and in close proximity to all the conveniences the city offers and is an ideal haven to be away from the hustle and bustle of city life for tranquil living in a peaceful, natural environment.

This steep high rise is built on a reinforced concrete pile foundation and shatterproof tubular structure. It boasts of 127 state– of– the - art luxury apartments and two super luxury penthouse suites with three high speed elevators offering the ultimate living experience with stunning all round views of the wetland, lakes, waterways and the cityscape of Colombo.

The rooftop houses the largest sky garden in Sri Lanka with a walking track, benches and greenery. Atop is the helipad for the option of air travel. The common amenities are inclusive of swimming pool, gym, banquet hall, business center and indoor games area with several multi-level car ports for convenient parking. Furthermore, a clubhouse planned for the immediate future with squash, badminton, and basketball courts will also be available with a diner and mini-mart to provide every conceivable lifestyle.

All apartments are equipped with LED lights for lower energy consumption, air conditioners with inverter technology, self-cleaning wc's using the latest nano technology, all windows use double glazed glass for low heat transmission to save energy and seamless Samsung Staron kitchen tops for easy maintenance. This majestic high rise contributes to a smaller ecological footprint and a lesser impact on nature.

Environmentally-friendly practices have been the hallmark in constructing all aspects of this abode in the skies. While limestone has been avoided to lessen impact on nature, locally harvested timber is shunned to reduce the toll on forests and all wooden doors are made of re-engineered timber harvested responsibly in line with the Fairway best of class practices and the main door is fire rated with electronic card access.

Furthermore, all safety precautions have been installed including fire and gas detection systems. A self-cleaning garbage disposal chute is located in every floor with a UV lit temperature controlled collection point. The SkyGardens comes complete with 24 hour security and a sewage treatment plant with outflow recycled and rainwater harvesting for gardening purposes. The Fairways Group was formed in 2003 by a team of individuals led by Hemaka De Alwis, who were inspired to spearhead luxury living with vertical solutions in an environmentally sustainable context. The group harnesses the best talents of the construction industry and cutting edge technology to give occupants the finest in workmanship and materials.
The Fairway on the Waterfront and the Fairmount Urban Oasis completed in 2007 and 2010 respectively stand sentinel to the group's excellent track record with both winning ICTAD awards for construction excellence. This newly launched Fairway SkyGardens constitutes the 3rd successful tower residence of Fairway Holdings while the construction of the fourth edifice, 'The Elements' is underway and estimated to be completed in early 2017.In addition, Fairway Holdings has just launched their first ever out-of-Colombo project 'Fairway Galle' with an overwhelming response within the first 2 weeks of its announcement.