---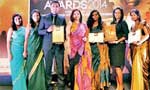 DIMO's unique approach to talent development and commitment to deliver its employee value proposition of 'making work enjoyable and rewarding' through alignment to business strategy, capability building and employee engagement resulted in DIMO being recognized with a Gold award at the SLITAD People Development Awards held recently.
SLITAD People Development Awards are presented by the Sri Lanka Institute of Training and Development (SLITAD) which is a non-profit organization striving to promote and propagate best practices in people development in the country.

This year's awards saw the participation of a large number of local private and public sector organizations out of which 23 were selected to the final round of evaluation. They were selected based on a criterion presented by the institute, which focused on ten key aspects.

This framework was used to assess the organizations' on aspects including business and people management strategy, effectiveness of management, learning and development strategy, performance measurement and commitment to continuous improvement as well as the organization's effort and innovativeness in training and development practices. An audit committee comprised of academics from the University of Colombo and an eminent panel of judges selected the recipients of gold, silver and bronze awards.

In addition to being placed among the Top 15 great places to work in Sri Lanka for 2013 and 2014, which is a prestigious recognition offered by the Great Place to Work Institute, being recognized with SLITAD People Development award affirms DIMO's commitment to add value to the lives of all their tribe members and their status as an employer of choice to a diverse group of staff.