---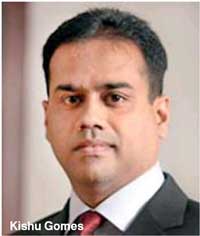 Marketer of Caltex branded lubricants Havoline, Delo and Lanka, Chevron Lubricants Lanka PLC's net profit for the quarter ended June 30, 2012 rose 26 percent year-on-year (YoY) to Rs.533.2 million, the interim financials submitted to the Colombo Stock Exchange showed.

This was largely attributable to the increase in the firm's operating profit from Rs.584.2 million during 2Q11 to Rs.672 million in 2Q12.

Finance income increased considerably to Rs.57.3 million during the quarter from Rs.2 million in 2011 while finance costs reduced to Rs.694, 000 during the quarter under consideration from Rs.5.2 million in 2011.

Earnings per Share (EPS) stood at Rs.4.44 for the quarter under review as against Rs.3.52 during the corresponding period of the previous year.

"The recent adverse macro economic developments did affect our results to a certain extent during 2Q but the full impact of it will be felt going forward if the conditions remain the same," Kishu Gomes, Managing Director/ CEO, Chevron Lubricants said.

He further stated that the current volatile economic environment and the consequent poor market sentiments can have an adverse impact on the industry growth.

"These compounded by industry specific challenges such as high fuel cost, increased duty on vehicle importation and the European market volatility posing challenges to the exporters in the industrial lubricant market segment will also effect growth," Gomes added.

The Company's Bangladesh operations too is faced with severe economic issues affecting its growth plans while the Maldives market has fared well in terms of volume and margin.

"Recent severe draught experienced in the north western and eastern regions of the country may have had an impact on our volume in the short term," the CEO noted.

Meanwhile for the six months ended June 30, 2012, Chevron Lubricants posted a net profit of Rs.1.2 billion as against Rs.835.7 million during the corresponding period of the previous year.

EPS during the period under review stood at Rs.9.95 in contrast to Rs.6.96 during 1H11. Chevron Lubricants Lanka is in the business of importing, blending, distributing and marketing of lubricant oils and greases.