---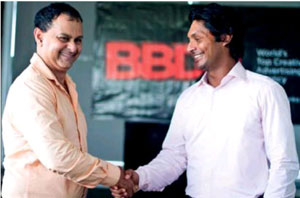 The brainchild of Kumar Sangakkara and The Foundation of Goodness, 'Bikes for Life' aims to raise funds to be gifted to children in the North; enabling them to pursue their education and providing them with an opportunity to enhance their quality of life. The major focus of this initiative is to break the vicious cycle of poverty plaguing the residents of the North post war. As a part of an ongoing campaign to involve itself with the communities it works with, the employees of BBDO Lanka recently aligned itself with the initiative by way of a contribution to further the cause.

As of May 2012, 900 children have received bikes, marking a newfound hope for them and their families. The current objective of the campaign is to raise Rs. 19 million to purchase 1500 bikes for distribution in rural areas surrounding Kilinochchi, Mankulam and Mullaitivu.

Santosh Menon, Managing Director of BBDO Lanka elaborated on the company's involvement with the project. "Through 'Bikes for Life' we at BBDO Lanka see an opportunity to actively help the children and families of the North. This was one of the instances where we came across a great cause backed by an individual with a big heart that works simple wonders to touch the lives of people in desperate need of help. Kumar's initiative is truly awe-inspiring. It gives us great pleasure to make a contribution, to help families move towards a brighter future."

After the turbulent civil war that destroyed countless families and their homes in the north, the Government of Sri Lanka has begun rebuilding communities and the economy by providing infrastructure, education, health care and employment. And while development is underway, certain rural areas have been harder to help due to the lack of basic infrastructure and roadways. Therefore, it is important to do whatever is possible to help the people in these areas. For the most part, a basic mode of transportation goes a long way in aiding families, children and their communities as a whole.

"Bikes for Life aims to ease the burden many families in the North face", said Sangakkara. "By providing the younger generation with the means to gain an education, we are contributing to a re-building effort that is of immense importance. These families have already been through unimaginable trials, they deserve every bit of help each of us can bring to the table. I am extremely grateful to the employees of BBDO Lanka for helping us with our simple cause. It is very heartening to see employees of an organization contributing towards cause. And, understanding how important it is to make a difference."

Caught up in the race, oftentimes we forget the hardships of those worse off than ourselves. Opportunities to make a change are all around us - by being selfless and working together, we make a difference that will touch countless lives.

---
Add comment

Comments will be edited (grammar, spelling and slang) and authorized at the discretion of Daily Mirror online. The website also has the right not to publish selected comments.

---