---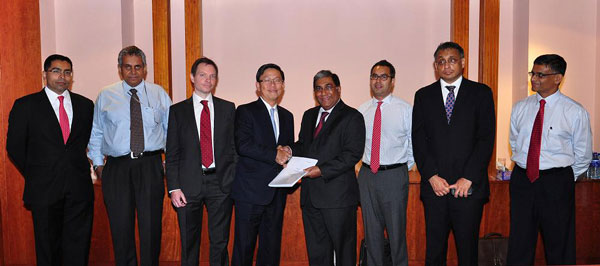 AIA Regional Chief Executive Huynh Thanh Phong shaking hands with NDB Bank's Chief Executive Officer Russel De Mel soon after the transaction was completed

Asian insurance giant, AIA Group Limited, which is listed on the Hong Kong Stock Exchange, yesterday said it has closed the acquisition of Aviva NDB Insurance PLC (CTCE) as the company acquired 92.3% of the firm in a US$ 109 million deal that was announced in September, this year.

According to a statement issued by CTCE, following the transaction, the company will be renamed and rebranded as AIA in early 2013.

"We are delighted that this transaction has closed and we are now part of AIA, one of the strongest and largest insurance companies in the world. Our company is already number two in the market in Sri Lanka and we look forward to building on this position and serving an increasing customer base as part of AIA," CTCE Managing Director Shah Rouf said.

AIA acquired the entire stake in unlisted Aviva NDB Holdings Lanka (Private) Limited, from Aviva Asia Holdings Private Limited and NDB Capital Holdings PLC (CDIC).

Aviva NDB Holdings Lanka (Private) Limited held a direct shareholding of 87.27% in Aviva NDB Insurance PLC.

In Se ptember, American International Assurance Company (AIA) said that it was paying US$ 109 million for the 92.3% stake in CTCE held by Aviva, UK (51%) and National Development Bank and its subsidiary, NDB Capital Holdings PLC (CDIC) (41.3%), through Aviva NDB Holdings.

AIA has also acquired the 5% direct shareholding in Aviva NDB directly held by CDIC.

According to brokers, CDIC was seen selling 1.5 million shares of CTCE to AIA yesterday, each share at Rs.349 in a deal amounting to Rs.523.5 million.

Through this transaction, AIA's total shareholding in ANI amounted to 92.3%. AIA was ranked fifth in the world by market capitalisation with a market value of US$ 47 billion as of November 24, 2012.

Meanwhile, according to a research report by CT Smith Stockbrokers, NDB stands to get an estimated 43% premium for its minority stake of 41.3% over Aviva's 51%, subsequent to the deal.

According to sources, the disparity between the prices and the stakes pertaining to the transaction was likely to be a result of the exclusive bancassurance deal NDB entered with AIA for 20 years and the proposed purchase of balance shareholding of NDB Aviva Wealth Management PLC by NDB group.

On the day the deal was announced in September, NDB in a statement said that the net receipt from this transaction for the NDB group would amount to US$ 59 million and a senior bank official told Mirror Business that the capital gain for the group would be around Rs.6.5 billion.
---
Add comment

Comments will be edited (grammar, spelling and slang) and authorized at the discretion of Daily Mirror online. The website also has the right not to publish selected comments.

---