---
Hassani Group of companies in Dubai launched its operations in Sri Lanka under their global brand name "SAFA" by partnering with Hayley's Agriculture for franchised manufacturing and East West Marketing to market and distribute a range of its manufactured food categories such as juices, pasta, sauces, mayonnaises, tomato paste and many more.

The lime light of the launch was the unavailing of SAFA range fruit juices which was held at Kingsbury hotel - Colombo. The chief guest of honor was our legendary Muttiah Muralidran and was well attended by dignified personalities, Mr.Mahmood Hassani – Managing Director of Hassani group's international arm, Mr. Mathivanan Managing director East west marketing pvt ltd, Mr. Charaka Perera Head of business - Asia, EU and US continents. Mr. Ananda Pathirage – CEO HJS condiments a subsidiary of Hayley's Agriculture, Mr. Sumith De Silva General manger East West Marketing Pvt Ltd followed with special invitees, number of journalists, manufacturing team of Hayley's and the entire marketing and sales force of East west marketing Pvt Ltd.

Mr. Mathivanan delivering the welcome speech emphasized the confidence of what will be truly a winning partnership between Hassani group, Hayleys and EWM. Mr. Hassani addressing the gathering said that he is so passionate of creating this simple business model directly benefiting Sri Lankan fruits farmers. As the fruit juice can that we will market in Sri Lanka and other global markets are made from pure Sri Lankan fruit farmers helping a better lively hood and benefiting them immensely.
Mr.Charaka Perera Head of business – Asia, EU,US delivering the key note address thanked our legendary Muttai Muralidaran for setting an example to the entire world as to how a life can be converted in to a miracle by just focusing ones core strengths in life. "The greatest pleasure in life is doing what people say you cannot do" he said and extended thanks for Murali for his presence "which truly a motivation for of us today"

Mr.Charaka Perera explaining it groups strategy said "Our strength lies in protecting the value chain in return to give our valued customers the best prices with a guaranteed assurance in quality. Our philosophy lies in sustainable partnerships with absolute transparency with business ethics. Our strategy revolves around hunting for golden handshakes around the globe which will eventually create WIN business models to cater to diversified tailor made market needs"
Explaining their partnership Mr. Charaka Perera said "With this passion in us we met Mr. Mathivanan a true gentlemen an entrepreneur who has created a wonderful company named East West Marketing Pvt Limited. Without doubt this strength motivated us to assign EWM as our exclusive partner to market and distribute a range of our manufacture brands. SAFA range of sauces & tomato paste produced using our own harvested tomatoes from our own farms, our own SAFA mayonnaises, our own UAE's number one Alkhaleejia pasta, spaghetti range and the SAFA fruit juice ranges are few shortlisted categories that the consumers in Sri Lanka will see it available soon"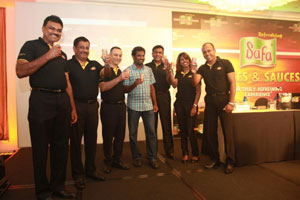 Mr.Mahmood Hassani who is an amazing personality I'm proud working with took the bold step in meeting Mr.Ananda pathirage a veteran gentlemen and Mr.Rizwi Zaheed Managing director hayleys agriculture to set up a franchise manufacturing facility to produce Sri Lankan made fruit drinks under the brand name of SAFA. Mr.Ananda Pathirage and his dynamic team came up with a unique recipe using our own Sri Lankan farm grown fruits and has produced a range of fruit drinks consist of woodapple, mango, papaya, lime & pineapple. One of the signature values in this range of safa fruit drinks is, all drinks are produced with 100% Sri Lankan fruits and No artificial flavors or colors been added. It has real fruit pieces mixed with the juice to add a unique taste. It is a pure Sri Lankan product by "empowering our Sri Lankan fruit farmers" under a global brand name Safa.

It will be 200ml fruit drink offered in a can for consumer price of Rs.70/-. Together with Hayleys, EWM and Hassani group we have built a perfect business model.
Mr. Ananda Pathirage Addressing the gathering explained the emotional aspect of this project "we have now proudly built a sustainable relationship with a truly global company Hassani group of companies and with the most efficient marketing and distribution team EWM. He concluded with the confidence he see in the entire east west team and there is no doubt that these juices will make a distinct difference in the market along with expertise of Hassani group of companies.
Mr. Don Stanley National Sales Manager East West Marketing, took us through a detail presentation explaining company's selling and marketing strategy of the SAFA juices and SAFA sauces.
---
Add comment

Comments will be edited (grammar, spelling and slang) and authorized at the discretion of Daily Mirror online. The website also has the right not to publish selected comments.

---