---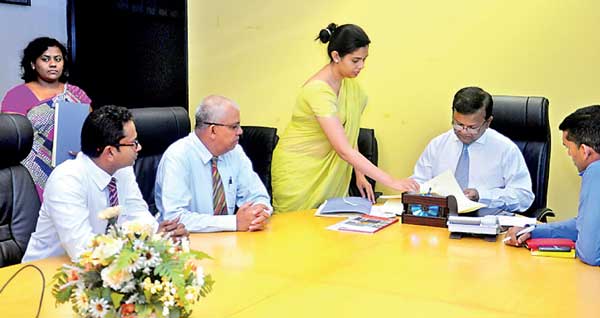 Agreement signing at the BOI
Superlative Properties (Pvt) Ltd, the latest entrant into the ultra modern luxury condominium developers market, entered into an agreement with Board of Investment of Sri Lanka to develop a 46 unit luxury apartment project in Colombo, "The Castle".

The prime focus of Superlative Properties is to develop spacious apartments for better lifestyles with a higher emphasis on comfort and safety for all ages.

Apart from that more emphasis is also placed on practical conveniences in-spite of its location, dual accessibility, close proximity to key educational and health services and neighbourhood amenities.
Superlative Properties (Pvt) Ltd is a fully owned subsidiary of Micro Holdings (Pvt) Ltd. Micro consolidates its presence in the condominium developers market through Superlative Properties with a single minded focus on delivering great outcomes to its clients.

Micro Holdings is a fully home-grown national organization with diversified interests in Automobile engineering, construction and transportation industries. Micro Holdings has secured its leadership position within and beyond Sri Lanka through their undisputed commitment and focus towards achieving business excellence.

Recent surveys reveal that Micro Holdings is one of the most respected organizations by many Sri Lankans and thereby enabling the company to preserve trust and confidence of its stakeholders.
Micro Constructions (Pvt) Ltd, the lead contractor for the installation of "Fujitec" lifts and escalators to the land mark "Lotus Tower" is a subsidiary of the Micro Holdings, been in the construction industry for the past 20 years. C

ompany has successfully completed many projects such as hospitals, hotels, factories, housing complexes as well as office complexes for government and leading private companies.
Superlative Properties have already commenced its first project "The Castle", which is located at 119, Castle Street, Colombo 08. "The Castle" will integrate stylish design which will enhance additional benefits such as Central location and close proximity to all key requirements.

Residents in this exclusive residency will have access to a infinity swimming pool, modern gymnasium, roof top terrace, function room, meeting room, dual car parking slots, car charging facilities and access from both Castle and Cotta roads in Colombo 8.

Superlative Properties is expected to expand its business through projects that are on the horizon, such as developing eco-friendly green apartments / hotels, branded service apartments, mixed development projects and hotels in the city of Colombo.