---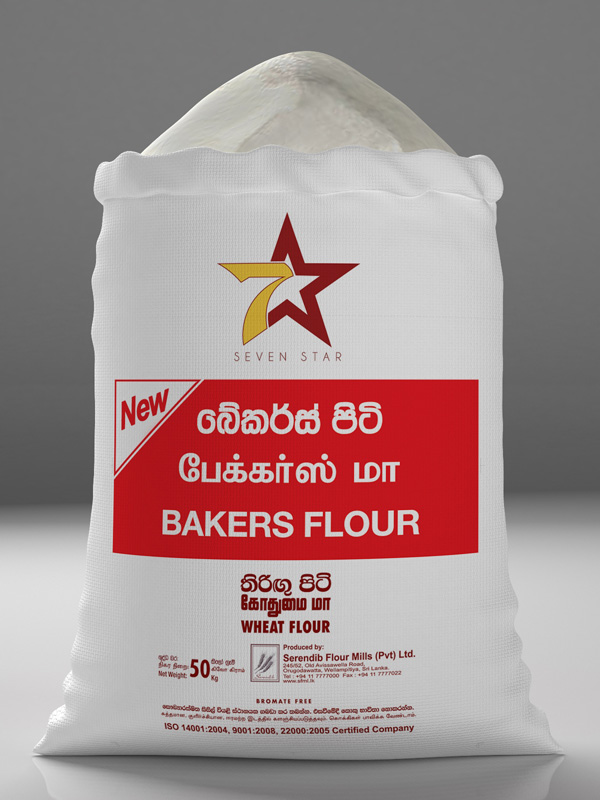 Serendib Flour Mills (SFML) recently introduced its new and improved 7 Star baker's flour formula to the Sri Lankan market. Produced using state-of-the-art technology, 7 Star's reformulated baker's flour now Offers the local bakers a superior flour with higher oven spring & bigger yields. As a result Sri Lankan consumers will be able to trial quality and healthier bread.
The use of higher grade of Canadian wheat enables the flour to absorb more water, which in turn enables giving higher oven spring, higher volume & better appearance of bread products.
Additionally, the Introduction of latest machinery from Buhler Switzerland ensures Bakers flour is fresh &packaged in its purest state. The higher levels of water absorption also ensure that more loaves of bread can be baked.
Through the use of Latest machinery and an array of stringent quality control processes, 7 star's new baker's flour has been upgraded to meet the highest global standards of production and innovation. Prior to being released locally, the reformulated baker's flour was also tested vigorouslyboth internally at the Serendib Flour Mills facility as well as at different bakeries by teams of expert bakers. The feedbacks from all these trials have been overwhelming.
Commenting on the New 7 Star Bakers Flour, Mr. N.K. Jayawardane – President of the All Ceylon Bakery Owners Association stated, We are delighted to hear about the new formulation of 7 Star New Bakers Flour. The trials conducted with the New Bakers Flour have given us excellent results. I sincerely believe this new product by Serendib Flour Mills will help the bakery industry to improve the overall quality of its bakery products & will be a bonus to the Sri Lankan consumers."
Commenting on the company's latest product upgrade, Kalinga Wijesekera– Head Of Marketing & Communication, Serendib Flour Mills, stated, "Serendib Flour Mills has always been dedicated to nourishing the nation, and we have continuously strived towards ensuring that the highest quality of flour products are made available island-wide. We invested in upgrading our baker's flour formula as part of our long-term commitment to offering our consumers the very best range of products possible. We have utilized industry-best standards as well as the most innovation-led solutions in the milling industry to ensure that our baker's flour offers greater value for money and a longer shelf life. Our research and development unit as well as our quality control team have put a significant amount of effort into ensuring that this new product not only offers higher levels of nutrition, but also offers our consumers added versatility."
SFML's baker's flour has a fine texture and can be used to prepare a variety of Breads, Buns, cakes, pastries & a wide variety of bakery products and treats. The combination of high quality proteins and gluten, makes this flour extremely versatile, making it ideal for baking a variety of items. SFML's new baker's flour formula is available in SFML's '7 Star' range of products in both 25kg and 50kg bags.
Serendib Flour Mills is of the leading flour mills in Sri Lanka and is a joint venture between Al Ghurair Foods (AGF) and Emirates Trading Agency (ETA). The company's '7 Star' brand of flour has been nourishing the nation for 7 years and embodies purity, innovation, quality, freshness, expertise, service and trust.
Serendib Flour Mills is committed to becoming the number one producer of wheat flour in Sri Lanka and the preferred flour supplier in international markets. Serendib Flour Mills launched operations with a state-of-the-art wheat flour mill in the Port of Colombo in 2008. Serendib Flour Mills has developed and implemented an integrated management system (IMS) based on ISO 9001:2008, ISO 14001:2004, BS OHSAS 18001:2007 and ISO 22000:2005 requirements. The system complies with applicable laws and regulations, international standards and codes, and best manufacturing practices in the areas of quality, environment, occupational health and safety and food safety.