---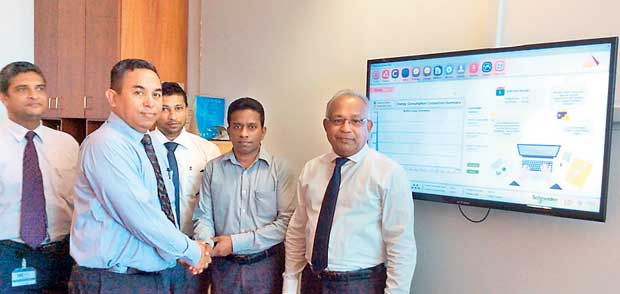 From left: Lanka Energy Conservation CEO Sheriff Rukshan, Schneider Electric Country Director Sri Lanka, Bangladesh and the Maldives Pradeep Saikia, Schneider Electric AGM Wenura Jayasinghe, Seylan Tower Maintenance Engineer Nandana Kumara and Lanka Energy Conservation Chairman Dammica Wickramaratne
The 15-storey Seylan Tower at Colombo 03 has become the country's latest landmark building to adopt the state-of-the-art Building Management System (BMS) of Schneider Electric – which has already been deployed successfully at Cinnamon Grand.
The globally-proven BMS of Schneider Electric together with the energy retrofit expertise of Lanka Energy Conservation (LEC), the BMS Systems Integrator for Schneider Electric in Sri Lanka, which carried out the installation, guarantees a 20 percent or more energy saving. This responds to the growing need of large infrastructure projects for a comprehensive building management system – a need felt particularly in Sri Lanka given the country's high electricity charges. Energy savings will have a positive impact on the power generation side.
Schneider Electric's SmartStruxure™ solution – which has been created with foremost focus on customer needs – optimizes energy consumption, maintains healthy and productive environments, updates aging facilities and provides anytime, anywhere access to building information. Thereby it meets all requirements of a sophisticated BMS – which is intended to monitor and control a building's mechanical and electrical equipment such as ventilation, lighting, power systems, fire systems and security systems via a computer-based control system.
"Considering that 40 percent of the world's energy is used in buildings and that 75 percent of a building's costs over its lifetime will go to maintenance and operating expenses, a robust building management system is critical – especially for large enterprise buildings," Schneider Electric Country Director Sri Lanka, Bangladesh and the Maldives Pradeep Saikia said.
"Given particularly the high cost of electricity in Sri Lanka, the need for a comprehensive and proven Building Management System is felt perhaps than in many other countries. While substantially reducing expenses by saving power and thereby improving one's own profitability, the adoption of Building Management Systems also enables companies to become more sustainable and environment-friendly."
"Lanka Energy Conservation (LEC) deployed its Sri Lankan and Australian project team to complete the installation on time and the solution outcome has already exceeded our expectation," said Seylan Development PLC Chief Manager Kusal Edirisinghe.
"Energy conservation is our prime focus and SmartStruxure BMS solution from Schneider Electric is an integral part of our energy guarantee projects in Sri Lanka and the region. Within a short period, we have also demonstrated the savings," said Lanka Energy Conservation (Pvt.) Ltd (LEC) Chairman Dammica Wickramaratne.
The Building Management System of Schneider Electric is equipped with the latest features and advanced technologies to address not only today's challenges but tomorrow's needs. It provides (among others) web services for integration with existing and emerging technologies and third party systems, integrates with other Schneider Electric areas of expertise to optimize energy efficiencies across multiple domains of a business and ensures greater flexibility, increased communication speed and reduced cyber risks.
In addition to locally, the Building Management Systems of Schneider Electric has been deployed at large-scale enterprise buildings across the world. Ranging from a hospital in Russia to a mixed-use commercial and retail tower in Korea, it has been adopted at a telecom company in South Africa and several schools/universities in the USA, demonstrating the trust/faith placed in Schneider Electric by customers from around the world.
Schneider Electric is a global specialist in energy management and automation with operations in more than 100 countries. It offers integrated solutions across multiple market segments and holds leadership positions in non-residential and residential buildings, industries and machines manufacturers, utilities and infrastructure and data centres and networks. Dedicated to making energy safe, reliable, efficient, productive and green, the group's 170,000 employees achieved revenues of 25 billion euros in 2014, through an active commitment to help individuals and organisations make the most of
their energy.