---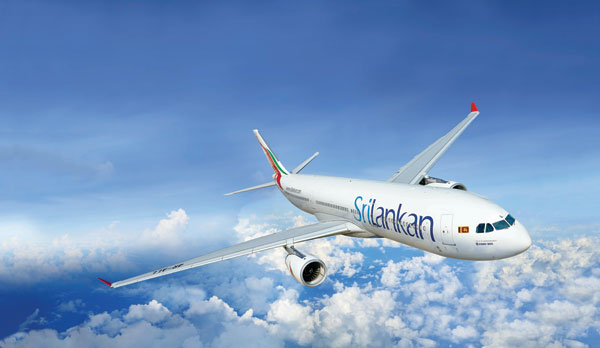 DOHA, Qatar – Qatar Airways and SriLankan Airlines, both members of the oneworld alliance, have strengthened their cooperation with a bilateral code-share relationship.
Both airlines will code-share on each other's flights between their respective hubs – Qatar Airways' thrice daily Airbus A340-600 operations to Colombo and SriLankan Airlines' daily Airbus A330-300 flight to Doha. The combination of four daily flights between Doha and Colombo will offer customers additional convenience and flexibility.
Passengers travelling to Colombo on Qatar Airways now have additional connectivity to the popular holiday hotspot Male, in the Maldives. SriLankan Airlines passengers can also now transit through Doha's Hamad International Airport and travel onwards, subject to government approvals, to 20* exciting leisure and business destinations, including Amsterdam, Barcelona, Paris, Copenhagen, Moscow, Rome, Frankfurt, Geneva, Manchester, Milan, Oslo, Sofia, Stockholm, Vienna, Zurich, New York, Los Angeles, Miami, Bahrain and Cape Town.
Travellers will also benefit from accruing frequent flyer miles, together with other oneworld privileges such as access to spacious lounges, extra baggage allowances, priority check-in and boarding, fast track security lanes and special fares across both carriers' networks.
Qatar Airways Group Chief Executive, His Excellency Mr. Akbar Al Baker said: "Qatar Airways is pleased to have reached a code-sharing agreement with an established oneworld carrier like SriLankan Airlines, which will deepen commercial cooperation and jointly strengthen our competitive offering in the market. This new partnership will allow passengers to enjoy the seamless connectivity that Qatar Airways offers via Doha to our wide network across the globe."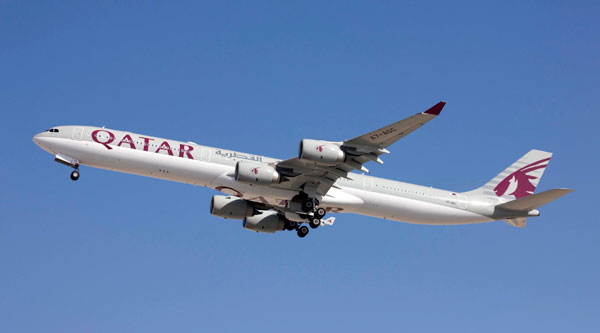 Chief Executive Officer SriLankan Airlines, Captain Suren Ratwatte said: "It is our pleasure to seal a codeshare partnership with Qatar Airways to allow our passengers the flexibility and convenience of effective onward connectivity to a number of destinations. We are also glad to tie up with another oneworld member in our strategic network expansion drive as we celebrate the second anniversary as an alliance member in May this year."
Daily Doha (DOH) – Colombo (CMB) schedule:
Qatar Airways (QR), SriLankan Airlines (UL)
QR 664 departs DOH at 02:15 hrs; arrives CMB at 09:25 hrs
QR 665 departs CMB at 10:50 hrs; arrives DOH at 13:05 hrs
QR 656 departs DOH at 08:10 hrs; arrives CMB at 15:20 hrs
QR 657 departs CMB at 21:20 hrs; arrives DOH at 23:35 hrs
QR 668 departs DOH at 18:50 hrs; arrives CMB at 02:00+1 hrs
QR 669 departs CMB at 03:25 hrs; arrives DOH at 05:40 hrs
UL 218 departs DOH at 22:30 hrs; arrives CMB at 05:55 hrs +1
UL 217 departs CMB at 18:45 hrs; arrives DOH at 21:15 hrs
*Subject to regulatory approvals.
For Images: https://www.flickr.com/photos/qatarairways/albums/72157665245008533
Notes to Editors:
About Qatar Airways:
Qatar Airways, the national carrier of the State of Qatar, is one of the fastest growing airlines operating one of the youngest fleets in the world. Now in its 19th year of operations, Qatar Airways has a modern fleet of 185 aircraft flying to more than 150 key business and leisure destinations across six continents. Qatar Airways won Airline of the Year, Best Business Class Airline Seat and Best Airline in the Middle East at the 2015 Skytrax Awards. This is the third time the airline won the accolade of Airline of the Year.
Qatar Airways is a member of the oneworld global alliance. The award-winning alliance was named the World's Best Airline Alliance 2015 by Skytrax for the third year running. Qatar Airways was the first Gulf carrier to join global airline alliance, oneworld, enabling its passengers to benefit from more than 1,000 airports in more than 150 countries, with 14,250 daily departures.
In 2015 Qatar Airways launched Oryx One, an enhanced interface for its inflight entertainment system, increasing the number of movies and TV shows on board from 950 to up to 3,000. Passengers flying on Qatar Airways flights served by its B787, A350, A380, A319 as well as select A320 and A330 aircraft can also stay in touch with their friends and family around the world by using the five-star airline's on-board Wi-Fi and GSM service.
Qatar Airways is one of the world's leaders in sponsoring global sporting events, including the strategic team sponsorships of FC Barcelona and Al-Ahli Saudi Arabia FC. Qatar Airways' strategy reflects the values of sports as a means of bringing people together, something at the core of the airline's own brand message - Going Places Together.
Qatar Airways Cargo, the world's third largest cargo carrier, serves more than 50 exclusive freighter destinations worldwide via its Doha hub and also delivers freight to more than 150 key business and leisure destinations globally on 185 aircraft. The Qatar Airways Cargo fleet now includes eight Airbus 330Fs, nine Boeing 777 freighters and one Boeing 747 freighter.
For Qatar Airways corporate images, please click here: http://www.qatarairways.com/corporateimages
Visit our homepage www.qatarairways.com or our sites on Facebook, Twitter, Google+, Instagram, and YouTube.
For Qatar Airways corporate images, please click here: http://www.qatarairways.com/corporateimages
For further information contact:
Qatar Airways Group, Corporate Communications Department
Tel: +974 40222200, Fax: +974 40225350
E-mail: qrmedia@qatarairways.com.qa
About SriLankan Airlines:
SriLankan Airlines, the national carrier for Sri Lanka and a member of the oneworld alliance, is an award-winning airline with a firm reputation as a global leader in service, comfort, safety, reliability, and punctuality.
Launched in 1979, the airline's hub is located at Bandaranaike International Airport in Colombo providing convenient connections to its global network (including codeshare partners) of 94 destinations in 44 countries around the world. Its direct route map covers major cities across the Europe, Middle East, India, South East Asia and the Far East.
Awards include World's Friendliest Cabin Staff by Skytrax, Best Airline in South Asia from Travel Trade Gazette, World's Most Reliable Operator of Airbus A330s and A340s by Airbus Industrie, and the Etihad Global Excellence Award for Best Regional Caterer.
SriLankan has mutual code-share services with Etihad Airways, Qantas, Malaysia Airlines, Air Canada, Alitalia, Oman Air, Finnair, Asiana Airlines, Jetstar Asia, Japan Airlines, American Airlines, Air Berlin, NIKI and Mihin Lanka.
www.srilankan.com