---

ali Mavena Aparadayak' is a book authored by Additional Solicitor General (ASG) and President's Counsel Sarath Jayamanne and is an attempt to fill a void of Sinhala literature on the subject of criminal law and centres around thinking differently in relation to the law. The Daily Mirror was in conversation with the ASG regarding the role of his book and the impact it will have on the criminal justice system of Sri Lanka.
"There is a thirst for learning"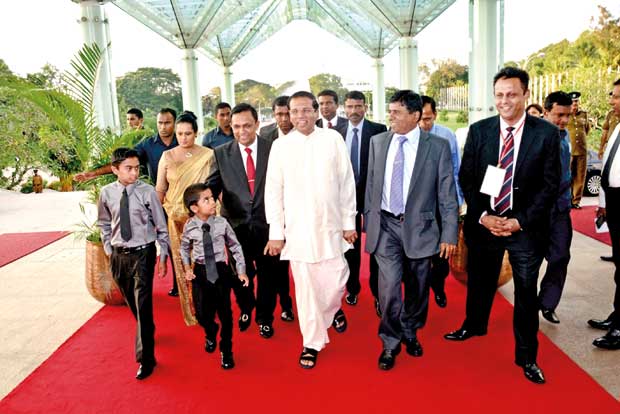 Q What prompted you to write this book?
In Sri Lanka, 90% of the litigants and lawyers work in Sinhala or in Tamil. Other than in the High Court and the Supreme Court, proceeds are also carried out in Sinhala. However, there is hardly any work in these languages to aid both litigants and lawyers in their work. Therefore after working for almost two-and-a-half decades on several controversial cases, I decided it was time to give back to the society from which I had gained.
A main focus of this book is also to impart this knowledge to police officers. Although this was seen in only a few cases it is not proper to blame these officers since more often than not it is because they lack the knowledge and expertise in this field. Because of this I decided to teach both the legal sector as well as the police through specific cases itself and not merely through theory.



"I decided to teach both the legal sector as well as the police through specific cases itself and not merely through theory"


When I held the ceremony at the BMICH to publish this book, the hall was filled with people from all parts of Sri Lanka. This shows that there is a vacuum for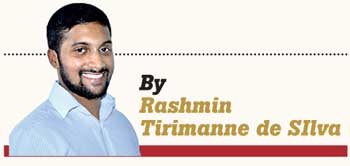 such a learning. I have lectured at Law College as well as the University of Colombo, therefore, I decided to use my experience in a novel way. I have been the prosecutor in several noteworthy cases such as the Kobeigane Beauty Queen Murder case, the Hokandara murder of six members of the same family, the Tony Martin case where there were no eye witnesses, and the Sarath Ambepitiya assassination in 2005.
In criminal law, there is a need to think differently and creatively since the crime scene has to be recreated. There is no need for police officers to be reduced to merely recording statements. They need to think in a different way.
"What is lacking is the ability to think creatively and differently"


Q What does this book focus on?
The main theme of this book is getting the readers to use both sides of their brains. The current trend is to focus on the left hemisphere of our brain. I like to call it certificate correctness. However, certificates alone won't get anyone anywhere. Good examples of the unimportance of certificate qualifications are Mr.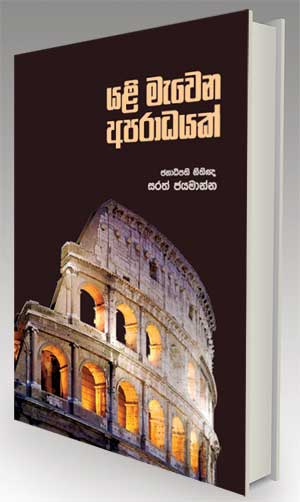 Daya Perera and Mr. Colvin R. de Silva. It is essential that we use the right hemispheres of our brains as well since this brings about creativity. True genius is born when both sides are used effectively together as was the case with both Leonardo da Vinci and Mozart who used mathematics in expressing their respective art forms. This need is not helped by the current education system which focuses on compartmentalization. What is lacking therefore is the ability to think.
"For anything of value to come into Sri Lanka it takes several years but anything distasteful comes within a second"


Q Could you name a few noteworthy cases you were part of, and a few topics in the book which would have an impact on the Criminal Justice System?
The most noteworthy would be the Sarath Ambepitiya case in 2005. The learned Judge had finished hearing a case relating to drugs in High Court No. 2 and after retiring to his Chambers left for home. Upon arriving at his residence in Sarana Road he got down to get something from the back seat of the car. This is when four individuals arrived on the scene in a van and shot at both the Judge and the driver who died on the spot. After killing their victims they got back into the van, pushed the driver out and drove off. The driver who was questioned later said that he was driving for a van hiring company and he had been asked to pick up the four individuals for a hire. They had told him that they were going to shoot a film, which provided an explanation for their bags. Around lunch time they had gone to Kynsey Road to have some lunch and had had some liquor as well. After all this they went and parked near the Otters Club and upon receiving a call went and committed the murders.



"She is testament to the fact that one person can change the world and give back to her motherland with the right amount of passion"



The problem that everyone was faced with was how to find the perpetrators.
Fortunately, a different method of finding suspects had been used in the Hokandara murder of 6 family members four years before. The police were unable to deduce what had occurred. However they were aided by the information given by a person named Jayantha and a dried-up patch of blood on a t-shirt. This case allowed the improvement of DNA technology in Sri Lanka.



Likewise in the Ambepitiya case; the Colombo Crimes Division caught a break using forensic science. One of the perpetrators was reported to have vomited near the Otters Aquatic Association. This vomit was scooped up and was presented as evidence in the trial, which linked the killers to the crime. DNA evidence has taken more than 15 years to come to Sri Lanka. There was an issue of access to scientists by the police and we didn't even have a lab for DNA studies back then. Therefore in 2000, under the leadership of the late C.R. de Silva who was the Solicitor General at the time, we went in search of anyone with a PHD in molecular-biology to help us in activating our forensic science field.
We stumbled upon Dr. Maya B. Gunasekara who was a Senior Lecturer in Biochemistry and Molecular Biology at the University of Colombo and invited her to join us. She refused for several reasons, including the lack of knowledge in the law. We then came to an agreement for me to teach her how the Courts worked while she would educate us in the sciences. It was she who came forward in the Ambepitiya case as well and was able to find DNA evidence in the vomit collected and I led the evidence in Court. While I was abroad, she had assisted in the Royal Park murder case as well but sadly when I returned, she was no more.



She did however give back to society by starting Genetech which specializes in molecular biology and biotechnology. She is testament to the fact that one person can change the world and give back to her motherland with the right amount of passion.
The Ambepitiya case also allowed us to explore new avenues in collecting evidence. Once again it was difficult to find the perpetrators. Therefore we enlisted the help of the telecommunication companies since there was evidence of a call being received by one of the killers. No one was aware of such a method of finding killers in Sri Lanka at the time. We had a good feeling that the call originated inside Hulftsdorp and through tracing the call and the receiver we were able to apprehend the killers for the murders. This is a good example of how we created history when our backs were up against the wall.
Another topic that is discussed in my book is the difficulties in finding witnesses. Even if witnesses come forward they may have interpreted the events they saw or heard differently or they may be lying. Fingerprint evidence is discussed in detail and tool evidence is analysed through the case of Tony Martin where a broken pole in a bag was found to match a broken hammer found at the crime scene. There is also a discussion about how far certain forms of evidence can be relied on and an explanation of the defences available. I hope to translate this book into Tamil as well.
"We leave so much of evidence in one single place"


Q What is your view about the state of forensic science in Sri Lanka?
There is a dire need for more people to get involved in the field to strengthen the bodies that will be able to help us. We should also look to go beyond DNA. There is technology available to us in the form of CCTV cameras and mobile phones. We have to be one step ahead of the criminals at all times.
Advanced technology such as studying the retina needs to be looked into so it is evident that we have only touched a small area in the field.
---
Add comment

Comments will be edited (grammar, spelling and slang) and authorized at the discretion of Daily Mirror online. The website also has the right not to publish selected comments.

---