---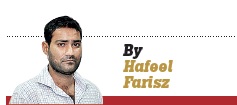 FORMER PRESIDENT AND UPFA CANDIDATE FROM THE KURUNEGALA DISTRICT, MAHINDA RAJAPAKSA IN A COMMON INTERVIEW, HELD AT HIS RESIDENCE IN MIRIHANA SAID HE WAS CONFIDENT OF THE UPFA WINNING THE UPCOMING GENERAL ELECTIONS. THE INTERVIEW WHICH TOOK THE FORM OF A DISCUSSION WAS CONDUCTED WITH A FEW OTHER PRINT MEDIA OUTLETS, INCLUDING THE DAILYMIRROR AND WAS NOT CONFINED TO THE QUESTIONS AND FOLLOW UP QUESTIONS POSED BY THE DAILY MIRROR. BELOW ARE EXCERPTS OF THE DISCUSSION.
Why did you decide to contest in Kurunegela, leaving those who have continually voted for you in Hambanthota?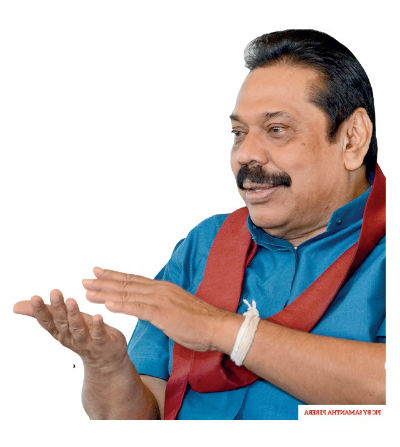 I was asked to contest not only from Kurunegala, there were many who wanted me to contest from Ratnapura, Gampaha, Kurunmegala and Galle. The main reason was that there were many who wanted me to contest from a District which had a higher number of seats and a large population. Pavithra Wanniarachchi wanted me to contest from Ratnapura but then all of a sudden three ministers made a statement to the media to the effect that I would be contesting from Kurunegala. Anyway the consensus was that I would be either contesting from Gampaha or Kurunegala.




A lot of people believe that you were being 'too clever' (Pandithakama) in calling for an early election?


What do you all think?




Was it actually you being too clever?


The thinking was to have a stable government and leadership to induce investors to come in to the country. They needed some sort of permanency so that there was trust in the system and that was why we called for the Presidential election.





Was it a decision that was taken at your behest?


Well, no, there were sections who wanted me to hold the elections and there were some others who didn't. But I went ahead.




Did you call for it due to astrological reasons?


The date may have been decided on that premise, but calling for the elections two years before the scheduled date was not because of it. Certainly not because of it. The reason was the one I explained earlier.





There was a lot of infrastructure development to the North and the East, programmes like Uthuru Wasanthaya and Nagenahira Nawodaya, under your regime. Despite these, you were alienated by those communities. Do you think that you were not able to win the hearts of these people?


They were coming out of a 30-year-old war, and we had to develop the infrastructure in these areas. These areas had no roads, electricity and access to basic facilities. When developing a country there should be equality in the disbursing of funds. Unlike what the UNP wants to do which is to develop only the Western Province, we thought otherwise. We wanted the country to develop together as a whole. These people are also Sri Lankans. Those in the North are Sri Lankans and we had a responsibility to ensure that these places developed just like in the other parts of the country.





Have you read this?


(a pamphlet found in the house titled "Ranil's road map for Eelam" is shown to him). No I haven't.





Among many other convtroversial and fear mongering points in this, it also has listed issues of comparatively lesser value like that the government under Ranil Wickremesinghe would permit the singing of the national anthem in Tamil which are specifically designed to rile masses in the South?


In this? (the pamphlet). These are not designed by the party, these are things that are distributed by various organizations.




No Mr. President, we found it here.


This is the Global Sri Lankan Forum that has distributed this. They are the ones who seem to have distributed it. These are their ideas. That's their democratic right. Either way, look at India. How many languages do they have?

But the National Anthem is in one language isn't it?

Whats the point in a National Anthem which is sung in different languages? I still believe that the National Anthem should be sung in only one language. It should be in any language, its something that has been accepted, why do we have to change this now?





But the constitution says that it should be in both languages?


No, what it says is that it should be a transliteration. Not a translation. Not a different song. What translation means is really a transliteration. I don't think that it causes any injustice to the Tamil language. We have to have the ability to accept one song; if not how could we promote harmony? Everyone seems to be talking about reconciliation and harmony, how could that be achieved by dividing the National Anthem, the country, languages or the national flag? How could such division build harmony?




There is a notion that your campaign is directly targeted at the majority community and that you'll have alienated the minorities?


That is wrong. I said this at the conclusion of the war and I am saying this again. All races and religions are equal and there is no difference between a minority and the majority. The minorities should not think that they are a minority, that's when the problem crops up. They should all think like equal citizens.





But the people don't feel that, isn't that why they overwhelmingly voted against you?


Yes, there was an issue of that nature. But I must tell you that the trust the Tamil people have in me has increased. If you look at the number of votes I received from the North in the last two Presidential elections, you could see that there was a marked increase - almost double the number, in those who voted for me. What it shows is that the trust is increasing.





You said that you were pushed to contest the upcoming elections due to a massive demand for you by the people?


Certainly!





Aren't these the very people who defeated you on January 8?


Yes. When the people want me, I would come and when they reject me I would go home. (laughs) Is there anything wrong with that? What else am I to say? I have been in politics for over 40 years and was born into a family of politicians. From the time I remember, there have been political leaders who have died, who have lost at elections, but we had never witnessed throngs of crowds from all over the country visiting them; like what happened to me in the recent past. I went to the villages and started visiting temples because I didn't want the people to undergo all the trouble to visit me so I started going to them. All who visited me were poor people, not a single rich person visited me.





There is a fear among many that you will alienate the very people who are now clamouring to bring you into power. We saw that had happened in the past, where you alienated the forces that brought you into power, and instead you got a ring of people, including many defectors around you...


No, that's not true. All the forces were with me throughout. I formed a government with 56 MPs and I had to ensure that we formed a government and we increased it to 127.





Yes, but the fear is that you would alienate people like Vasudeva, Wimal Weerawansha, Dinesh Gunawardena and the rest once you are elected?


No, they won't leave me. They will always be with me.





No, but what I am saying is that you will alienate them...


No, I certainly won't. They were here all these years. No one pushed them away. It was not they who left, it was another group. I don't know if its true, but in a book written by Ashoka Abeygunawardena he says that they had planned this for 2 or 3 years. This is not what I am saying, this is what they are saying. They detail how they conspired, how they spoke to India how they spoke to America and how they discussed the conspiracy in England etc., This is what they are saying and have put on record.





No, but the question really is that you will alienate their ideologies, the corruption-free pluralist ideologies of those who are clamouring to bring you into power, like what had happened before?


That itself shows the trust they have placed in me (the fact that they are still with me). That's the most important thing. The trust that they have that I would deliver.





Did you ignore the old guard of the SLFP?


That's not true. There was no one who looked after the old guard better than me. People like Alavi Moulana, Kamala Ranathunga, J.R.P. Sooriyapperuma have all been looked after.





The Chairman of the UPFA is President Sirisena, is the manifesto of your party yours or President Sirisenas? It's a people's manifesto.


You publicly said that you had done "wrongs" during your tenure like pressurizing officials. Can you specify what these "wrongs" were? I will give you one example. When the sister of Sajith Premadasa got caught with forged currency, I got her out within 3-4 hours. That I think was a mistake committed by me. These are not something I would say but I'm saying it since you have asked me the question.





So there were many who have been in many situations like this during which time you pressurized officials?


No, in this instance, she was the daughter of a former President who had some public appeal and also she hails from a reputable family. So I called them and told them to do some justice (saadaranayakkaranna), instead of penalizing her. Now this will not happen in the future. That's what I have to say.





Many of the younger generation did not witness the anarchy during 1987 and 1989, and there was a massive outcry among them regarding the deterioration of law and order and other democratic norms under your regime. There was a sense of belief that anyone connected to you or your family were above the law even to the extent that they could call officials and ensure that their friends were not found on the wrong side of the law? That tenders were directly given from Temple Trees?


No, that is a complete lie. None of that had happened. No tender came to Temple Trees, it was all done at the ministries. They are making it look like I kept watching the opening of the tenders, which is nonsense. None of that happened. That's the truth. Everything that is said are complete lies. You all don't remember the period between 1988 and 1989, and that is the biggest problem. The issue is that you all don't read about it, nor ask anyone about that period. That is the issue. During that time young boys were put on on tires and burnt alive, they were shot, tortured and murdered. The younger generation doesn't know this, or are oblivious to it. I don't think many believe that these things actually happened. Instead it is some sort of a dream for many. Once during that time I asked a colleague of mine that I heard 154 people were burnt and killed and he checked the figures and called me back and told me no, there were 254 bodies! That was how it was. That was how cheap a human life was valued at. Once there was a cameraman who had taken a shot of a wife of a top politician, and on his way back he mysteriously met with an accident. We know how the accident took place. His name was Wimalasurendra, have you even heard about this? He was killed only for taking a picture.





What have you got to say about the rise of the underworld?


Look at what's happening now! They have brought down underworld figures that were abroad all these years and are conducting these elections. During my time, not one of these fellows dared coming back. Even the ones in prison never walked out even if they were granted bail. They have got all those notorious figures out now and got them to campaign along with the candidates in Colombo and elsewhere.





You have continually said that this country was heading towards turmoil or that is in turmoil under this government..


Yes, definitely, it most certainly is. It's not only in the North, the entire country is in turmoil. Have we ever heard of a gang rape in the North? No, we had never heard of such a thing during my time. Today that has also happened. Not only in Jaffna, but even in the rest of the country the same thing is happening. It's unsafe for our children.





Since you said this, don't you think that these incidents are all the results of a failure in the system during your tenure?


No, of course not! Within these six months, they have brought down various elements back to the country which is now headed towards disaster. What did these people do during these six months? Those who spoke of Ethanol have imported more Ethanol than during our government. They started giving permits to vehicles and made this a junk yard. Look at the city, could you publish a picture depicting how unclean our cities have become? Did you all appreciate the fact we made Colombo the fastest growing city in the world? No one talks about it. Now the TNA has always been calling for a Federal State and that I understand. But look at the UNP, its candidates are conducting their campaigns based on separatist lines. Look at what they are saying on their official pages, look at the pictures (shows a picture of a UNP candidate with the Eelam lines highlighted in green at the background). They might be doing this for votes but it's wrong.





You have promised financial benefits in your manifesto for those who get married. It was under your regime that even the marriage registration fee was increased. How could you promise such financial benefits now having done the opposite previously?


Many people never trusted us and they continue to slander us. The ability to do all these things comes with proper management of the economy. When we developed infrastructure, the way and manner that we gave subsidies – many people really couldn't comprehend how we were doing it. When fertilizer was given at Rs. 350, people asked whether we were printing money. But now it's all out in the open, we managed the economy properly. We ensured that the people received the benefit. That's how we acted as opposed to what is happening now. Even the economy is in shambles.





The Muslims didn't vote for you during the last election. Why do you think that happened?


It was because the Muslims were mislead by false news. One was about the Bodu Bala Sena. All these are coming out now. In that book I mentioned before which was written by one of them (those who broke-off from the regime in support of President Sirisena's candidacy), they specifically speak of how the monks were sent to Norway, how they conspired, how they were sent to the US and all that. This has been happening for the past 2 to 3 years. Rajitha and Champika, I think they knew it and supported it.





But why wasn't the law applied and why were they protected?


Dayan Jayathilake and C.A Chandraprema (who were watching the discussion and in the vicinity) continually wrote about the perils of the actions of the BBS. Mr. Jayathilake in fact called it as 'ethnoreligious' fascism, and there was a feeling that they were protected by Gotabaya? No one protected them. I know there was a belief to that effect but no one protected them. I remember once Wimal Weerawanshe and Dinesh Gunawardena spoke about them and called for their punishment, but Champika Ranwaka stood up and made a massive hue and cry against taking any action against them.





Do you think that you could work with President Sirisena?


(Laughs) Of course! If he (President Sirisena) could work with the person whom he had been criticizing for decades, I'm sure he could work with me. He fell out with me only for a month... (laughs).





What message do you have for the voters?


Not to be fooled by what is being said. It's all just mud slinging, my hands are clean. I have not robbed nor have I murdered anyone, everything that is said is to slander us without an ounce of truth. Join us to form a new Sri Lanka where everyone of us could live equally and in harmony.





The foreign policy of your regime was roundly criticized by many. If you end up being elected, what would your foreign policy be based on?


Our government's policy with regard to foreign relations has like in the past, always been nonaligned. When we are elected, the very same policy that we would pursue. Even the West had always been supportive of us, barring during the time of the conclusion of the war. The reason there was some sort of alignment was that when there was so much pressure to stop the war during the last stages we had to counter it, and in order to do that we had to shift our bases. That was all done for the benefit of the country of which rewards we have, and will continue to reap. So yes, we will be non-aligned.