---
If Government is serious and honest about restoring media freedom which is vital for the reactivation of democracy, then it must support the Freedom of Information Bill and implement it effectively. Similar laws for the freedom of information are in force in more than 90 countries including India where civic rights activists fought hard for its implementation some years ago, and the corruption of several top politicians and officials was exposed.

A comprehensive draft for a Freedom of Information Act was worked out by the Ranil Wickremesinghe Government in 2004 after consultations with stakeholders. Before the bill was presented in parliament, President Kumaratunge staged a constitutional coup and later dissolved parliament. For seven years after that, the UPFA Government has shown little interest in going ahead with the bill, which will consolidate media freedom. Instead, the Rajapaksa regime has in subtle ways suppressed media freedom with several journalists being killed, abducted, threatened or otherwise forced to remain silent. One of the most dangerous turn of events was the public threat by Minister Mervyn Silva to break the bones of any journalist who reported in a manner that damaged the image of Sri Lanka. In any event, the rule of law has already broken down and Sri Lanka appears to have come close to the situation where France's King Louis said "I am the law" before he was ousted and executed in the revolution. Recently UNP front-liner Karu Jayasuriya tried to move a private member's motion for the implementation of the Freedom of Information Bill which he said was vital for the restoration of democracy.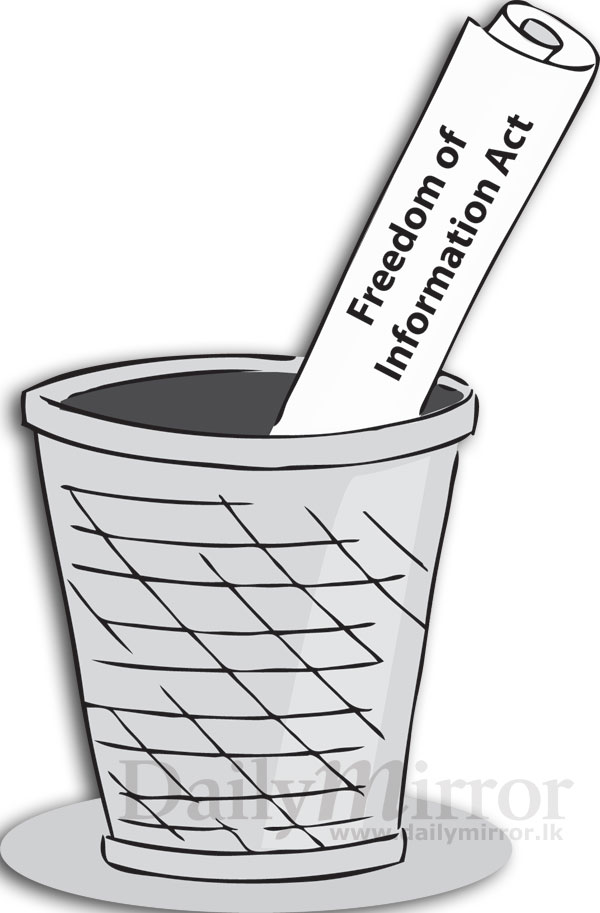 But the ruling coalition blocked it saying the bill would be presented soon by the Government. But that 'soon' has not yet come and Mr. Jayasuriya has reiterated his call for the presentation and implementation of this bill which will not only restore media freedom but also help curb the rampant corruption, fraud and waste or abuse of public funds. Under the proposed bill, not only journalists but any person will have the right to see documents relating to accounts and other details of public projects, whether big or small. Any official who refuses to give such documents could be penalised. This will bring about accountability, transparency and good governance and help improve the image of Sri Lanka. In contrast to what Mervyn Silva said, it is the lack of transparency and accountability that has damaged the image of Sri Lanka with the country ranked as far down as 162, close to Somalia in Transparency International's latest list.

If President Mahinda Rajapaksa shows courage and statesmanship in presenting the Freedom of Information Bill and abolishing the executive presidential system, he will hand over to the next generation a truly Democratic Socialist Republic of Sri Lanka.
---
Add comment

Comments will be edited (grammar, spelling and slang) and authorized at the discretion of Daily Mirror online. The website also has the right not to publish selected comments.

---