---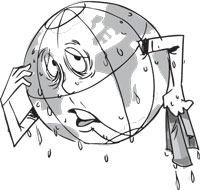 As one of history's most important meetings, the Climate Change Conference, reaches its final day in Paris today, the Guardian newspaper reported that a coalition representing more than 100 countries--formed in secrecy six months ago--has emerged to push for a legally binding global and ambitious deal on climate change.

The "High Ambition Coalition" speaks for the majority of the 195 countries at the crunch conference and consists of 79 African, Caribbean and Pacific countries, the United States and the European Union member states. But notable exceptions include major developing countries such as China and India.

The group is focusing on at least four key issues. It wants an agreement in Paris to be legally binding, to set a clear long-term goal on global warming that is in line with scientific advice, to introduce a mechanism for reviewing countries' emissions commitments every five years, and create a unified system for tracking countries' progress on meeting their carbon goals. The move is significant because it forms a major new power at the talks that wants to come to as strong an agreement as possible, the newspaper says.

In Sri Lanka, amid many activities at government, private and local levels to curb climate change, the Amuthu Amuthu Association held a seminar in Colombo yesterday with the goal of creating a noble humane environment, opening the doors to people's hidden dimensions for social advancement.

Ravi de Silva, environment consultant to a leading company said the government and the people of Sri Lanka had only one way forward—we must go green. He and other speakers including eco-friendly architect Lalitharaja Muthukumarana, stressed the need for Sri Lanka to have green homes and schools, green workplaces and other institutions.

Mr. de Silva said he believed that the philosophy of Adam Smith, the Scottish political economist, was no longer valid. Adam Smith's basic straight line policy was to invent, produce and discard. With Mother Nature or Planet Earth facing a self destructive catastrophe the new political economic policy for sustainable development needs to be circular—invent, produce, use and recycle. He pointed out that at the Kandalama hotel, where he was the consultant engineer, they invented ways for garbage disposal by separating organic waste from plastic or polythene or paper. Thereby garbage was transformed into a valuable organic fertilizer and the hotel was earning as much Rs. 30,000 a month from so-called rubbish.

Mr. De Silva, Mr. Muthukumarana and Dr. Nandadasa P. Narayana, an inventorpreneur said Sri Lanka may be a small island but we had a rich culture and a civilization dating back to more than 2500 years. Gauthama the Buddha had spoken of the need for the wise use of human and natural resources for the common good of all. Later King Parakramabahu the Great had been the pioneer of the marvels of ancient hydraulic engineering. Working on the principal that not a drop of rainwater should be allowed to go waste, he created reservoirs and wewas to store this water for use during droughts. Unfortunately with the prolonged heavy rains these days, most of the wewas have gone waste while the dams of most reservoirs have been opened and hundreds of millions of litres of rainwater is going waste.

The speakers said that Sri Lanka had human and natural resources of priceless value and though we are a small country we need to think big and do something wonderful in the battle to save Mother Nature. Mr. Narayana who starts businesses with inventions said that if Sri Lankans could start some inventive eco-friendly businesses in the 24,000 villages Sri Lanka could become an island paradise with creative jobs and human dignity for all.

Those interested in joining in such creative eco-friendly enterprises could contact the Amuthu Amuthu Association by calling its founder leader Swarna Obeysekera on 0770353327.
---
Add comment

Comments will be edited (grammar, spelling and slang) and authorized at the discretion of Daily Mirror online. The website also has the right not to publish selected comments.

---