---
Who are Trend Setters
The late Bhikkhu Maduluwawe Sobitha possibly was the most spoken about person ever since he fell ill, the non-return Singapore medical pursuit, the demise, the State funeral, and the post funeral debate in the last few weeks and will perhaps continue for some months to come. Even though he was known for being a hard core nationalist in the second phase of his life (Wickramabahu Karunaratne, GaminiViyangoda and Mahinda Ratnayaka, see. Ravaya, 15/11/2015), but is now revered as a model of a trend setter within Sri Lanka's religious, and socio-political landscape, not without other critical views about his contradictory roles and utterances. Shifting to the next influential religious community, the Christians too inherit such persons of national and even international significance of setting trends.

The late Tissa Balasuriya OMI named late bishops Leo Nanayakkara OSB(Catholic) and Lakshman Wickremesinghe(Anglican) as TREND SETTERS who were also his mentors. These men had challenging tasks of recognising and rooting those trends and safeguarding and expanding them despite the winds of ecclesiastical rigidity, apathetic conservatism and theological stagnation of their respective denominations. Bhikkhu Sobhita apparently had undergone enormous tribulations of various nature as we hear and read the posthumous reporting from different quarters. Possible lack of aftercare and political disappointments even though he steered the current regime's January victory 2015.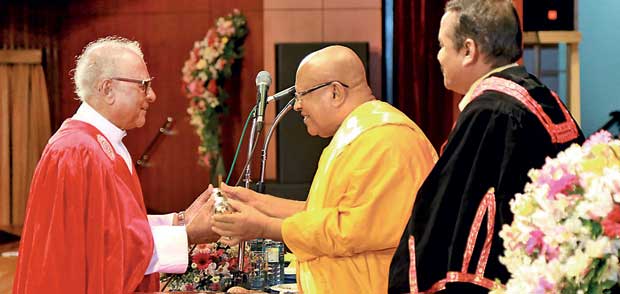 Fr. Aloysius Pieris SJ was awarded the prestigious honorary Doctorate of Literature (D. Litt.) by the Chancellor of the University of Kelaniya, the most Venerable Welamitiyawe Dharmakirthi Sri Kusala Dhamma Thera.


Some of that accountability agenda was sharply expressed at his funeral by some who spoke. However, by the time of his demise he might have grown out of these baseless bickering and even disowned excessive praiseworthiness. What I wish to focus here is another important senior TREND SETTER of the Christian community among us, but someone who preferred 'the periphery' rather than the focus and limelight of the centre. He helped evolve 'the periphery', central to the life of the Christian community, its role in this country and reminded them that they are Asian Christians and not necessarily Christians in Asia with a cultural aloofness to the context. For this and many of his intellectual and academic achievements, he was awarded D.Lit honorary degree at the General Convocation of the University of Kelaniya at the BMICH on November 23, 2015. The citation read at the convocation was symbolic of the stature of his erudition and the application of scholarship to address issues of society and development of thought.


Fr. Aloysius Pieris: A Trend Setter !
If I had to pick one idea that made a breakthrough in the denomination centred mission and missiology and that which helped inter denominational solidarity in the history of ecumenism is the concept of Missio Dei or the Missio ex Trinitate skilfully used by Karl Hertenstein at the International Missionary Council in Wellingen, way back in 1952 to denote totality of God's activity which was later expanded by the World Student Christian Federation in 1960 in Strasbourg which infused a new meaning to mission, binding all Christians in a mission to Mission (Werner Ustorf) of the entire political world instead of a God-church-world triangle which sometimes resulted in narrow theological and Christological bottle neck interpretations. It focussed on Christian praxis in society. Fr. Aloy was absorbed in this vision in his own context setting the trend for himself and others.

If I had to pick an institution that paved the way for ecumenical resurgence in the world and hope for the Christian kerygma is the World Council of Churches
(WCC) that even challenged the Roman Catholic hierarchy and its theologians to rise up from their theological slumber as early as 1940's and 50's. Fr. Aloy focussed on his Catholic heritage but foresaw that real catholicity was beyond the Vatican stipulations and was rooted in the Gospel of Jesus and his love ethic. He was willing to consider WCC's pioneering ecumenical relations that could set trends for new theological pursuits and institutional changes. Never imposed but exposed deficits within to repair them diligently with enormous pastoral care.

If I had to pick one centripetal movement setter that led a path to ecumenism in this country then it is undoubtedly the Uduvil Conference in 1953 with 125 delegates in a country throbbing with nationalist feelings. It set the scene for the formation of the National Christian Council (NCC) in Sri Lanka held in Colombo in 1954 declared boldly "as a community we support wholeheartedly the national demand for self-government", they were fully engaged in missiopoliticaeucumenica even though such can be described as a compromise on the part of some other Christian groups.Fr. Aloy humbly accepted that the Protestant churches were much more progressive than his own church and he set the timeline to learn and nurture movements and their activists with theological rootedness, cultural care, wisdom of the socio-political entrepreneurship and the need to invest all of it in nation building and for a shared future for Sri Lanka.

If I had to pick an indigenous theologian who was brave enough to push the unbendable boundaries of his own rigid church and granted for himself and others permission on behalf of the people to do theology, and one who taught many 'to drink from our own wells', then it is our own Fr Aloy. Hence, he is a TREND SETTER of our times and deserves the honour he received by a premier academic institution of Sri Lanka, the University of Kelaniya.


Vidyodaya, Kelaniya - Alma Mater
University of Ceylon, Vidyodaya campus, from which Fr. Aloy obtained his doctorate in Buddhist Studies, today as the University of Kelaniya was convinced that Rev. Fr. Aloysius Pieris sj be awarded Doctor of Literature (D.Lit) to one of the rarest and illustrious students for a long time to come. It is a legacy that the very University whose history has been inspired by a range of erudite generation of bhikkhus of valour and erudition of the celebrated Vidyodaya Pirivena, under the tutelage of Bhikkhu Kotagama Vachissara and bhikkhu Walpola Rahula too have been also mentors of Fr. Aloy during his student days and remained Kalyanamittas (admirable friends) of productive acquaintance for the next generation of scholars. Fr. Aloy's diversified intellectual pursuits combined with infectiously subtle humour and expanding these through the appreciation of art, passion for aesthetic beauty are rare to be found in one single person. It is these infrequent combinations that led him to commit to scholarship, innovative critical thinking, sharp erudition to ideas, their formulation with unobtrusive theological rigour and the enabling attitude for the hearers also to respond critically and make sense.


"Bhikkhu Sobhita apparently had undergone enormous tribulations of various nature as we hear and read the posthumous reporting from different quarters."


The originality of this intellectual exercise remains exceptional among the contemporary scholarship even intercontinentally. This is what made him a scholar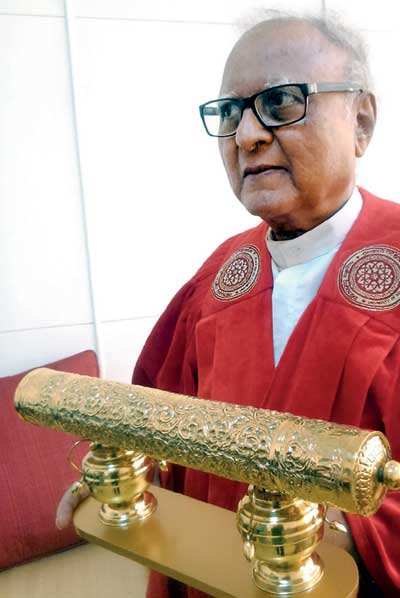 of unique pedigree where he is able to think, read and express one's ideas back and forth via Pali and Sanskrit, Aramaic and Hebrew, Latin and Greek, Italian and English and still express all of it in his native tongue, Sinhala. The D.Lit honorary degree to Fr. Aloysius Pieris though a bit late to be awarded yet its timely at a time when another Trend Setter in the Buddhist world, Bhikkhu Sobhita has already left a leadership vacuum in non-partisan positioning in Sri Lanka.


"It is a legacy that the very University whose history has been inspired by a range of erudite generation of bhikkhus of valour and erudition of the celebrated Vidyodaya Pirivena"


Fr. Aloysius Pieris excels as another critical national symbol of real non-partisan disposition firstly inside his own ecclesiastically conservative structures. Secondly he also disowns the 'pay as you go' party politics of all political parties of this country, especially the regimes since 1977 to the current. Many would have been more edified if this specific Pierisian non-partisan disposition that he held with unequivocal ethical ground was also mentioned in the already comprehensive D.Lit citation read at the convocation. Because it would have been so auspicious as it was also at the BMICH precincts that the late Bhikkhu Sobitha, another trend setter I mention above,at his 73rd birthday demanded with distinct courage, the 'ten propositions' toward building a democratic and a just society in the presence of the new president and the new prime minister. Because the Trend Setters with their integrity, honesty and freedom of conscience become the corner stones of non-partisan way of life and middle ground of the view of life. The trend setter in the person of Fr. Aloy embraced, learned and emulated the teachings of his master, Jesus of Nazareth, Gautama the Buddha, his teacher, and both encounters and experiences seemed to have been understood in the Ignatian way where over 60 years of his religious life had been formed and nourished.


Reading Fr. Aloy
Reading Fr. Aloy at depth one would believe that ecumenically and prophetically to witness, associate and to work with other fellow Christians is an act of faith, a movement of grace and charity at home. Still undefined territory of missiology of the Christian tradition is being consistently challenged in every age we embark, whether be Communism, Colonialism, Secularism, Nationalism or Terrorism. Fr. Aloy and his extensive work has enabled many to think critically has helped them change the view of life and for some even to rethink their ways of life. The research centre he built, Tulana stands today perhaps as a national centre for dialogue and Buddhist Christian encounter in the heart of Kelaniya, a Buddhist bastion of history and devotion. Tulana he built is his gift to the nation and not just the Jesuits or the Christians. It is an alternative university by its very meaning where theory and praxis both have met and is still encountering in critical discourse to find best expression in the idiom most comfortable to the discussants. Tulana is a symbol of new way of being church in the periphery and making that periphery most central to free oneself to experience one's core of being here and now. D. Lit which was awarded to him by the University of Kelaniya, he would consider as a recognition of all those who came to Tulana, who heard him, read him in their freedom of conscience, of independent ideas and the humility of living simple. It's the Pierisian challenge which he experiments on himself for a very long time, and he invites us to attempt it to be worthy of being what one wishes to become.
---
Add comment

Comments will be edited (grammar, spelling and slang) and authorized at the discretion of Daily Mirror online. The website also has the right not to publish selected comments.

---