---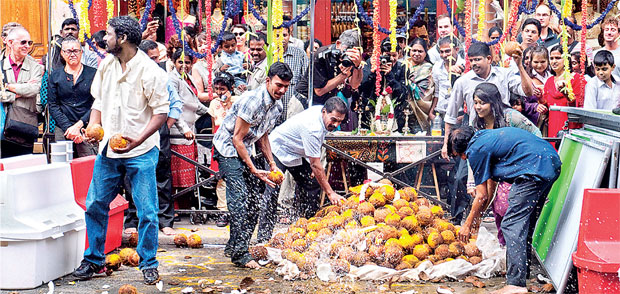 "Why do Hindus use coconuts in their rituals?" is a pertinent question at this juncture in our country as some MPs of the Joint Opposition dashed 100,000 coconuts at the Seenigama Devalaya against the Financial Crime Investigations Division (FCID).
It is learnt that breaking of nuts by the Joint Opposition members was to invoke a divine 'curse on yahapalanaya"
Meanwhile it was also learnt that a "counter ritual" was performed by the Government to make the coconuts null and void.
I do not know how deep rooted or authentic is this coconut crashing/dashing according to Joint Opposition's principles.
But as someone brought up according to the Hindu tradition, the smashing of coconuts is in fact done for different reason and it is very perosnal.

The coconut is used in various rituals in the Hindu traditions. It is cracked into two halves at poojas; It makes up the upper half of the Poorna Kumbha (An assembly of a pot filled with water and topped with a coconut on which deities are invoked) or at the door steps, gates of temples or in front of Hindu deities, particularly in front of God Ganesh.
As some of the readers may already know Ganesh is considered as a God, who clears paths; removes obstacles, for a devotee in his/her undertaken task. In addition he is depicted with various forms of elephant heads as a coconut is believed to be liked by an aspect of elephant.
So that's why we see so many coconuts being dashed during cart (Ther) festivals.
Hinduism is all metaphors and symbols; "A complex system of symbols" so said Ananda K. Coomaraswamy who tried to explain Hinduism to the Western mind.
Since the Government and the Joint Opposition are interested in dashing nuts I am leaving out the other uses of coconut in Hindu rituals. Coming back to the nut, the dashing of the nut is a very personal thing.
It symbolises the cracking of one's ego, which according to Hinduism is the root of all actions. So, paradoxically what the Joint Opposition has done is something really good. The broken pieces were distributed as Prasad among devotees. This can be commonly seen in Hindu temples very often.
According to Hinduism dashing of coconuts is not to invoke blessings of a God or bring down a curse on someone else. It is a complete farce, unless these people have invested a religion like the Coconut Religion of Vietnam (Tinh Do Cu Si) which was banned by the Vietnam Government in 1975.
Some (Who are more scientifically (Empirical) hold the explanation that when one dashes the such hard nut the shock serves as a release to the pent-up anxiety and stress so that it prepares someone to face life's challenges such as examinations etc.
So, going by this argument, again the Joint Opposition has shot itself in its foot by dashing the coconuts. By doing so it has lost its energy to fight back, lost its zest and ego to fight back.
Back to the nuts.

Breaking (Either by cracking with an implement or dashing against a hard surface may also reflect a symbolic belief that a person who is doing the puja should keep sweetness inside him.
"We break a coconut to signify that we break our ego before worshiping the God," one practising Hindu blogger said.
"Symbolises one's head. Like bowing head means submitting one's ego. Offering coconut means offering one's head, the ego," he said.
One reason is that people saw the coconut tree taking in salty ground water and giving sweet and nutritious water through the fruit. Similarly, man is inspired to mould himself by eradicating his impurities or turn bad unfavourable surroundings for his good.
According to Hindu mythology in ancient times, Vishvamitra Rishi created the coconut, to be used as an offering to appease the deities to halt animal sacrifice. In this manner the Rishis propounded ahimsã during ritual offerings.
"According to Hinduism dashing of coconuts is not to invoke blessings of a God or bring down a curse on someone else. "

However, some sources say that the practice was introduced by Adi Shankara by early 8th Century CE. He was a Hindu philosopher and theologian, who consolidated the doctrine of Advaita Vedanta.
He is credited with unifying and establishing the main currents of thought in Hinduism.
Since then the coconut has become a symbol of sacrifice. Therefore in any auspicious venture or ritual, a person offers a coconut to a deity with the sentiment, 'I offer myself at your feet'.
It is also offered to a deity on certain lunar auspicious times and days.
It is placed on top of a kumbham, with mango or betel vine leaves during puja rituals.
Coconut water is also used during abhishek in temples.
One interpretation is that the hard outer shell signifies the ego, while the soft and pure white inside signifies the pure atman (soul). According to Hinduism atman is always pure and cannot be dirtied. Thus opening the nut keeps on reminding people of the underlying truth-that unless you let go of your ego you will never be able to attain the sweet spiritual bliss.
It is cracked on the doorstep of a new building during Vastu puja and during pujas of new heavy machinery. So, we see the irony of the whole drama. The coconut should be cracked or dashed by someone who is under severe stress or who had undertaken a task. /M.Mahasena