---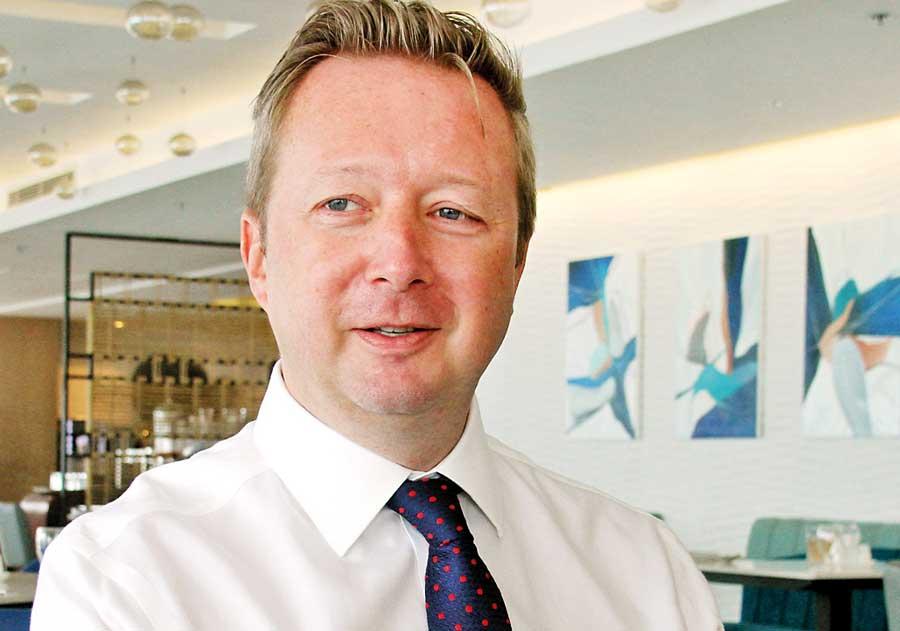 La Vie Hotels & Resorts & Radisson Hotels Area General Manager Alan Christie
PiC by Pradeep Dilrukshana
I am proud to say that we will be the first three hotels in this country to partner with a company and food waste experts who are helping us in our menu planning
Unfortunately there is a huge brain drain from Sri Lanka in the hospitality industry to the point where we cannot sell jobs
Hospitality five years ago was not a career in Saudi Arabia. It is the highest recruiting industry in the country at present
As Sri Lanka is gearing up with ambitious plans to attract five million tourists per year,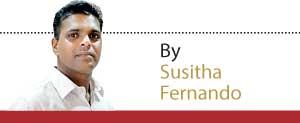 Daily Mirror interviewed La Vie Hotels & Resorts & Radisson Hotels Area General Manager Alan Christie, a strategic hospitality leader with international experience to see how realistic the country's plans and future prospects of the hospitality industry famous for its friendly and hospitable people.
With over two decades of senior asset management experience- most recently as Executive Vice President Advisory and Asset Management with JLL Singapore- Mr. Christie has been involved in real estate, financial services and hospitality industries in the Middle East, Africa, Europe, Asia Pacific and North America. As we celebrated World Tourism Day last month, he strongly believes that tourism in Sri Lanka is going to grow his company, which began business with three hotels during one of the most turbulent times of the history; the Aragalaya period in 2022. He has already planned to start two more hotels in Sri Lanka. Mr. Christie also emphasised on the importance of sustainable development of the hospitality industry most importantly with the development of human capital and attracting less affluent, vulnerable communities and training for a 'vocation' in tourism, one of the most sought after jobs in the world.
Here are excerpts of the interview done with Mr. Christie:
Look at what France is going through. Protests in Paris shows again where resilience can take place and you still got a product to offer. What Sri Lanka does from culture, from beaches, to mountains, tea plantations, Sigiriya historical monuments, the Temple of the Tooth you know the list goes on. When you get that list as a product it's not hard to recover

Q How is the operation of your company faring in Sri Lanka?
We are doing well. With three hotels under the brand Radisson within a year there are two other hotels in the pipeline. One will be opened in Galle at the end of the year and there will be another conversion here in Colombo.

Q You opened up operations with three hotels somewhere around May 2022 and it was during one of the most turbulent times in Sri Lankan history. How do you see the development over the past one year?
We started in May 2022 and it was one of the most turbulent periods in Sri Lanka's history. You know we had a lot of pressure. We have got targets and work and we still have a long way to go. We are working with our brands and using our operating company called La Vie Hotels & Resorts in Australia. We are looking at various ways of how we can attract our sales and marketing. How we are looking at how we can build on our strength and how to learn from our weaknesses as well. Besides where we should be playing. Our brands are set in Singapore and we have lot of support from Singapore to help us in our country. Asia pacific India again is very easy for us to get into. India is a huge market for us and there is a huge brand presence of Radisson in India and that is compounded with a market share we can prove we are bringing in from that inbound article. Overall we are doing very well.

Q Is there other Asian markets you are eyeing?
Yes. South Korea is one of the destinations we are trying to attract because we see a huge honeymoon destination actually for us. The honeymoon period in South Korea is from October and November. This is a high season and domestic season and you know

Q Sri Lanka's tourism suffered a lot during the 26-year long war and just ten years after the end of war in 2019 there was another tragedy which came in the form of the Easter Sunday attack. Then came the Covid 19 pandemic, economic crisis and the politically turbulent times. Do you think Sri Lanka's tourism has the strength to recover soon?
When you study the tourism figures around the world whether you look at the Maldives or whether you look at Bali or Thailand, Singapore, Dubai for goodness sake there had been issues. Thailand is a good example because it is one of the visited places on the planet. They all had issues. Dubai had a financial crisis at one point and Thailand had issues in its own right, everybody suffered from the pandemic. Look at what France is going through. Protests in Paris shows again where resilience can take place and you still got a product to offer. What Sri Lanka does from culture, from beaches, to mountains, tea plantations, Sigiriya historical monuments, the Temple of the Tooth you know the list goes on. When you get that list as a product it's not hard to recover.
And the destination has a product; a product as the destination. So that is why I am here. I see the opportunity here that is why the brand is here. We see a huge potential here. For me I would say the future is bright

Q While industry tourism brings foreign income to the country also a lot of job opportunities are created. There are many Sri Lankans in the hospitality industry working the world over and doing well. How do you rate the Sri Lankans faring in the hospitality industry?
It is a difficult question. We should probably do more work. The brand is already working on that. We had been doing international careers fair. Last month we celebrated World Tourism Day and we had international house keeper selection. We have been heavily promoting that from all the Radisson hotels in Sri Lanka also Radisson worldwide. This is a global thing. We have been supporting it from our hotels individually as an area team. Unfortunately there is a huge brain drain from Sri Lanka in the hospitality industry to the point where we cannot sell jobs. There are jobs we cannot fill. And things like housekeeping; hotels cannot run without housekeeping, hotels cannot run without front office and engineering... all these jobs we have. Careers and vocations..... you say we have got multiple opportunities and it is a shame that we can't fill these vacancies here. And we have been seeing people go to other countries which are sad to see. On the flip side we also see lot of them return. Most of our recent hires were actually all Sri Lankan nationals who have come back from Dubai, Doha, the Maldives. We see that people want to return home and that is a great thing. Tourism is going to grow here which is undoubtedly going to happen. Then we must encourage it as a vocation in the country to do it. We have been speaking to hospitality schools here and we have been speaking to training schools here. We are the first one to do it here because we want to take them from the schools. A big initiative we've done here in Colombo that needs to be highlighted is we have taken ladies and gentlemen from underprivileged backgrounds who wanted to learn to become chefs. So they had zero training and so we have gone to these people and we follow it up. What we do is we provide them with uniforms, meals, accommodation and training as well. We train them to a point where they can go out and have a job whether it is with us or another company and they can get salary paying jobs. From a hotel point of view and world tourism point of view from a community point of view and CSR initiatives and this was one of the best CSR initiatives we have ever done.

Q How do you see the potential of the younger generation in the hospitality industry in Sri Lanka?
I see a growth. May be I am biased since I am in this industry. There are two different ways of promoting it. One way is promoting it through the government saying this is a great vocation. And there is another one as our responsibility as hotel operators and hotel brands to show that this is a great career. There is better example than the Middle East. Back 15 to 20 years ago there were no hospitality careers in Dubai but where you want to work now is in Dubai. Hospitality five years ago was not a career in Saudi Arabia. It is the highest recruiting industry in the country at present. They made it into a career that people want to get into and I genuinely hope that it will happen in Sri Lanka too. I think there are not two but three options. There is the government promoting it as a career, hoteliers promoting it as a career of choice and then the schools as well promoting it as a career. I personally think it is a great career and love it and I worked in all aspects of it from operation to investment hunting, management to consulting. And each one is completely different to the other. I feel I am fortunate that I have worked in all areas. And remember it is one of the jobs that takes you around the world.

Q As we marked World Tourism Day recently, what is the most salient feature that needs to be sustained in tourism industry?
If I talk about the world tourism day, what is world tourism day all about? It is celebrating tourism as an industry across the plant. It is about awareness. You know we are physically using the plant. According to the United Nations it figured one in ten people are working in the tourism sector in one way or another. It is strictly awareness about sustainability, how you deal with the people in the industry and how you track talent. It is not tracking the customer all the time. You got to remember there is a human element to this industry as you promote sustainability and think about the future of travel and how we can do it.

Q There are also talks about sustainable tourism initiatives like getting rid of single use plastics in hospitality industry. What are the other challenges in this industry?
Yes, we already talk about getting rid of single use plastic and so on. One of the things that we have already talked about is going to underprivileged areas and recruiting people, housing them, training them, feeding them, clothing them and being part of that. That's to me promoting sustainable tourism in the community, that's giving people a future, showing the people that this is a vocation. That is one key area we are focusing on. One of the biggest things in a hotel besides plastics is food waste. What are doing about it? I am proud to say that we will be the first three hotels in this country to partner with a company and food waste experts who are helping us in our menu planning, and assess how much food actually we have and everything is computerised. Are we cooking too much of one item and the other part is what you do with the food waste. Now we measure it. This is for recycling, this is for cost control this is for inventory control, this is non-waste, not using natural resources of the planet. And then we get the next part when we partner with a local company. We can use that food waster with farmers as composts or feed for animals rather than just throwing it all away. We are now speaking to the local producers- you know the famers- and compost people in agriculture about what they can do with our food waste so we can re-recycle them. We are the first hotel in the country to partner with a company and control the food waste and now we are speaking to the people involved with agriculture about what can be done with waste rather than just throw it away. I think about such things on world tourism day. What our three hotels want the community to hear is that we are working with the community to enhance it. That is it can be both from an agricultural perspective or from a human element in hiring and training people.