---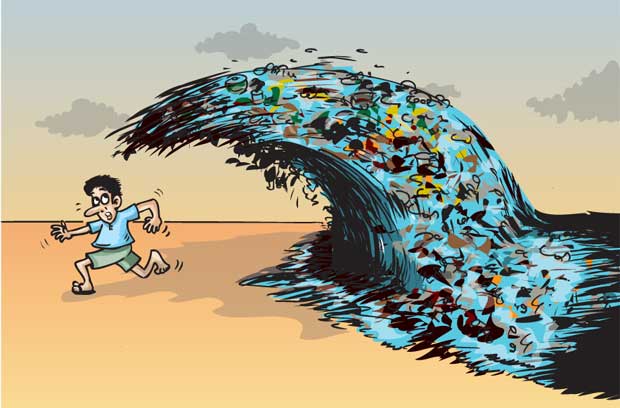 Texas, Florida, some Caribbean and Latin American countries were devastated in recent days by two of the most powerful hurricanes recorded in human history. About 100 people were killed while tens of millions were severely affected by nature's wrath though the United States President is still claiming that climate change is a Chinese hoax and has pulled the US out of the historic Paris treaty to curb global warming.
In recent years environmentalists have found that the oceans, which help maintain a delicate balance in nature, have been polluted to such an extent that about 50% comprises plastic bottles, other plastic ware and polythene thrown by insensitive or senseless people, including most of us. There are more plastic bottles than marine species in the oceans, with fish known to be eating plastic. When we relish the delicacy of a fish curry or fried fish, we also may be eating a little plastic and giving it to our children. That may be one of the reasons why most of us are falling sick more often.
Another major ocean crisis is that we pump untreated sewage into the sea. Now that we have a plant to produce energy from waste, here is a creative way to recycle our sewage. If we convert to what is called "solar aquatics" we could get free compost and even flowers for export.
In the Bear River of Nova Scotia, residents have switched to a totally different tactic. They addressed their sludge waste by installing a solar aquatics treatment system. In a bold move, they placed the end of the city's sewer pipe in the centre of the town and by doing so, it was hoped sewer waste would remain in the mind for the community. While this setup has not necessarily resolved all of their sewer and sludge-related issues, it certainly has made residents think more consciously about what is happening to their water and waste.
According to Mark Van Zeumeren, former senior engineer with Environmental Design and Management, the company responsible for designing and installing the Bear River system, in the past it was not in the people's mindset as to what happened to the water, what they were doing with it. Here, the people are keen to come down and walk through the system. They identify with their sewage now. This is their sewage and they have to deal with it.
Solar aquatics is radical in that it employs plants and microbes to purify waste. Inside the greenhouse in the city of Weston, Massachusetts, 16 gravity-fed tanks brew sewage with the help of floating flora. Celery, cherry tomatoes, mint, primroses and water lilies, as well as a few fish and snails absorb contaminants.
Phil Henderson, chief executive officer of Ecological Engineering Associates, which owns and operates the Weston greenhouse, shares a few of the advantages of solar aquatics. It produces half or less as much sludge as most industrial plants. Local residents much prefer living next to a greenhouse than a traditional waste treatment plant, which is generally thought to be an eyesore. It is a great learning tool for students and the community.
No matter what kind of sewage treatment methods we may use to clean up after ourselves, certain problems will undoubtedly remain unless we determine to change our ways. Unless we change, most assuredly the habitual, daily use of all sorts of chemicals, medications and other toxic substances in our homes, industries and institutions will continue to burden our sewers.
Here are a few potential areas that may fuel our thinking about how we could become more engaged with, and responsible toward, waste and waste treatment. If we make just one small change, it would go a long way toward helping us to collectively "clean up our act".
Take caution with respect to the amount of water, as well as the cleaning supplies, detergents and personal-care products, you use for car washing, laundry, lawn care and personal hygiene, because they introduce additional areas where contamination may occur.
Sri Lanka, surrounded by the ocean, needs to encourage young people especially to work creatively in finding solutions to ocean pollution and other factors that contribute to climate change. This could be an important part of the vision 2025 programme outlined last week for a sustainable and eco-friendly development strategy to build a just, peaceful and all-inclusive society.