---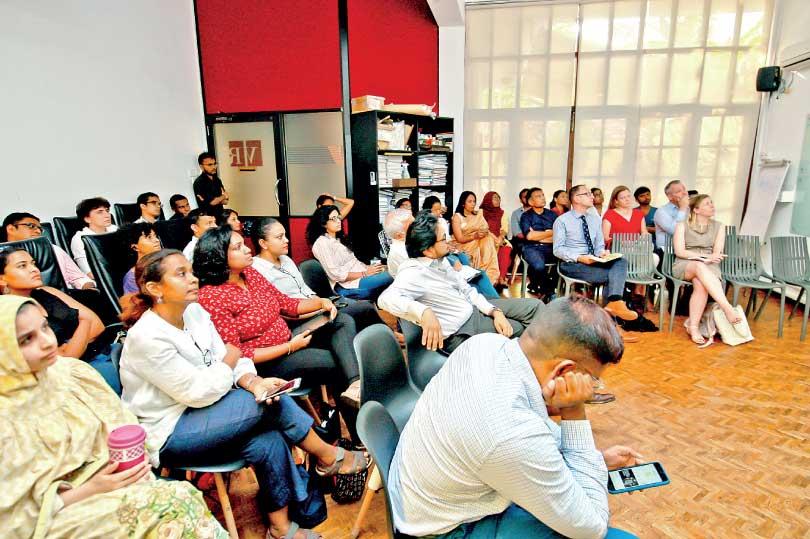 Ten years after the end of Sri Lanka's civil war, the country still seems to be spending its defence budget similarly to that of conflicted-affected states, a new study reveals. It also states that spending is significantly higher than its regional, island and population-size peers. The study done by Daniel Alphonsus, who had served as an advisor to Sri Lanka's Finance Minister with experience working at the Foreign Ministry and Verité Research, comes at a time when Sri Lanka's economy as a whole needs to be revisited and restructured as the country has been accumulating crippling debt over the last two decades.
'Prima facie' reasons
In 2017, 11% of government spending had been on defence thus reflecting it is in fact the single largest item on government expenditure. A few other reasons why Sri Lanka's defence may diverge from its optimal level are as follows:
Sri Lanka's defence budget hasn't experienced a significant decline or major change even after a decade has gone by since the war was last fought
Sri Lanka doesn't have any defence review which outlines threats, national security objectives or strategies of achieving them
Treasury and Parliament lack technical skills to question budgetary proposals from the Defence Ministry. The paper also reveals how the defence budget had been an allocation either as a residual or a certain percentage over last year's expenditure is allocated
The military is also involved in business ventures, construction contracts, nation-building exercises and city beautifying projects which may be a distraction from their security mandate
Public reasoning capacities among the media and universities which are think-tanks too have either lacked the appetite or ability to scrutinise the defence budget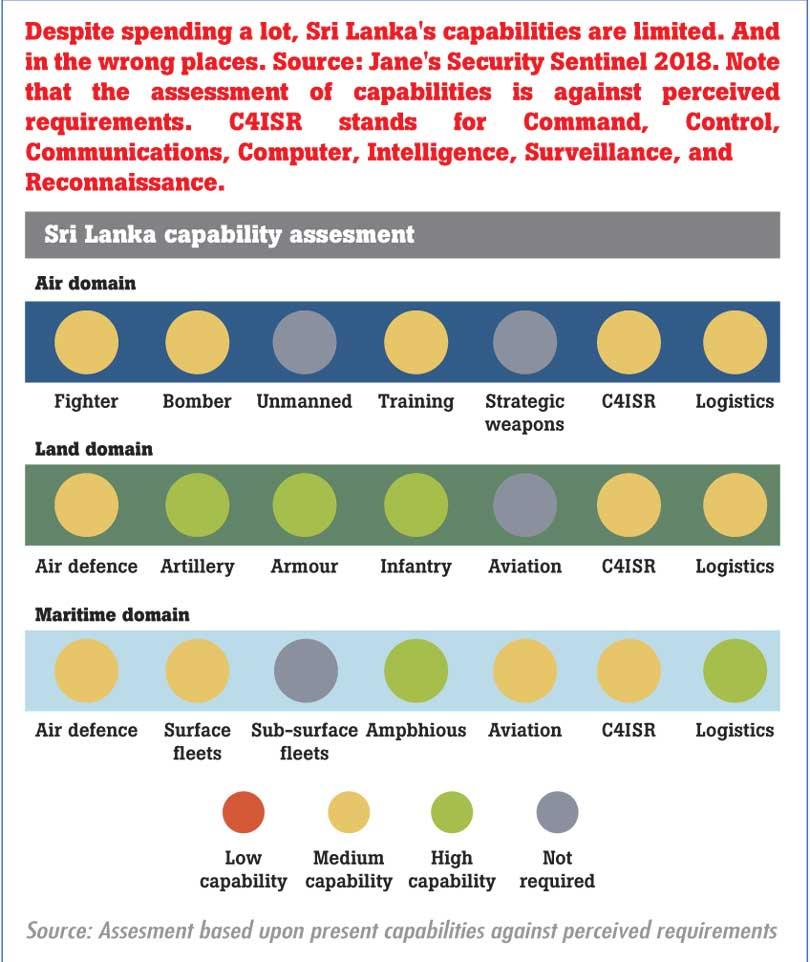 A glance at figures
Estimates in 2012 show that the average military expenditure stood at USD 421 million between 1983 and 1987, but risen to USD 1,716 million in the post-war period between 2007 and 2017.
"This shows defence spending is higher than it was at the peak of the war," said Alphonsus during an open forum while discussing his findings. "Averages keep increasing and continue thereafter. The new normal is three times higher than the previous peacetime. Therefore, defence spending which was a little above 5% during the peak of the war is now close to 20%."
The calculations further showed how military expenditure was at 11% of the central government expenditure while it was only 5.79% in countries with a similar population.
He said Sri Lanka was spending roughly the same amount of money as Myanmar which had a population of 50 million and the Philippines which had a population of some 100 million. "If it were spending similar to New Zealand, it should considerably increase its military capability. According to Jane's Defence Review, Sri Lanka relatively has a high capability in artillery, armour and infantry in the land domain and logistics in the maritime domain. However, this reflects wartime security needs rather than post-war security needs. Yet, there had been a broad continuity in the defence budget," he said.
Sri Lanka spends too much on manpower, over-prioritises the army and under-prioritises diplomacy, policing and maritime capabilities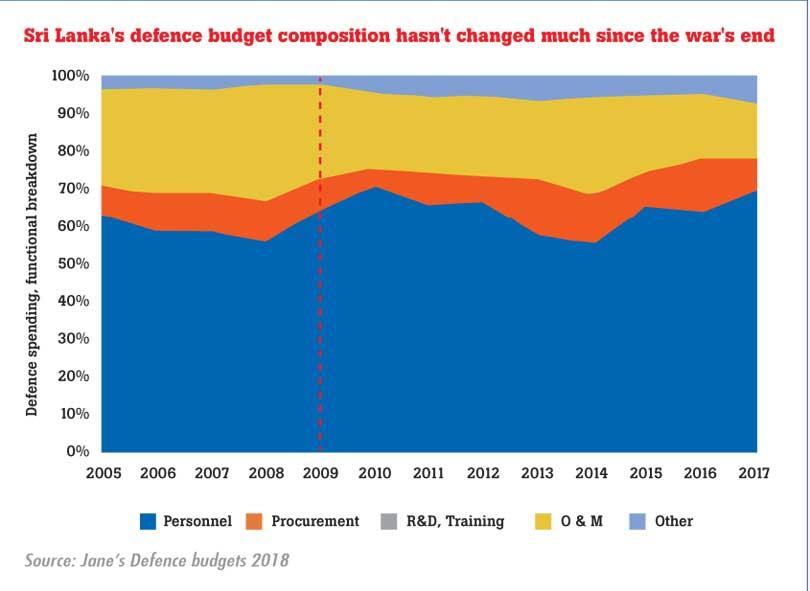 Overspending on lesser important areas
On average, the State spends 40% of its defence budgets on personnel. As such, it could be seen that the country's defence budget composition hasn't changed much since the war ended. This also raises doubts as to whether the defence budget is not geared towards current security challenges. With the change of the strategic environment, one would have expected lower personnel costs or operations and maintenance costs. But the situation seems to be the opposite.
When comparing Sri Lanka with its peers, the diagnostic suggests that Sri Lanka spends too much on manpower, over-prioritises the army and under-prioritises diplomacy, policing and maritime capabilities. Another comparison is in terms of active duty troops which are higher than island, IORA and world averages. "What is also driving this high personnel cost and the number of men is that we don't have reserves. In every other region of the world, reserves play a pivotal role in meeting the country's security requirement.
If you look at allocations within services, there's a higher spending on the army than the navy and air force. If you take the defence budget in the context of the security budget, 75% of the defence is the sum of these three while law and order is about 20% and diplomacy about 5%," he said.
The paper further states that spending too much on manpower results in unusually low spending on procurement and research, development, testing and evaluation. It was also revealed how Sri Lanka's army had been allocated a 'lion's share of resources.' On the other hand, the defence budget has lesser allocations towards diplomacy and law and order. For instance, the Foreign Service is severely understaffed with 190 diplomats serving 67 missions and the headquarters in Colombo.

Daniel Alphonsus
Conceptual challenges
Several challenges have been identified in terms of drafting an optimal defence budget. These include:
Identifying current and future threats
Evaluating response strategies to counter these threats
Estimating optimal capabilities and force structure
Costing capabilities and forces
Weighing security benefits against other government objectives
Recommendations
What initially needs to be done is to review Sri Lanka's security environment, establishing clear security priorities, assessing capabilities and costing them. The paper also discusses why the appointment of people with proper expertise in key positions would favour this task. These include establishing a Defence Ministry economist and Defence Ministry civilian military adviser and staff their offices with economics and civilian defence experts who are independent of their service, establishing the position of economist to the National Security Council among others. The paper also suggests reducing active duty personnel as Sri Lanka needs only 30,000 of them along with 170,000 reserves. But as at now, the country is equipped with 254,000 personnel with only 33,000 reserves. Troops could be reduced by introducing a voluntary retirement scheme or by curtailing recruitment. In terms of reallocations, expenditure needs to be shifted to police, intelligence and diplomacy.