---
Keheliya Rambukwella, addressing the media briefing last week, used the derogatory term "kalakanni"
Most of the government politicos are behaving like clowns
Modern digital technologies have helped eliminate the necessity for existence of firms
Media and Information Minister and Cabinet Spokesman Keheliya Rambukwella, addressing the media

briefing last week, used the derogatory term "kalakanni", meaning cursed with bad luck, to describe the striking teachers. Slip of the tongue, a colleague defends him? However, he continued, "pardon me for using it," means it was a bold and deliberate comment.
Minister Rambukwella, who consulted, in his own words, 'a group of the island's top legal luminary to discuss vital issues' a week before, seemed disturbed over the leak. The Opposition Leader made a hue and cry in Parliament 'divulging' government's plan for fixing a TV channel. Legal consultation would have cost the tax-payer a handsome sum; was it to get advice on avenues available to muzzle sections of media, a common strategy adopted by all governments especially at times of obscurity? At post-cabinet press conference, the minister appeared worried and anxious in responding to scribes; he could not help but vent his spleen at protesting teachers causing deep resentment among them.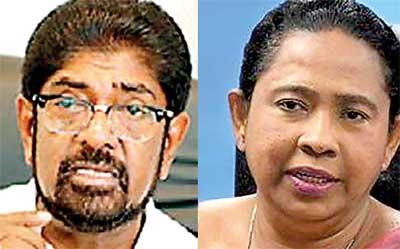 Kalakanni–in 'Jataka' Tales
According to Buddhist scripts, there were two men who shared the name Kalakanni – one, a childhood friend [kalyanamitta] of Anathapindika situ and the other a student; [not the teacher] in Ummagga Jataka. In the latter, kalakanni—entered Taxila, institute of higher learning.

The teacher had a daughter with extreme feminine beauty. On successful completion of his studies, Kalakanni was to return home, when the teacher wanted him to marry his daughter—out of respect for his teacher he agreed. However, he avoided her and, slept on the floor at night. Then they were travelling back to his city, on the way he climbed a fig [dimbul] tree to eat some ripe fruits. Being asked to climb up and pick her own, our 'man' piled thorns around it so she could not come down and he sprinted off.

The King was on his rounds riding his elephant and admiring 'birds' when he saw the woman on the fig tree. It was 'love at first sight', and he applied the dynastic 'family rule' claiming her as his own; named her as Queen Udumbara (fig), his chief consort. [Go to … https://thejatakatales.com/siri-kalakanni-jataka-192/ for rest of the story.]
Gatherings, whether they are state sponsored publicity drives, or opposition's demonstrations recklessly exposing thousands to the acute and long-term shock of mass infection—it is the government's primary duty to protect public health.
Health Minister
While many countries in the world were conducting research on how to control the pandemic, our fair Health Minister spent a significant part of her time and energy in promoting 'Kaali Amma's Dammika Peniya, a recipe given in a visionary dream by Kaali Meniyo! Prior to this, four pots filled with 'blessed water' prepared by a 'Royal Healer', were released to the Kalu-and the Kelani Rivers by her in a move to save the country from the pandemic! We are now experiencing the consequences partly due to her
superstitious stupidity.

Health Minister [daughter of late Mr. Dharmadasa Wanniarachchi senior politician], who shined at Anula Vidyalaya, took oaths as an Attorney-at-Law before entering politics. Pavithra Devi even announced her preparedness to repeat Princess Viharamahadevi's act of bravery [200 BC] in sacrificing herself to the great ocean if she could eradicate the pandemic from the motherland. Practicing mythology and superstitions to resolve a global disaster under any circumstance is nothing but conscientious stupidity.

A few weeks later, the bad news of Wanniarachchi getting infected and hospitalised rattled the country; and even those who disliked her joined in island wide chorus wishing her speedy recovery. She later confessed, "It could have gone either way." She admitted her recovery was due to the "wonderful, nursing" and felt "lucky" to have come out of the deadly disease.

Defending the foolish act in bundling up Teachers' Union Secretary- Joseph Stalin and company, [who are competing for rankings among trade unions] to Mullativu, she sought to give free expression to her anger by dragging the names of a few famous men, in the caliber of Marx, Lenin…, who changed world history through political and economic ideologies [no longer valid though] in the 19th and 20th century.

Joseph Stalin 1878–1953 was a revolutionary leader who ruled the Soviet Union from 1927 until his death in 1953. He paved the way for Soviet Union to be a leading world power. Karl Marx 1818 –1883 was a German philosopher, sociologist, economist, journalist, historian, political theorist, and socialist revolutionary. His writings, included the three-volume Das Kapital-1848, and a pamphlet 'The Communist Manifesto' in collaboration with thinker Engels. Marx's philosophical thought had enormous influence on intellectual, economic and political history. Vladimir Ilyich -1870–1924, better known as Lenin, the founding head of Soviet Russia, was a revolutionary and political theorist who developed a variant of communist ideology known as Leninism.
At the press conference, the Minister declared, "Let it be Joseph Stalin, Karl Marx, or Lenin…, [she left out Engels and Trotsky; perhaps she was not familiar with].

Quite obviously, Pavithra was driven by an irresistible wish to get our country back on its feet; healthy again, and uttered the statement inadvertently dragging the names of the past greats. However, in the interest of the health services, we wish she decides on her own initiative to move out of health along with her DG, [who issues questionable guidelines based on dictates of political agenda], leaving two qualified State Ministers to run the show at this crucial moment.
Future of Trade Unionism
Confusion and uncertainty threatens the future of Trade Unions. The direction of change of work is not in favour of a healthy future for Trade Unions. The decline in conventional forms of jobs in various forms of flexible work, through outsourcing and subcontracting has affected the TU movement. Increases in informal economy have caused union strengths to fall in all developing countries. Modern digital technologies have helped eliminate the necessity for existence of firms. Online platforms have pushed the process of networking, subcontracting, outsourcing, and breaking up work. As this system, a process of liberalisation and freeing capital from its dependence on labour develops, it will not have employees in the traditional sense, and with this trend the Trade Unions will become less relevant or powerless. Trade Union leaders of obsolete 'Marxist' ideologies [aragala-mardana] are concerned and worried; naturally they tend to create adverse situations in desperation.

As a non-career politician, the President is different from the contaminated leaders from both factions. Gota started well; people rewarded him with an almost impossible—two-thirds majority under PR system. Unfortunately he and his government had failed to deliver. No doubt the pandemic caused unprecedented disaster to an already ailing economy. Balance of payment crisis worsens with tourism and remittances by foreign employment dwindling. Burdened with extreme idiocy, most of the government politicos are behaving like clowns. It is the duty of every responsible citizen to co-operate with authorities in controlling the spread of new variants and a disastrous fourth wave.
kksperera1@gmail.com