---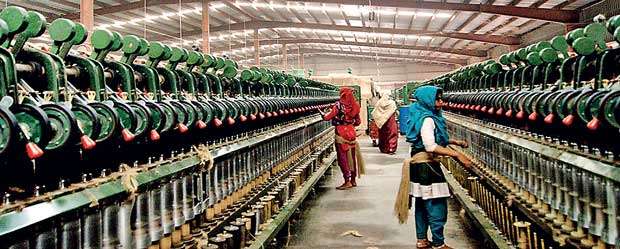 Inside a modern jute mill in Bangladesh
Known as the 'Golden fiber', jute is grown in West Bengal and Bangladesh
Jute is said to be the cheapest and the most economical vegetable fiber after cotton
Grown during the monsoon, the jute crop rotates with rice to restore soil fertility
Jute became a commercial product only in the 17th Century
The British also found out the means to soften the hard and brittle nature of jute fiber by adding oil and water
By June 1981, the state-run Bangladesh Jute Mills Corporation (BJMC) had 74 mills under it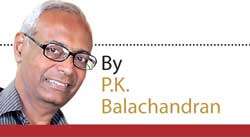 Typically associated with the crude 'gunny bag' used in the bazaars of the Indian sub-continent, jute is now very much up-market with an amazing variety of fashionable products being turned out from the fiber.

This was evident at the Bangladesh stall in the Xmas Charity Bazaar held at Galle Face Hotel in Colombo on Sunday.

"In just four hours most of the articles on display were sold out," remarked Riaz Hamidullah, High Commissioner of Bangladesh.

"Exported mostly to the West, even Bangladeshis may not have seen these high quality products," he said as he pointed to a wide range of bags, rugs, containers and household decorative products on display. They were colourful, and soft and intricate even as they were tough.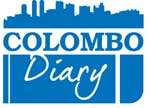 One was amased to hear that there are now 'jute saris.' Western fashion designers are now using jute as a fabric. They are used for furnishing in passenger jets and automobiles made in France and Germany, and in homes as rugs, bags and containers.

A Bangladeshi designer has developed the 'Sonali Bag' or the Golden Bag, which ought to replace the environmentally unfriendly polythene bag, because it is biodegradable, Hamidullah said.

Bengalis in the Indian State of West Bengal and in Bangladesh, had discovered the virtues of jute long before the rest of the world. The traditional Bangladeshi 'Satranji' mats are made of jute.

"Jute curtains are used to beat the heat because jute is a heat insulator. The military can use it to make camouflage jackets as they look like grass. The Bangladesh jute industry has identified 250 industrial and commercial applications of jute," Hamidullah said.

Known as the 'Golden fiber', jute is grown in West Bengal and Bangladesh, but mostly in Bangladesh. Rangpur, Bogra, Tippera, Pabna, Dhaka, Faridpur, Rajshahi, Jessore, Nadia (10%) and Dinajpur districts in Bangladesh and Hughli district in West Bengal (India) are known for jute cultivation.

Jute is said to be the cheapest and the most economical vegetable fiber after cotton. It is obtained from the skin or bast of the jute plant's stem. Literature on it says that jute is a recyclable, 100% biodegradable and eco-friendly product which has low extensibility and high tensile strength.

Grown during the monsoon, the jute crop rotates with rice to restore soil fertility. The leaves of the jute plant enrich the fertility of the soil. Use of jute sticks as fuel and fencing material as substitute for wood prevents deforestation. Given the increasing global concern for the environment, the future prospects for jute are high, Hamidullah said.

Jute's Hoary Past

In medieval Mughal era in India, jute was the poor man's dress material. In ancient Bengal, jute was used to make ropes and twines, and in China, it was used to make paper.

Prior to the establishment of the first jute mill in India in 1855, handloom weavers used jute fiber to make twines, ropes, coarse fabrics for the poor, and also for fishing and for mooring vessels.

Jute became a commercial product only in the 17th Century, when Europeans recognized its value. The British East India Company (EIA) which established itself in the Indian sub-continent, first as traders and then as rulers, made jute a major item of international trade.

The EIC began by trading in raw jute. The first consignment of jute was exported to England in 1793. In Scotland, flax spinners were trying to find out if jute can be mechanically processed. Flax, also known as linseed, is a food and fiber crop cultivated in cooler regions of the world. Textiles made from flax are known in the West as linen, and are used as bed sheets, underclothes, and as table cloth.

In 1830, flax spinners in Dundee spun jute yarn by transfiguring their power driven flax machinery.

The British also found out the means to soften the hard and brittle nature of jute fiber by adding oil and water. This made the fiber more pliable and easily separable, and resulted in the production of a usable thread.

This led to an increase in the production and export of raw jute from Bengal which at that time was the sole supplier of raw jute.

First Jute Factory In India

George Acland from Dundee in Scotland set up the first power driven jute weaving factory in India at Rishra on the River Hooghly near Calcutta in year 1855. As coal was mined nearby, power was available.

By 1869, five mills had been set up with almost 1000 looms. And by 1910, there were 38 companies with 30,685 looms, rendering more than a billion yards of cloth and over 450 million bags. Come 1939, there were 68,377 looms on the banks of the River Hooghly near Calcutta. Their products ranged from coarse bags to finer fabrics known as hessian or burlap.

In 1900-1, the export value of jute manufactures accounted for nearly a third of the entire export from Bengal. Half the industrial workforce in Bengal was in the jute industry.

In sixty years between 1880 and 1940, the number of mills increased five times, that of looms by 14 times, of spindles by 19 times, and of persons employed by 11 times.

Historical Factors

In 1838, the Dutch Government wanted bags made of jute instead of flax for carrying coffee from the East Indies (now Indonesia) to Europe. When the Crimean War of 1854-56 led to the stoppage of flax supplies from Russia, Dundee factories were forced to look for substitutes. The American Civil War (1861-65) gave further impetus to the jute trade, as supplies of American cotton had dwindled. World War I and II kept the industry up in the 20 th.Century.

Calcutta and Dundee became "jute cities". The owners of the jute mills in Dundee came to be known as "Jute Barons" and the British-owned newspapers in Calcutta came to be known as the "Jute Press" because they were funded by money made in the jute industry.

Growth After Independence

When India and Pakistan gained independence in 1947, (Bangladesh was known as East Pakistan then), the British jute barons yielded place to the Marwari community in India and to West Pakistan-based businessmen like the Bawanis, Adamjees, Dauds and Ispahanis in East Pakistan.

After East Pakistan separated from Pakistan to become an independent Bangladesh in 1971, the West Pakistanis abandoned their factories and fled. The new Bangladesh government had to take over the factories, though they were privatized later.

By June 1981, the state-run Bangladesh Jute Mills Corporation (BJMC) had 74 mills under it. These mills employed 165,000 workers and 27,000 managerial and office staff. In 1982, the industry was privatized, and with World Bank aid, began to make profits.

Despite diversification, jute is still the backbone of the Bangladesh economy. Nearly 15 million farmers are involved in growing jute and several million more, perhaps another 15 million, are involved in the processing, transportation, conversion of the crop into useful products, for both domestic use and export to the upmarket outlets in the West. .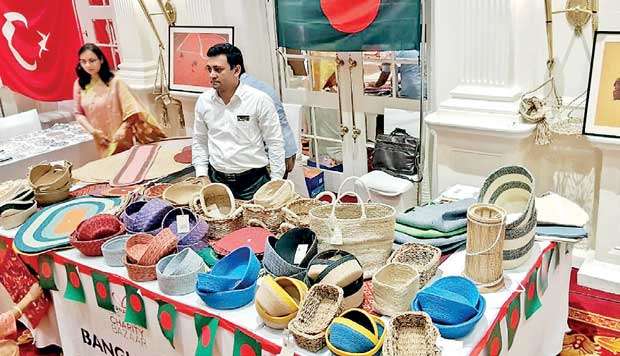 Jute products on display in Bangladesh stall in Colombo