---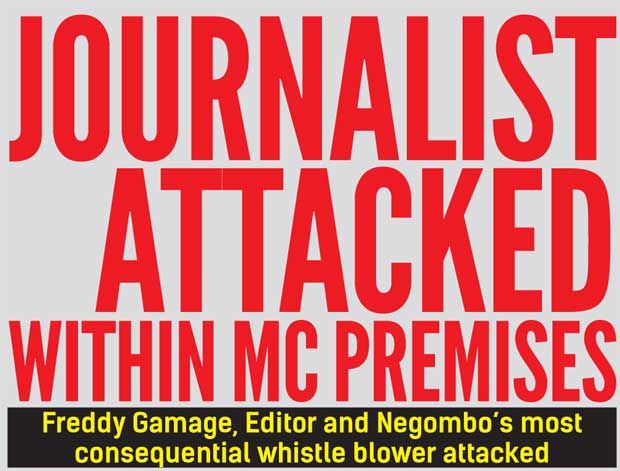 ri Lanka has been ranked by the Committee to Protect Journalists' Impunity Index as the 4th worst country in the world for attacks on journalists that go unsolved. There are only a handful of journalists, like Freddy Gamage, the editor of regional newspaper 'Meepura', who will even risk their lives for the right to information and media freedom in the country. Though right to information is an integral part of our Constitution, most journalists do not feel safe to execute this right. Self censorship has sadly superseded media freedom and has even become a norm among young journalists of Sri Lanka. We were initially pleased about the enforcement of good governance (Yahapalanaya) by the new regime, because transparency in government affairs is one of the key facets of good governance. However, this incident once again showed that it is still difficult for journalists, to shed light on corruption and illicit activities that occur in the country.
The Sri Lankan Working Journalists Association condemned the attack on Freddy Gamage and stated that the media should be able to pursue their work without any fear and favour, that it is a pity that such attacks occur even under good governance and the perpetrator should be penalized despite political influence in such instances.

I was threatened before the attack: Freddy Gamage
Freddy Gamage, journalist and Convener of the Web Journalists Association was assaulted on the afternoon of June 2, while returning after covering the Negombo Municipal Council Meeting, by two people wearing full-face helmets and overcoats.
"When I looked at the motorcyclists at the Council grounds where my car was parked they appeared to be baffled. When I opened the car door I looked at them once again and suddenly they were on me. Though I tried dodging their first blow it hit my head. I fell flat on to the floor and managed to run away without my shoes. I saved my life by jumping over the fence of the council. Some women who

witnessed the incident said that there was no number plate on the bike," Mr. Gamage told Daily Mirror. "I went to the police to make a complaint but half way through I felt extremely dizzy and my body was throbbing with pain. They completed taking down the complaint at the hospital."
"Two weeks prior to this incident I received a phone call threatening me not to write anything demeaning about the Lanza brothers. I have the voice recording," Mr. Gamage said. "Within 48 hours the culprits were caught. The attackers are employees of the Municipal Council. In fact one of them had stamped their cards to attend the workshop held on that day. I believe that the people connected to Deputy Mayor Dayan Lanza handed over the two suspects with the weapons used, to absolve Dayan of the blame, because the police were searching for him." The arrested attackers had allegedly told the police that they attacked Freddy Gamage because he had published articles criticizing Dayan Lanza. "Sources state that Dayan Lanza had made 15 calls to one of the suspects arrested. If not for someone with political power, who else could attack me in public in broad daylight," Freddy asked.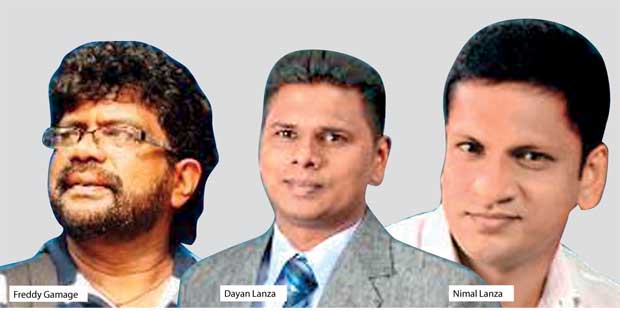 "We need to arrest the mastermind behind this attack. These people are connected to the underworld and use their political power to silence people. Even today there was a three- wheeler parked next to my office which suddenly sped away as if to scare me hoping that I would withdraw the case," he remarked.
Mr. Gamage said in January 2009 when Nimal Lanza was the mayor he had been allegedly threatened with death. "As Lasantha Wickramatunga was murdered at the time, I feared for my life and went into hiding," he said. "We have been writing extensively about the misuse of national property and political power by the Lanza brothers. Recently Dayan Lanza had called the secretary of the Urban Council to his cabin and had scolded her coarsely. As a consequence she fell ill and was admitted to the hospital. They act like ruffians in the Council premises and get away scot free."
With regards to media freedom Mr. Gamage said, "Under the new government this is the first instance where a journalist was attacked in broad daylight. The case is being investigated now, unlike during the previous regime. I must add that the suspect is an ally of Mahinda Rajapaksa though he works in an Urban Council under Good Governance." He added that we should be concerned about protecting and establishing the media freedom we have achieved.

my brother is not involved : Nimal Lanza
When contacted by Daily Mirror, Deputy Home Affairs Minister Nimal Lanza, denied his brother Dayan Lanza's involvement with regard to the attack on Freddy. "Freddy was not truly attacked, it is a lie. There are also false allegations and rumours stating that it was Dayan who authorised the attack. This is not true, and even if it is true I highly condemn it. I myself have no relation to this incident. Freddy and I are also good friends. This attack may be due to some personal animosity against him. Some one would have attacked Freddy on the grounds that he has written false facts in one of his articles. But, I am not involved with any of this. Anyway the people who directly attacked him are in remand."
We told him that the two individuals who are in remand, were instructed by some higher authority to attack Freddy. Therefore, they are not the true perpetrators of the case, "Yes," he said in regard to the statement, "That may be true. But I am not involved in this matter. I have never had a problem with the media."
The two suspects who are in remand are to be produced before an identification parade today.