---

One thing I did after my release was to resign from the Sri Lanka Working Journalists Association of which I was a member. The organisation did not lift a finger for me. The journalist friends who worked for my release did so on an individual basis and not on a collective or institutional basis

This is the fourth and final part of the article about how I was arrested by the CID and detained on the infamous 4th floor in October 1987. The first, second and third parts were published in the Daily Mirror on 14, 21 and 30 October respectively. In this fourth and final part, the focus would be on how I was released by the Police and cleared of all charges by the courts.

As stated last week, one of the CID officers quizzing me on the fourth floor had told me confidentially that I was going to be detained indefinitely to prevent me from reporting on the fighting between the Indian Army and the Liberation Tigers of Tamil Eelam (LTTE). Though I had been taken into custody under the emergency regulations, I was going to be charged under the Prevention of Terrorism Act (PTA)soon.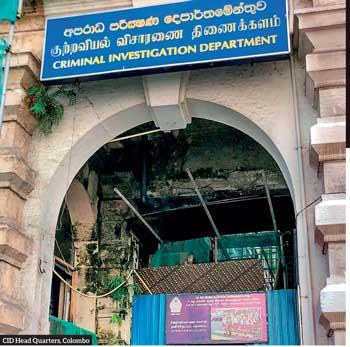 While conversing further this Police Officer who seemed genuinely sympathetic towards me observed
"You have been writing about the war between the Sri Lankan Army and the Tigers to Sri Lankan newspapers and even Indian journals, all these years but nothing happened to you. But when you wrote about the Indian Army fighting with the LTTE you got into trouble. So think about it. Who would have got you arrested?"
The Police officer then told me in cryptic terms "Lokka (JR) is pressured by powerful diplomats on your matter."Apey Minissu" can't do anything for you. You must get an Indian diamond to cut another Indian diamond."
I realised what he implied. It seemed clear that only powerful Indian intervention of one kind could save me from powerful Indian pressure of another kind.

N. Ram

The only saviour in sight was the then Hindu Associate Editor N. Ram who later became Editor in Chief and Chairman of the Hindu group of publications. It was Ram who had appointed me as the Colombo Correspondent of The Hindu and Frontline.
N. Ram was a key behind-the-scenes player in formulating the Indo-Lanka accord and enjoyed a great personal relationship with President J.R. Jayewardene and the then Mahaweli Minister Gamini Dissanayake.
Gamini had been strongly supportive of the Indo-Lanka Accord.
Island editor Gamini Weerakoon had told me in the brief telephone call that Ram had been informed through Neelan of my arrest.
The question troubling me was whether Ram would toe the overall Indian line or act on my behalf. I had earlier sent my interview with Mahathaya to the Hindu and it had not been published. Instead, Ram had wanted me to come personally to Madras (now Chennai).
When Ram contacted the Indian High Commission in Colombo, a top rung diplomat had 'advised' Ram not to get me down to Madras because I may talk to the Tamil media in Tamil Nadu about the IPKF-LTTE war.
Under these circumstances, I was not sure of how Ram would respond. I was pondering over this when I was told suddenly on Wednesday, October 28 afternoon that I was going to be taken to the International Centre for Ethnic Studies (ICES) in Borella.
During interrogation, it transpired that I was working on a research project at the ICES titled "Evolution and Growth of the Tamil militant movement."
The CID now wanted to check my desk and locker at the ICES due to this.

ICES

Utilising the opportunity I surreptitiously prepared a quick note requesting that N. Ram be asked to speak to JRJ about my release and put it in my pocket.
When taken to the ICES I furtively dropped it on the floor hoping that someone would pick it up and read it. Apparently, no one read it and most probably Gunasekera, the ICES office caretaker must have meticulously vacuumed it into oblivion.
I was taken in a jeep with three armed Policemen in uniform and three in plain clothes to the ICES. The ICES office caretaker Gunasekera saw us and prepared some tea for the cops and me.
The Policemen were taken aback by this but declined the tea. They allowed Gunasekara to give me some cake, plantains and tea.
The ICES researchers and staffers were not allowed to talk to me. Washington Post correspondent Richard Weintraub was in the ICES reference library at that time. He was personally known to me and tried to speak with me. The Policemen were annoyed and virtually shooed him away.
When I was bundled into the jeep to be taken back to the 4th floor the girls at the ICES came up to the jeep and shouted in unison "Bye Jeyaraj. Come back soon".
The Policemen guarding me were highly amused at this and were grinning from ear to ear.
Although I was in the dark about what N. Ram would do or not do, things had begun to move in my favour. N. Ram after being informed by Dr Neelan Tiruchelvam had got in touch with Gamini Dissanayake. Gamini had told Ram that I was arrested for what had appeared on the Island and not the Hindu. So there was no need for Ram to intervene. But Ram did not heed that advice.

Tamil Nadu

Furthermore, Ram whipped up a campaign in India clamouring for my unconditional release.
Indian journalists and student organizations organized protest demonstrations in various parts of Tamil Nadu over my arrest.
Journalists and Human Rights organisations started sending letters to the Colombo Government which had technically arrested me.
Many articles and news stories were published in the Tamil Nadu media about my arrest.
In a symbolic show of solidarity Ram published the Interview with Mahathaya in The Hindu although he held it back earlier.
He also came down to Colombo and met with President Jayewardene on Thursday, October 29 evening and sought my release.
After some initial reluctance, Gamini Dissanayake also requested JR to release me.
He was supported by Dr Sarath Amunugama on this issue. Sarath was then a Media Adviser to the President, I think.
Cabinet Minister Mr Saumiyamoorthy Thondaman too interceded with JR on my behalf. Finally, at the meeting with Ram, President JR agreed to release me.

International Press Conference

On the following Friday (30) Morning President Jayewardene addressed an International Press conference in Colombo.
Many of my Western journalist friends began assailing JR with questions about my arrest and pressed him to release me.
JR countered them by saying "Are journalists above the law? The Journalists replied "What is the offence? Charge Jeyaraj in court if he has committed an offence.
JR remained silent. Finally, he asked the journalists "What shall I do with Jeyaraj? The journalists said 'Release him'.
So JR said he would be released.
After disposing of my matter as the first item on the agenda the press conference progressed to greater things. (I learnt about all these matters only after I was released)
The Presidential Order percolated downwards. Friday, October 30 afternoon saw the leisurely paced Policemen displaying an undue haste in trying to record my statement. I was haggling with the Police Officers insisting that the word 'vicinity' should be used in a sentence instead of the word 'area' when an exasperated Police officer said "We have been asked to release you on bail but if you keep on delaying we may not be able to produce you in courts today and you may have to wait here over the week-end also."
Thereafter I did not quibble over the usage of words and the Statement was concluded rapidly. They read it out to me and I promptly signed it. I was taken downstairs and put in a car. The car sped to Hulftsdorp.

Magistrate's Court

It was now a race against time as the courts were about to wind up for the day. When we reached the Magistrate's Court premises Attorney Upali Gooneratne, Island Editor Gamini Weerakoon, Provincial Councillor Gamini Batta Guneratne, Jeewan Thiagarajah of the ICES and my brother Jeyaselvan were waiting there.
Later I learnt that Acting Magistrate Mahendrarajah had kindly consented to wait for me in chambers on a request made by my lawyer Upali Gooneratne.
Inside the chambers, Police Inspector Palitha Perera informed the Magistrate that the Police were not objecting to me being released on bail pending investigations.
Police were in the process of determining what offence I had committed. The Acting Magistrate released me on 10,000 rupees bail for which my brother Jeyaselvan stood surety.
My passport was impounded and I was prohibited from leaving the country. I was given a date in December and ordered to attend court.
Meanwhile, Gamini Gunaratne and the Island Editor Gamini Weerakoon had 'incentivised' some of the Court's Office Staff to stay behind and complete the documentation concerning my bail. If not for their 'practical' foresight, I may have had to be remanded in Welikade over the week-end.

JR Jayewardene

I thanked my lawyer and others and left the court precincts. Free at last albeit on bail.
I then went back to the 4th floor to pick up my things including the 'tie-pin'.
N. Ram was leaving for Madras that very evening and was interviewing JR Jayewardene. Charles Abeyeskera, Chandra Schafter and I waited outside the President's house for Ram to return. When Ram saw that I was released he was happy and the gentleman that he was went back to JR promptly and thanked him personally for it.
On our way to the airport Ram related some remarks made by JR about me.
JR had commented on the fact that my family was residing in Kurunegala and asked why is he involving himself with the Jaffna Tamils not realising that my parents were of Jaffna origin.
He had also said that I was 33 years of age and not married and that I should be married. JR had also suggested that Ram should take me to India and keep me out of 'mischief'.
Ram responded by saying that I was a Sri Lankan and that I should be of service to my own country.
I owe a debt of gratitude to N. Ram for his active intervention. Earlier he had been advised to stay aloof as the Mahathaya interview had appeared in the Island alone.
But he made it his concern by publishing it in the Hindu.

Troubles not Over

Although released my troubles were not over yet. I had to appear regularly in courts where the Police would say that investigations into my allegedly unmentioned offence were being investigated. Date after date this was the same story.
After a while, the Police said that the investigations were over and that the file had gone to the Attorney-General's Department to determine what offence had been committed by me. Thereafter the story was that the AG's Department was perusing my file.
Finally, the AG department ruled that I had not committed any offence and that there was no case against me. I was discharged by the Colombo Magistrate Sarath Gunatilleke.
A friend in the Attorney General's Dept later told me that my file had gone right up to then Attorney-General Siva Pasupathy for a decision.

Upali Gooneratne

The then BASL Secretary Upali Gooneratne appeared for me throughout the legal proceedings. He did not charge any fee and told me simply "I did it because I like what you write."
One thing I did after my release was to resign from the Sri Lanka Working Journalists Association of which I was a member. The organisation did not lift a finger for me.
The journalist friends who worked for my release did so on an individual basis and not on a collective or institutional basis.
This then is the story of my arrest by the CID and detention on the Fourth Floor.
I belong to the fortunate few whose 4th-floor experience was relatively mild. Many others were not so fortunate. I am also painfully aware of the plight undergone by many fellow members of the journalistic fraternity at the hands of State agencies. Some like my friend Lasantha have paid the supreme price.

Gratitude

I take this opportunity to once again express my gratitude to all those Editors, Journalists, Lawyers, Human and Media Rights activists, Friends, relatives, colleagues and well-wishers who stood by me in those dark days.
I am also thankful to all those unknown people of Tamil Nadu who demonstrated on my behalf demanding my release.

One last word!

One cannot but reflect on the ironic twists of fate. In 1987 I was suspected of being a Tiger supporter and victimised in Sri Lanka. Later in Canada, I was victimised by LTTE elements who accused me of being a Sri Lankan Government stooge.
The Hindu fired me as Colombo Correspondent for exposing the rapes committed by the Indian Army.
Later I contributed from Canada to the Frontline and Hindu about happenings in Sri Lanka and was openly accused by the LTTE's Anton Balasingham of being an Indian agent.

Profession and Vocation

These are the vicissitudes of an exciting and independent journalistic life. Journalism is my profession as well as my vocation. I want no other. Not in this life!
D.B.S.Jeyaraj can be reached at dbsjeyaraj@yahoo.com