---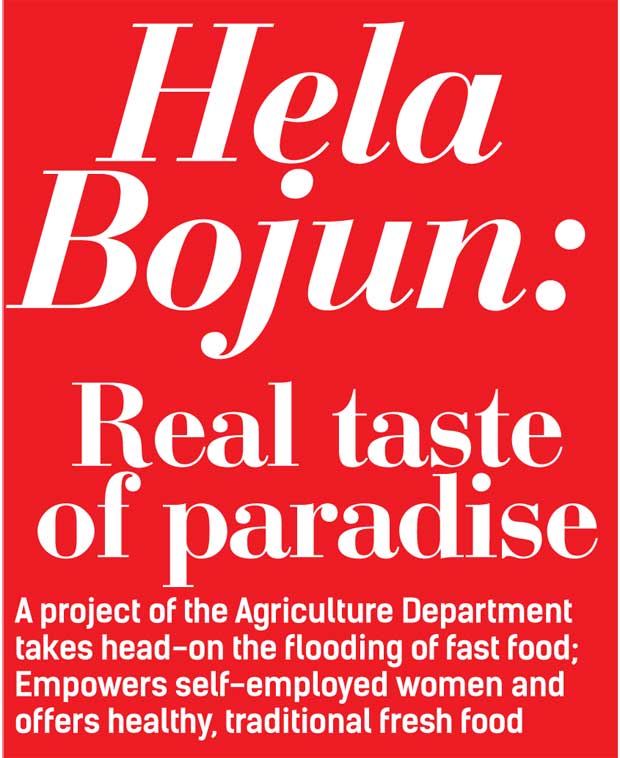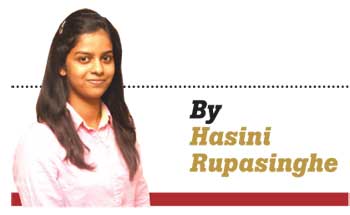 Today's food market is without doubt dominated by fast food. Asian countries like Sri Lanka are caught in the fast food trap, with more and more people getting addicted.
However, it is a well-known fact that fast foods are prepared using many food additives, artificial flavours and other chemicals.
Although they might bring temporary pleasure, long-term effects are harmful, with thousands suffering related health problems.
Clearly, identifying this problem and looking for an effective solution, the Department of Agriculture, Peradeniya, has introduced a remarkable concept – Hela Bojun.
Hela Bojun, as the name implies, does not only serve freshly-prepared local food; it also provides a great platform for self-employed women to prosper in life.
The Daily Mirror visited the food court situated right at the centre of the Kandy town to take a closer look at how the place is run.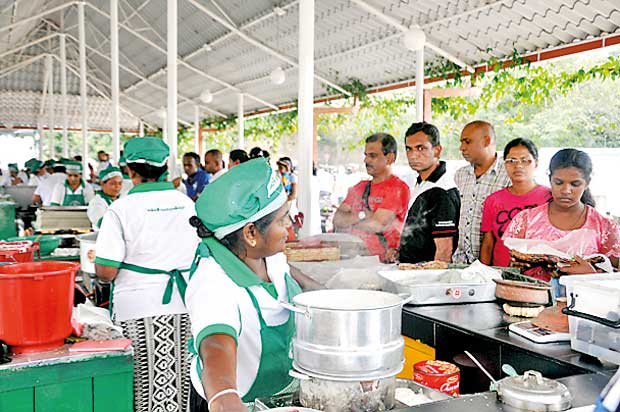 It was obvious just how much demand exists for the local food items served there, and how much trust customers have placed in it.
Traditional food items and beverages like hoppers, unduval, ulundu vade, kola kanda, beli mal juice and soya products are prepared here and one could sense a great enthusiasm along with a village spirit at the restaurant.
"We are proud to say that people have placed their confidence in us, because of our transparency and strict supervision" supervisor of the Department of Agriculture S.T.J. Bandara said.
He briefed us about the vision, concept, objectives and methodology incorporated with Hela Bojun.
"To uplift the economic well-being of women in agriculture; To produce food free of harmful substances; To boost the economy of the country are the three visions of the Hela Bojun concept," he said.
"To achieve these objectives we conduct a methodical procedure from the point of enrolling women into becoming vendors at Hela Bojun," Mr. Bandara said.
This is conducted through organisations of women in agriculture belonging to each agricultural advisory division of the country.

Through these divisions, advocacy programmes are conducted in both Sinhala and Tamil languages. Anyone interested should first be a member of the organisation and must apply for the job.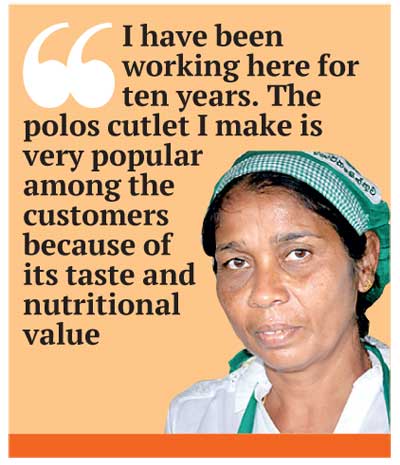 Certain criteria are taken into consideration when they are recruited, for example, knowledge about food, the need of financial assistance, the hygiene and nutritional value of the food.
At present Hela Bojun has spread its branches in the Kandy District (Peradeniya, Kandy, Kundasale and Galaha), and distant areas including Puliyankulam, Bata Atha, Labadoowa and Battaramulla.
"The demand has exceeded our supply, and we are struggling to establish more centres across the country," Mr. Bandara said.
"We are proud to say that people have placed their confidence in us, because of our transparency and strict supervision. We have trained supervising officers for this task. However, to make things easier we wish to hand over the supervision to the provincial council officers so that this project could be taken to all Provinces as well. "The largest achievement of this endeavour is the accomplishment of the women, who join hands with us. I'm proud to say that one woman earns an average net profit of Rs. 100, 000– 125, 000. Even an ulundu vadey vendor earns a minimum of Rs. 60, 000 a month," he said.

"Not even a year after I joined, I have my own three wheeler and I have started to build a house," M.G.T. Kamalwathie a vendor said.
"I used to go door-to-door and sell clothes. I have seen the Peradeniya Hela Bojun (Also called as Hadabima) and I was interested in joining them. To get to know about the procedure, I visited the Agricultural Services Expansion Centre in my area and after passing several interviews and tests, I was admitted in March 2015. When the Kandy town branch opened, I became a member of this project. I used to come early morning in a three-wheeler from Aladeniya with the fillings of the polos cutlets I make. This cost me Rs. 1,200 per day. Not even a year after I joined, I have my own three-wheeler and I have started to build a house," she said.
Meanwhile, another had now started her own brand of foods.
"I was a member of the organisation for women in agriculture in my area from 2007. I participated in the annual agricultural product exhibitions as well. I was closely connected with the Department of Agriculture, which has brought all the good fortune to me.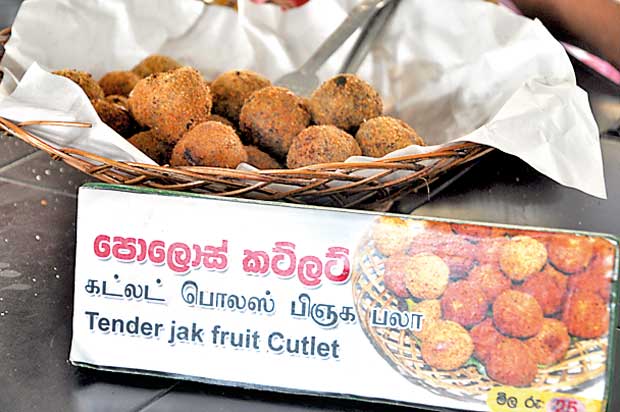 "Now, I even have my own brand of organic food. We are given necessary technical education on new industrial appliances, and new methods in preparing food. We are also encouraged in many other ways. I received the award for agricultural knowledge in 2012. We are very thankful to the Department of Agriculture for always giving us strength to move forward. We have this opportunity of producing, selling and profiting from our own products, and we owe it entirely to them," A.G. Kusumavathie said.
"I have been working here for ten years. The polos cutlet I make is very popular among the customers because of its taste and nutritional value," another entrepreneur Mallika Herath said. "In addition I prepare kithul cutlets and helapa. Four of us were selected through a programme, which encouraged women in agriculture and started off under umbrellas on the roadside to attract customers," Herath said.
"Our husbands used to be with us, because as women who were born and bred in villages, we were reluctant to come out and deal with the public. Sometimes, even the officials used to stand with us all day and support us. We were given huts made of wattle and daub. If I have made my life better, it is owing to Hela Bojun," she said.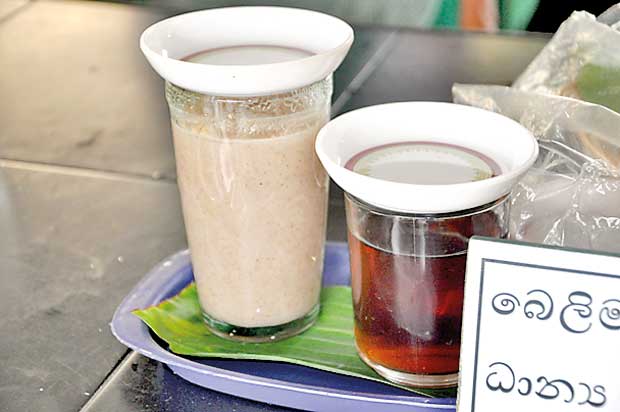 Thankful to the brilliant idea forwarded by the Director General of the Agriculture Department in Peradeniya, Rohan Wijekoon, and the untiring efforts of his fellow officials, the objectives of Hela Bojun have come to a successful reality today.
Counting by the statistics of Trip Advisor (www.tripadvisor.com), its initial branch in Peradeniya has been reviewed with high regard and rated 1st in the area.
The success stories of the women engaged at the Hela Bojun are clear evidence of the possibilities of empowering rural women.
As we observed, the customers are full of admiration, and the demand for healthier food based on traditional ingredients is increasing.
The fact that many of those empowered have become the breadwinners of their families breaks new ground in conventional Sri Lankan society. We certainly hope that Hela Bojun will help create a healthier generation islandwide and enhance the earning power of village women further.