---
My brother didn't give his life fighting Hitler for Nazi ideas to go unchallenged here at home
– Orrin Hatch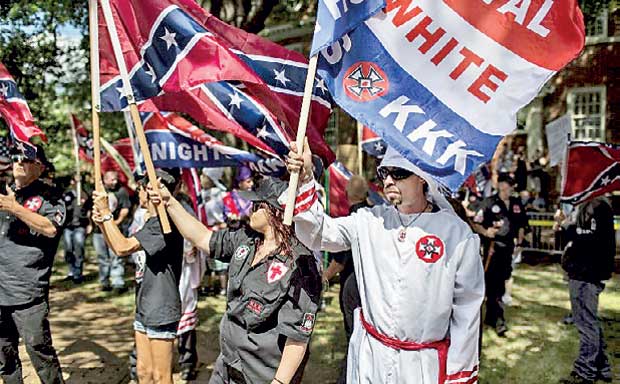 courtesy: AFP

harlottesville, Virginia did what others could not. It has jolted the otherwise insipid Grand Old Party from its slumber to the violence unleashed by the Swastika sporting white supremacists shouting "Hail Trump" slogans. The white violence on Saturday against the anti-supremacists, which included the ramming of a car killing a woman and injuring 34, was an act of terrorism. Having come to office on a wave of white nationalism and still riding on it, President Donald Trump conveniently dubbed the Virginia episode as a "display of hatred, bigotry and violence on many sides" instead of putting the blame on the supremacists.
The refusal by Trump to name the supremacists earned an unprecedented degree of wrath from his own Republican colleagues in a strong reminder that they would not tolerate his soft peddling of the topic anymore.

One of the strongest of protests against the President interestingly came from president protem, the longest standing Republican Senator Orrin Hatch. Hatch, whose brother was killed during World War II in Austria while fighting the Nazis, had all the more reasons to express what he tweeted. "We should call evil by its name. My brother didn't give his life fighting Hitler for Nazi ideas to go unchallenged here at home", declared senator Hatch who is representing Utah for a seventh term, since 1977.
Colorado senator Cory Gardener was more direct. "Mr. President - we must call evil by its name. These were white supremacists and this was domestic terrorism," tweeted Gardener.

"'White supremacy' crap is worst kind of racism — it's EVIL and perversion of God's truth to ever think our Creator values some above others" tweeted father of Trump's press Secretary Sarah Huckabee and Arkansas governor, Mike Huckabee.
The US Senator from Arizona and the Republican nominee for the 2008 presidential election, John McCain issuing a statement said, "Our Founders fought a revolution for the idea that all men are created equal. The heirs of that revolution fought a Civil War to save our nation, conceived in liberty and dedicated to that revolutionary proposition."
"White supremacists and neo-Nazis are, by definition, opposed to American patriotism and the ideals that define us as a people and make our nation special" he added.
Meanwhile the Democratic governor of Virginia Terry McAuliffe made a positive statement announcing that the anti-supremacists are stronger than the supremacists and the former would not let the latter to succeed. "We are stronger than you… You will not succeed…There is no place for you here, there is no place for you in America," he said.
While Trump attempted a weak defence on Charlottesville by claiming that racial violence has been going on even during President Obama's days and before, Obama quoted Mandela from his autobiography, 'Long Walk to Freedom' and reminded that no one was born hating another and that was something they learnt later.

By creating an atmosphere of hatred and thus polarizing the citizens, Trump wittingly or unwittingly, is destabilizing both political and security structures of the United States.
More than 150 years ago it was also a Republican President, Abraham Lincoln who fought a valiant battle against white supremacists and abolished slavery, protected the union, fortified the federal government and even gave his life to the cause.
Trump, with his supremacist agenda and continuous failure to acknowledge violence by his supporters, is fast turning the United States into a battlefield. If he ever wishes a peaceful ride, Donald Trump has no choice but to take a solid step towards the centre, awayfrom his far right-wing agenda.