---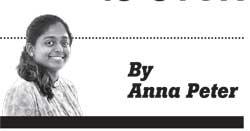 Government moves to liberalise higher education through setting up 'free education zones' and 'charter universities' have sparked concern among academics who fear State universities could succumb to market demands and harm free education overall. Concerned by these free-market trends, university academics of 'Forum for Free Education' recently held a panel discussion at the Colombo University to review the government's new higher education policies based on the contents of three Cabinet papers submitted last December.

Moderator Dr. Shamala Kumar of the Peradeniya University Agriculture Department noted that government proposals failed to address widening economic disparities arising from spiralling educational costs.

"The Cabinet memoranda present simplistic solutions that fit a certain unstated agenda, while ignoring the likely consequences of these solutions," Dr. Kumar said. Plans to introduce an educational loan scheme had overlooked the debt-ridden reality of huge segments of the population and the crippling effects of such schemes in other countries. "There has been no commitment to a consultative process, and the spaces, groups and institutional frameworks to oppose these are rapidly shrinking," she said.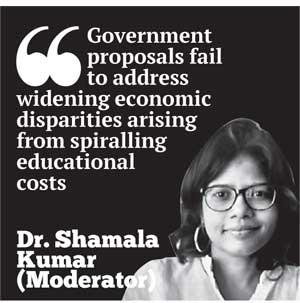 On the other hand, Dr. Kaushalya Perera of the Colombo University English Department opined that the proposals primarily addressed the country's growing middle-class.

"The growing middle-class has changed from what it used to be. It's difficult to say we want free education to be the way it was 25 years ago," she said. Sharing her findings from interviews conducted with fellow academics, Dr. Perera said they had contradictory views on free and private education. This, she identified, was where the problem lay. "There is a conflict within the community on free education, higher education and public education."

Another issue she raised was the corporatisation of public universities and the lack of resistance to it. "Universities have already become like corporate entities, with requirements such as extensive reporting and researching or engaging in Accelerating Higher Education Expansion and Development (AHEAD) projects," she said. AHEAD projects are World Bank (WB) funded government operations that target higher education. She revealed the WB had loaned USD 350 million to fund educational projects in primary, secondary and higher education. This imposed an additional duty on academics to take on AHEAD projects as part of their work. Given the large sum of money flowing into the sector, Dr. Perera asked whether these funds were seen or felt within the university system.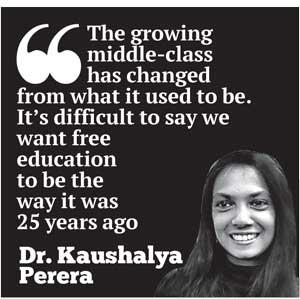 She further elaborated on how university staff engaged in additional paid work due to insufficient government funding. "In many instances, people accept money for work done for undergraduate education that, prior to these changes, used to be unpaid. For example, certain university convocations and WB funded projects. WB projects have created a particular type of academic bureaucrat," she said, adding that no academic she had spoken to had unreservedly supported these projects. "Where is the place to protest? Is it the faculty board, staff meeting or student union? If there is no protest, we will no longer be able to change anything, that is, if we actually want to bring change. The biggest issue is that people are very apathetic. It's only the same group of people who gather when there is a question for discussion. How do we take this beyond the usual group?" she questioned.

Meanwhile, Dr. Nirmal Dewasiri of the Colombo University History Department said gravitation towards the neo-liberal approach was represented by a middle-class consciousness.
"A majority of the society share this middle-class ideology. The dominant political discourse has transformed to address those aspirations, which is in sharp contrast to the situation in the 1980s," he said. "They are committed to linking education with their economic strategy. They are smartly connecting the civilisational aspects of education with these market-driven ideologies. The issue lies in coming up with an alternative political imagination and how to strategise. This is a multi-dimensional challenge."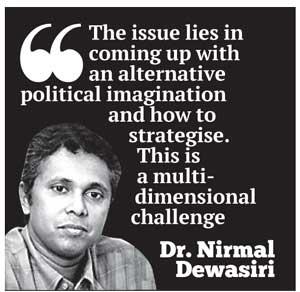 Using the April 2019 bombings and her own teaching experience as illustrations, Dr. Farzana Haniffa of the Colombo University Sociology Department drew attention to present shortcomings in the education system and changes needed to address them. She focused on the lack of space for conversation within universities to address matters related to the April bombings. Dr. Haniffa noted that while the Colombo University organised an event that acknowledged the pain and tragedy of the bombings and attacks on Muslims in May, there was a lack of conversation about how students could understand what happened.

She further questioned the absence of measures at institutional and national levels, underscoring the need for a national framework through which people could be assisted to move forward. "What is the narrative regarding the war among students and the university community? We teach politics and history, but what percentage of the content actually deals with what happened in this country? At a policy level, the only narrative about the April bombings is one where a Muslim becoming religious is construed as an inevitable path to radicalisation, which is a dangerous and damaging misrecognition of the problem," she said. "There was no reference either to the anti-Muslim movement which was part of the background in which the bombings occurred or about the security breakdown."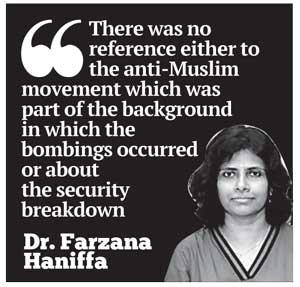 While ongoing transformations in the university system have their merits, certain things are falling by the wayside. Dr. Haniffa noted how attempts were being made to reproduce certain practices and methods such as e-learning and the overproduction of academic publications. E-learning has been especially unhelpful for already disadvantaged students and there are multiple critiques of the 'publish or perish' model. "We are pitching towards an internationally-relevant university system without taking proper account of international debates regarding these processes or assessing their relevance to our communities and
problems," she said.

In the ensuing discussion, an audience member pointed out that though academics couldn't win an election, it was possible to win a discussion at some level, be it at party or policy level. Many audience members, being either academics or those working within the university system, voiced concern over the government's direction on higher education policy. Questions were raised on the space to openly discuss such matters.

"If there is no resistance or voice, it means we are not mobilising an opinion. Rather than asking why, we should start mobilising an opinion," said one audience member. With this in view, thought must be given to what must be done and how. But before addressing education policy, the space for voicing an opinion that advocates change must be identified and strengthened.