---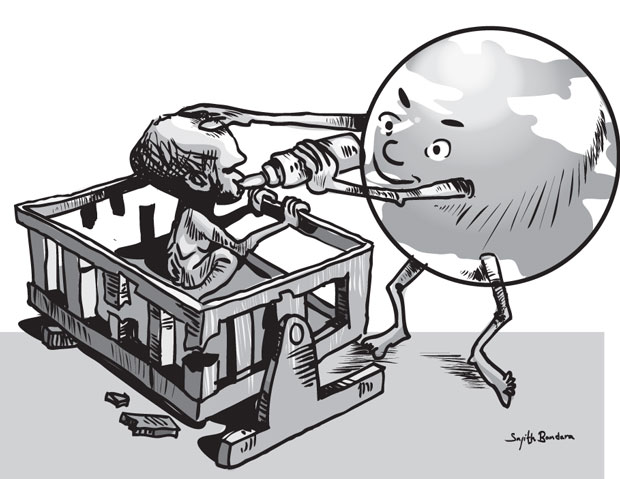 Today we mark the United Nation's World Humanitarian Day to pay tribute to aid workers or first respondents who risk their lives in humanitarian space and to rally support for people affected by crises around the world. This comes the day after the Barcelona horror where a van, suspected to have been driven by a teenager, killed 13 people and injured about 100 when it ploughed into a huge crowd at the popular tourist resort of Las Ramblas. Several hours later, a Spanish seaside town was hit by a second vehicle attack, leaving seven wounded. Early yesterday, as security forces hunted for the van driver, police said they killed five attackers in Cambrils, a town south of Barcelona, to thwart a separate attack in which the suspects were known to be using explosive belts. The Barcelona carnage put Europe, the United States and the whole world on full alert. Many analysts claimed that the ISIS—which is being battered in Iraq and Syria—is apparently letting all hell lose in other countries.

The UN says that around the world, conflict is exacting a massive toll on people's lives. Trapped in wars that are not of their making, millions of civilians are forced to hide or run for their lives. Children are taken out of school, families are displaced from their homes, and communities are torn apart, while the world is not doing enough to stop their suffering.

At the same time, health and aid workers – who risk their lives to care for people affected by violence – are increasingly being targeted. For WHD 2017, humanitarian partners are coming together to reaffirm that civilians caught in conflict are "Not a target." The UN hopes that the people will raise their voices to advocate for those most vulnerable in war zones and demand that world leaders do everything in their power to protect civilians in conflict.

According to the UN, the campaign follows on the UN Secretary-General's report on the protection of civilians. Laying out his 'path to protection,' Secretary-General António Guterres has called for enhanced respect for international humanitarian and human rights law and protection of civilians including humanitarian and medical workers as well as civilian infrastructure.

In his report, the UN Chief says armed conflicts are tearing apart vast swathes of the world and a record number of people are in need of humanitarian assistance and protection. Some 97 per cent of humanitarian assistance goes to complex emergencies, the majority of which involve armed conflicts. Globally last year, more than 65 million people have been displaced by conflict, violence or persecution. More than 20 million people, including 1.4 million children, are on the brink of famine in Nigeria, Somalia, South Sudan and Yemen. At the same time, among the international community there is a growing sense of fatigue, even resignation, in addressing the suffering of civilians in conflict.
The Secretary General has called on all State and non-State parties involved in conflicts to respect international humanitarian law and all States must ensure such respect. Yet, in many conflicts, parties flout their obligations and show contempt for human life and dignity, often with impunity, he adds in a shocking indictment of the world's humanitarian values.

It reminds us of Mahatma Gandhi's warning in the 1940s. He said, "we are learning to fly like birds and swim like fish but we have apparently forgotten how to walk like human beings." Indeed a prophetic proclamation.

In Sri Lanka, after a devastating 30-year war, accelerated measures are underway not only to prevent a similar conflict but to restore the values of peaceful coexistence and dialogue among people of all religions and races. We hope this approach, together with the mission to rebuild a peaceful, just and all-inclusive society, will get a fresh inspiration and impetus from this World Humanitarian Day. We need to remember the words of the eminent author, Earnest Hemingway in his widely-read book, 'For whom the bells toll.' He says, "I belong to humanity and every person's death diminishes me."