---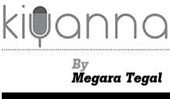 As the flood waters recede and the supermarkets recover from zealous good Samaritans picking them clean, the people in the flood-affected areas now enter the stage of long term relief and recovery needs. These include new housing or rebuilding of damaged houses. Until construction is complete, many will be forced to remain in internally displacedpersons (IDP) camps -- and this can be a long, frustrating wait. Living in such close proximity to others can lead to quarrels, the rapid spread of disease, and gender-based violence – even within the family.

According the United Nations Population Fund (UNFPA) State of the World Population 2015 report, when a crisis strikes, women and girls are disproportionately disadvantaged. They are also less prepared or empowered to survive or recover.

How are women more vulnerable?

National Programme Officer of UNFPA Sri Lanka, Jayan Abeywickrema, who organised and took a leading role in relief efforts during the 2005 tsunami and in 2009 when the war ended, explains why women are more vulnerable.

"In disaster situations, the first thing that happens is that you lose all your belongings. So you're generally left with what you're wearing and the items that you can easily carry.

Next, your general social support system may no longer exist; your family maybe separated. And third, you might not have privacy; you're in a concentration of people in one open space. So some women in these situations have no privacy when changing their clothes, using toilets and bathing areas are mostly common areas for women and men. Poor lighting at these camps might also be an issue".

This can lead to unwarranted sexual advances by men at the camp, sexual abuse and rape.

Explaining further, Abeywickrema says,"In these situations women no longer have access to sanitary products and underwear – this puts them in a more difficult and awkward situation.They feel uncomfortable to request for these items and if they don't receive it, it becomes an even bigger problem as it limits their mobility which means they are unable to access relief items".

The situation of women flood victims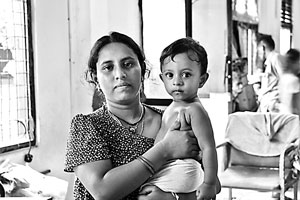 When we visited the Vidyawardhana Primary School in Wellampitiya on May 24, it was a beehive of activity. Not with school children on recess, but with volunteers handing out lunch packets, mothers carrying wailing infants, and children in casual clothes playing a game of cricket.

Inside one of the classrooms, Dinesha Kumari, a 22-year old single mother sits on the floor rocking her baby. Misty eyed and a look of despair on her face she tells me, "My husband has left me and I live with our 15 month old baby. My mother has gone to the house to clean it. We need help to restart our lives".

While her mother tries her best to clean the house as soon as possible, so Kumari and the baby can return, she remains alone in the camp with no family to support her.

Most women stay at the camp while their husbands and able-bodied sons make what's left of their homes habitable before the women return.

Shaul Hamid Fareena, 46, says"I have been here since 16 May. My sisters are ill. One is a heart patient and her clinic cards have been destroyed. The other has a skin disease. I have no kids. My husband has gone to clean the house. It is very difficult for the family which has sick members to clean the house".

"We are safe in the camp and we are provided with food. But we need help to go back to our houses and our regular activities. When flood relief items are distributed, the men sometimes muscle their way ahead of queues and take away the biggest shares. Women, sick people, the elderly and disabled are pushed back. Sometimes outsiders also come and take away relief items."

Have we learned from past experiences?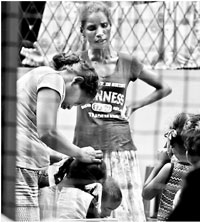 In the aftermath of the 2005 tsunami and soon after the war, there were cases of gender-based violence been reported by the displaced women. This time however, it appears Sri Lanka was better prepared to prevent gender-based violence and protect women in the camps.

So far so good, says Grama Niladhari Tharanga Balasuriya, who is in charge of the displacement camp in Vidyawardhana Primary School.

She says, "1,348 people are lodged here for the moment and more than half of them are women. Six women are pregnant, four of them are in the camp, and there are six women and two men with disabilities."

She adds, "As for safety, security is provided by army and police. No abuses reported but facilities for women and sanitary items are needed."

The United Nations Population Fund (UNFPA) Sri Lanka, says that the government has made all efforts in preventing gender-based violence after the floods. The Ministry of Women's Affairs directed the Divisional Secretariats to deploy their officers to look into these aspects from the very beginning. This is not to say that there are absolutely no incidents; there could be unreported incidents but from what they have gathered to date the situation looks good.

UNFPA Sri Lanka has donated US$ 5,000 to the Ministry of Women's Affairs for purchasing sanitary items. The District Secretariat stated that sanitary items are essential not only as immediate relief but during the resettlement phase as well.

As part of a continued relief effort, UNFPA Sri Lanka has requested for funds from the Central Emergency Response Fund (CERF) to support women and girls of reproductive age, and pregnant mothers who are affected by the flooding. The funds will cover the cost of 1000 maternity kits and 6000 dignity kits, and support mobile clinics for pregnant mothers and awareness sessions of reproductive health and gender based violence.

Speaking about pregnant mothers in particular, Abeywickrema explained that the director general of health services issued a directive to hospitalise all the pregnant mothers irrespective of their duration of pregnancy. "That means you can be three weeks pregnant or seven months pregnant. It's for safety and health purposes because there are so many issues for pregnant mothers; in camps there can be communicable diseases going around, and other health issues in these camps or temporary shelters. Also pregnant mothers themselves can develop various complications", he elaborates.

Moving forward

Long-term recovery and rehabilitation efforts can take months or years – not only do the displaced persons need houses, but they will require support for rebuilding their lives in terms of work and returning to a healthy mental state at which they will be able to return to their life routines.

Women District Officer of Kolonnawa, District Secretariat office, Nilmini Sagarika says "Women need household equipment when they resettle. Some women have lost equipment used for self-employment like sewing clothes".

The District Secretariat had donated Juki sewing machines to some of the women to help them in self-employment, but those sewing machines were destroyed in the floods and these women are back at square one – unempowered and lacking an income.

According the UNFPA State of the World Population 2015 report, as long as inequality and inequitable access short-circuit their rights, abilities and opportunities, women and girls will remain among those most in need of humanitarian assistance and least equipped to contribute to recovery or resilience.

This article has been prepared by the editorial team of Kiyanna.lk, a blog dedicated to population and development. Readers are invited to join the conversation at: Kiyanna.lk