---

"

Politicians will never change the destiny of this country. And as long as you sit there in your chair and you look at politicians and you think, they are going to change it, it will never change…

"
MP Eran Wickramaratne, fortnight ago

Last Monday 19 November, Parliament was adjourned to meet again today – Friday 23 November. The cost of allowing these utterly destructive, indecent meetings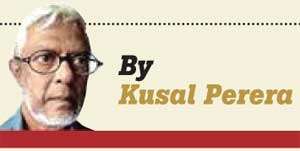 since Wednesday 14 November is a colossal waste of public funds. From what the Asst. Secretary General of parliament has certified, the cost of a day's sitting of parliament in 2017 had been a massive Rs.25.7 million.For the 04 days it was convened for no worthy purpose totalling over a 100 million rupees plus the damage caused to public property during these days.
It was evident last Monday, the Speaker could not chair even the historically shortest parliament sitting that lasted a mere 10 minutes. Many wonder whether Karu Jayasuriya as Speaker lost the trust and credibility there was with him, in the post 26/10 arrogance he displayed. The Deputy Speaker Ananda Kumarasiri had to take that responsibility of adjourning parliament on a decision taken at the party leaders meeting held that morning.
"The Speaker could not chair even the historically shortest parliament sitting that lasted a mere 10 minutes"

Although the convening of parliament on November 14 by the Speaker was not challenged by the JO, constitutionally, only the President could "reconvene a prorogued parliament". Yet, if the Speaker was set to defy that Constitutional provision, then it becomes a defiance on a political decision. He carried that decision not knowing how drastic a decision it was. Especially in a fiercely divided parliament. He could have first reached out for a compromise among parties represented in parliament and have a firm consensus to convene parliament on his decision.
A more astute and experienced political personality with good common sense like late Stanley Thilakaratne, would never have taken the path that Jayasuriya took post 26/10, as Speaker. Independence of a Speaker is judged by the distance he or she keeps with his or her political party and how justly the others are treated in parliamentary business. In very chaotic situations, independence that the Speaker displays becomes an invaluable luxury. It therefore required Speaker Jayasuriya to create a more conducive, casual atmosphere to gain trust and confidence among all party leaders. To convince all of them, as Speaker he is indeed independent. It required Speaker Jayasuriya to understand that a politically charged hard line discussion, demands a "non snapping" patience on high moral ground to reach a final compromise.

As Speaker, Jayasuriya was just the opposite. Some would say in just 03 days he lost credibility. He showed it by entering the House with a posse of policemen. It is common sense, parliamentary business cannot be conducted with a police escort around the Speaker. Such business with police has nothing to do with democracy and sovereignty of the people. Declaring the appointment of Rajapaksa unconstitutional on the basis, that his party the UNP controls the majority, he exposed himself so badly, he had to ask for police escort. His defference to the Western diplomats who were shuttling among their Colombo offices and the Temple Trees, the Speaker's office and once to the presidential secretariat and not reaching out for a firm consensus among political party leaders, raised questions.

Speaker Jayasuriya opened himself to being accused of engaging in partisan politics by pushing through a "No Confidence Motion" (NCM) in a parliament convened defying the President's authority and parliamentary procedure. There were glaring contradictions in how the prorogued parliament was first convened on 14 November. The Supreme Court (SC) issuing a temporary "stay order" valid only till 07 December to stop accepting nominations for the parliamentary elections decided for 05 January 2019, in no way dismissed or ruled the gazette notification in question as illegal or invalid. That temporary stay order therefore did not and could not validate the previous gazette reconvening parliament. If it's argued as validating the previous gazette, it amounts to someone demolishing a demarcation wall of a land, on a two week temporary order given to stop completing the wall till the boundaries are verified and a final ruling is delivered. Even if such an interpretation is forced to reconvene parliament, that in no way allows the Speaker to reconvene the prorogued parliament.

It was also egoistical for a much learned lawyer of the calibre of Sumanthiran to move a resolution to suspend all "Standing Orders" to accept a vote on a NCM against PM Rajapaksa. There are "learned" legal luminaries providing many interpretations, but a"House" with no "Standing Orders" is no "House" in sessions. It is Standing Orders and established traditions that make the difference between a "House of Representatives" and a "delegates conference". Thus, without Standing Orders it could be anything else but a "House in sessions" within the parliamentary complex.
There was yet another contradiction with the NCM. It was a contradiction because Wickremesinghe, standing ground as the constitutionally and rightfully appointed PM being a lawyer, the Leader of the House Kiriella, the Opposition Leader Sampanthan and ITAK spokesperson Sumanthiran all being lawyers with many more lawyers firmly on one shoe, arguing Rajapaksa's appointment as illegal and unconstitutional and therefore saying he remains only as Kurunegala district MP, on the other shoe, challenges him with the NCM as a "PM without a majority". Reluctance of vested interests of the Western diplomatic corp to accept Rajapaksa as PM should not have been the reason for a wrong footed NCM by the JVP-UNP-ITAK led alliance in parliament with such a contradiction.

Politics of the sectarian and opportunism giving way to such contradictions and violations of procedure led by Jayasuriya as Speaker and the hooliganism and thuggery of the JO led MPs in retaliation, makes the parliament a mockery in representing the people. This anyway is not the parliament the people elected in August 2015. Many had crossed over for portfolios and personal benefits insulting the decisions of the voters. It continued to create majorities on questionable decisions by President Sirisena more than once and political leaders hurried to shift balance of power within parliament for their advantage. All such dirty politics in parliament cannot be washed clean with judicial interpretations and decisions on legality and constitutionality of presidential decisions.
"Speaker Jayasuriya opened himself to being accused of engaging in partisan politics by pushing through a "No Confidence Motion" (NCM) in a parliament convened defying the President's authority and parliamentary proceedure"

Though the funded "civil society" with the Colombo middle class would not want to accept, the January 2015 "revolutionary change" they rhetorically hyped as historical, was destined to be the chaos it is now. With the only obsession of ousting Rajapaksa, the "yahapalana" rule established proved as corrupt as the Rajapaksa regime or even more in just 02 months. The first Bond Scam was followed by many more deals by many ministers. "Yahapalanaya" had nothing significantly more democratic and transparent than the post 2010 Rajapaksa rule, though its cheer leaders refuse to accept. Even if their argument there's better "democratic space" post 2015 January is accepted, that has only been Colombo centric and more "Sinhala Buddhist". Not "democracy" for Tamil and Muslims in war torn North and East. The "change" they still want to accept as worth the effort, did not honour any of the promises they made during the two elections in 2015, except in cosmetic form.
Everything this 2015 January "change" brought, has only paved for a big time Rajapaksa come back, in a very crude form. This "change" therefore proves it had only satisfied the selfish urban middle class to believe the whole country is as comfortable as they are. It had left the vast majority of the rural society frustrated and forgotten and the urban poor struggling for a living. That in fact was what Murali meant when comparing "democracy" and "necessities of daily life" of the ordinary people. Though Colombo social activists were furious, his statement is a social interpretation within a crudely divided society where perceptions and values are defined and decided on a "class basis". Colombo middle class "judgements" hold good for themselves within their culture of comfort, but means nothing in a struggling rural society and with the urban poor. It is all about priorities in life in different social classes. It was reflected quite forcefully when 5.01 million (40.5 per cent) voted with Rajapaksa in February 2018 LG elections. The two partners in government, the UNP reduced to 3.6 million (29.4 per cent) and President Sirisena's SLFP left on the wayside.

This weird "yahapalanaya" has thus brought the country to its knees. Now the people need a short "breather" to begin anew. That cannot be achieved by allowing this parliament to continue. This parliament is full with "politicians who will not change the destiny of the country" as Eran Wickramaratne said. It's heavy polarization makes it dysfunctional. Sampanthan's slavish request for Western diplomats to intervene cannot make it functional and legitimate. Only a quick parliamentary election where the "People" decide whom they elect to power can provide a breather as JVP leader Anura Kumara now argues. BUT, lets also remember that the next election will not provide any opportunity for "clean politics". It would ONLY ALLOW space for a new social dialogue away from searching for "new leaders". Space to dialogue on an alternate programme.