---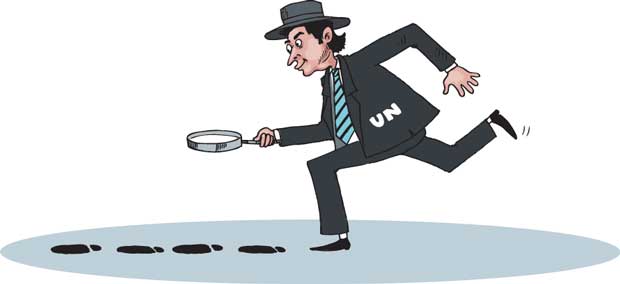 On next Wednesday August 30, the United Nations will mark the International Day of the Victims of Enforced Disappearances. In a statement, the UN says, enforced disappearance has frequently been used as a strategy to spread terror within society. The feeling of insecurity generated by this practice is not limited to the close relatives of the disappeared, but also affects their communities and society as a whole. Enforced disappearances have become a global crisis and are not restricted to a specific region of the world. Once largely the product of military dictatorships, enforced disappearances can nowadays be perpetrated in complex situations of internal conflict, especially as a means of political repression of opponents. Unfortunately, Sri Lanka also had to go through the terrible experience of enforced disappearances, especially during the ethnic conflict.

The UN says of particular concern is the ongoing harassment of human rights defenders, relatives of victims, witnesses and lawyers dealing with cases of enforced disappearances. The UN says it is also concerned about the use by States of counter-terrorist activities as an excuse for breaching their obligations and the still widespread impunity for enforced disappearances. Special attention also needs to be paid to specific groups of vulnerable people, like children and people with disabilities. On December 21, 2010, the UN General Assembly expressed its deep concern about the increase in enforced or involuntary disappearances in various regions, including arrest, detention and abduction, when these are part of or amount to enforced disappearances, and by the growing number of reports concerning harassment, ill-treatment and intimidation of witnesses of disappearances or relatives of persons who have disappeared. In Sri Lanka, this reminds us particularly of the enforced disappearance of veteran journalist Prageeth Ekneligoda and the harassment of his spouse Sandya Ekneligoda during the former regime. She recently won an international award for her courage.
Meanwhile, the UN Human Rights Commission (UNHRC) in a statement says two UN Experts' Groups have called for measures to prevent and eradicate enforced disappearances, including short-term enforced disappearances, and to ensure that relatives of persons deprived of their liberty are informed accurately and promptly of their detention. The Committee on Enforced Disappearances and the Working Group on Enforced or Involuntary Disappearances have also expressed their concern at allegations of intimidation and reprisals against victims of enforced disappearances and those who report their cases.

There is no time limit, no matter how short, for an enforced disappearance to occur. Every minute counts when a person is put outside the protection of the law. And when a person is disappeared, every anguished minute spent by his or her relatives without news of that person is a minute too long.
Reports and complaints have been received of people being briefly detained by State authorities, who then refuse to acknowledge their detention, nor allow them to make contact with their family members or their lawyers, depriving them temporarily of any kind of legal protection.

Under these circumstances, and whatever their duration, these detentions amount to enforced disappearances, for which the States concerned bear international responsibility.

States have the obligation to disclose the whereabouts of persons who are deprived of their liberty; to hold them in officially recognized places of detention; and to promptly provide accurate information on their detention to their families, their lawyers, or other persons with a legitimate interest.

The relatives of persons who have disappeared have the right to know the truth regarding the fate and whereabouts of their loved ones. Unfortunately, their claim for truth and justice often gives rise to intimidation and reprisals, the two groups say.

In Sri Lanka last year, Parliament approved legislation for the setting up of a wide-powered Office of Missing Persons (OMP). But, reservations were expressed by several parties and amendments were approved recently. Over the weekend, reports said the Constitutional Council was likely to make recommendations soon on appointments to the OMP. We hope, as the UN Committee says, it will bring relief to the disappeared persons' family members for whom every anguished minute spent without news of their beloved ones is a minute too long.