---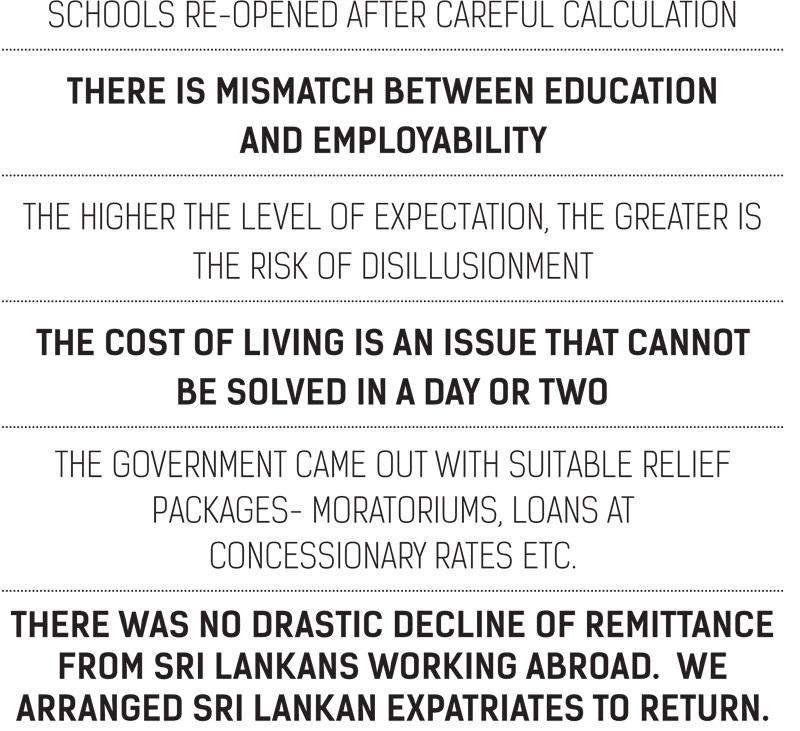 ---

Education Minister Professor G.L. Peiris, in an interview with the Daily Mirror, responds to queries about plans for revival of the education sector amidst the pandemic. Also, he shares his views on some criticism of the government in the realization of public expectations. The Excerpts: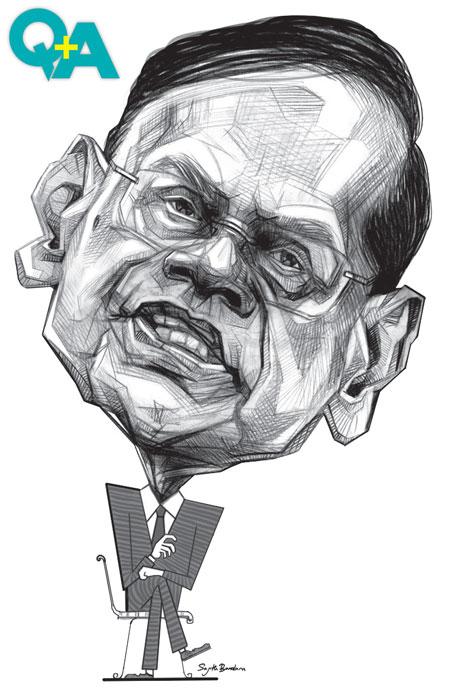 Q: There is criticism of opening of schools despite COVID-19 cases are increasing on a daily basis. How do you deal with the situation?
This is a situation that we will have to learn to live with for quite some time. Therefore, we have to return to some form of normalcy, subject to precautions. It is not a realistic attitude to keep schools, banks, companies closed indefinitely. With regard to schools, what many people do not know is the degree of pressure exerted on us by parents. They said Children were going through a period of trauma.
The most passionate appeal came with regard to the students who are planning to sit the G.C.E. O/L Examination. It has already been postponed twice. There were also some threatening interventions from some quarters. But, we decided to grasp the nettle and hold the exam, subject to proper safeguards. Up to now, we have spent Rs.105 million to purchase health equipment. We got donations from the WHO, UNICEF and so on. The opening of schools has to be done in a structured manner. For each school, we established a committee comprising Grama Niladharis, Public Health Inspectors, the Police OICs (Officers-In charge), representatives of the alumni associations and the school development societies. It is difficult to decide everything from Isurupaya because the situation varies from school to school. Discretion is given to the school authorities to make decisions. The zonal directors have the overall responsibility. On January 4, we issued guidelines in terms of cleaning the premises and classrooms, making available a sick room, working out an implementation and oversight mechanism.
Q: Yet, the attendance was poor in most schools. Wasn't it?
On the first day, it was 51%. Later, during the week, it was 58%. It means parents have confidence. One of the most difficult aspects was transport. We had several meetings to coordinate these efforts. In some places of Uva, attendance was more than 80%. With regard to teachers, attendance was about 85%. What does all that mean? There is a strong desire to return to new normal. That is for life to be revived. There are two approaches to any problem in life. One is to do nothing and to find excuses for doing nothing. That is because you are afraid of criticism. Success has many fathers. Our ability to conduct the G.C.E. A/L Examination was universally accepted. It took 22 days. We have fixed dates for the O/L exam.
We are working hard to release the results of the A/L examination by the end of March or early April. Today, there is an interval of one and a-half-years between the results being released and admission of students to the universities. That is very unsatisfactory. That is the best part of a student's life. We have found ways and means of cutting that time. We are doing our best to enable students who sat for the Advanced Level to be admitted to the universities by September, this year. You have to do this in a structured way.
Q: Children anyway lost a lot of learning time due to the pandemic last year. What is the mechanism to conduct catch-up lessons?
There was focus on distance learning at that time. That is very useful. It cannot be a totally satisfactory substitute for face to face instructions in classrooms. In our country, there are problems with regard to access to internet. Some students don't have the wherewithal to benefit from it. It is a supplement, not a substitute. What we started in January is the first term of 2021. The third term of 2020 ended on December 23, 2020. The extent to which the syllabi were covered varied from school to school. In most schools, two – thirds of the syllabi had been covered. Sporting activities, debates, cultural activities are minimal. We are not starting sports activities immediately. That means there is time. You cannot have a blueprint that is applicable throughout the country. Teachers will have to consider the situation in each school and make practical plans accordingly.
I consulted some of the leading physicians in the country. They are people in Colombo with the largest practice. The day after the Christmas Day, they came here. They gave expert advice on reopening of schools. Some of the busiest medical experts in Colombo gave freely on their time and advice. What is very encouraging is the degree of involvement on the part of these people. That gives me confidence that we will succeed in achieving our objectives.
A: How are you planning to increase the university intake this time despite the pandemic situation?
Last time, the last intake was 30,000 students. This time, it is 41,500. At the moment, we are admitting 371 more students to the medical faculties, 407 more to the engineering faculties. We have had extensive discussions with the vice chancellors and deans of these universities. They have been cooperative. We have been talking to the treasury. We have taken approval for 500 more academic positions. We are starting a dental faculty at Sri Jayewardenepura University. It is not being done at the expense of quality. There are also plans to start ten city universities, a programme being supported by Asian Development Bank. We will identify three areas to start the first three.
I would regard this as a fundamental problem regarding education in our country- the mismatch between education and employment opportunities. We are producing more and more graduates. There is no opportunity for them at all to obtain jobs. That is a recipe for social disaster. We have to ensure that the products turned out of the system are able to find gainful employment. City universities will not be carbon copies of other universities. They will have a pragmatic orientation. They are not residential universities. We are reaching the saturation point in public service. Therefore, we have to consider the opportunities available in the private sector.
In a month or so, we will start a digital platform to modernize the curricular of this country. It has not happened for a couple of decades. I don't want to do it in a topdown way. We will seek insights from all concerned in this regard. There are two aspects – content and teaching methods. The whole idea is to stimulate a child's interest in a subject. Today, it is rote learning. It is simply an oppressive burden on the memory of child. The present system requires the absorption of a large volume of factual materials, retention of such materials and regurgitation of it at examinations. The whole purpose of education is to develop a child's critical faculty. The system requires a fundamental re-orientation.
Q: The government is faced with a whole lot of challenges in the post -COVID-19 context. How does the government intend to tackle them?
There is an understanding that this is no one's fault. It is a global pandemic. The challenge is how best to react to this in different sectors. We dealt with education. Our export performance is good. Our companies have demonstrated remarkable resilience. They have diversified. The companies which are producing sportswear and swimwear were meant for export markets. That is the basic reason for their success. We cannot compete with other countries on the basis of scale if you produce slacks or shirts. We went for products in niche markers. With the onset of the pandemic, demands for those commodities dwindled quite significantly. What our companies did was shifting to personal protective equipment - facemasks, gloves, surgical equipment and all. They were receiving so many orders that they were unable to cope. Larger companies were able to hand over some of those orders to smaller companies. Even at the worst of the crisis, they were able to keep open a few lines of production. The export income has not come down at all.
The government came out with suitable relief packagesmoratoriums, loans at concessionary rates etc. There was no drastic decline of remittance from Sri Lankans working abroad. We arranged Sri Lankan expatriates to return. Some of them want to go back now. We are talking to those governments. Tourism is badly hit. You have to come up with a structured plan to revive it without endangering the health of people.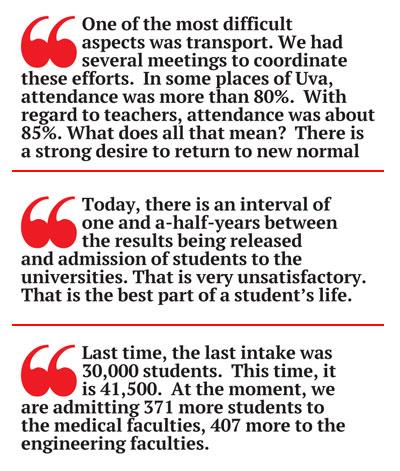 Q: But, the pilot project came in for huge criticism. What is your view on that?
The Pilot project is by definition an experiment. There are lessons to be learnt from that experience. It is not that we are going to shut this country from international tourism forever. More than 300,000 people are directly depending on this. Indirect dependence is well over a million. It is absolutely necessary to make way for their livelihoods. In a structured way, you have to open up benefiting from the experience of the piolet project.
Q: There is general criticism in society over the failure on the part of the government to live up to people's expectations after one year in office. Did the government actually fail?
That is an urban phenomenon. That idea is being propagated by people who dislike the government anyway. They are never people who voted for the government or sympathized with it anyway. But, Basil Rajapaksa's programme 'Gama Samanga Pilisandara' (Conversation with Village) and the other programme 'Weda Samaga Yali Gamata' (Back to Village with Work in Progress) are there. I recently went to Gala Gedara, Hatharaliyadda and Thunpane. I saw for myself clearly the feeling that you described. Sentiments in Colombo are not reflected in those areas. There is much work being done at the village level. In the Yahapalana period, there was a lot of talk but nothing happened.
In politics as in life, the higher the level of expectation, the greater is the risk of disillusionment. Here, the level of expectations was very high. No government in the foreseeable future is going to have a two-thirds majority in Parliament. That was an incredible achievement. The President's margin of victory was very remarkable. Expectations are at that threshold. Delivery has to keep pace with that. But, there has been no disenchantment in the rural sector. The cost of living is an issue that is being tackled. It is not a problem that can be solved in a day or two. The opposition is making an attempt to whip it up. In a difficult situation, the government is doing its best with sincerity.
Q: Disillusionment against any incumbent government starts in urban areas first. Then, it has a trickle-down effect. Finally, it leads to the defeat of the government. How do you see it?
Key to that is communication. That snowballing effect from the urban to rural sectors will happen if there is no continuous effect. There has to be a persevering effort to keep the public informed. Gama Samaga Pilisandara is a continuous programme between the government and people.
Q: Do you see any gap in communication?
No communication programme of any government is perfect. There is always room for improvement. We are conscious of it. We are putting a lot of effort into ensuring that people are fully informed as a result of communication.