---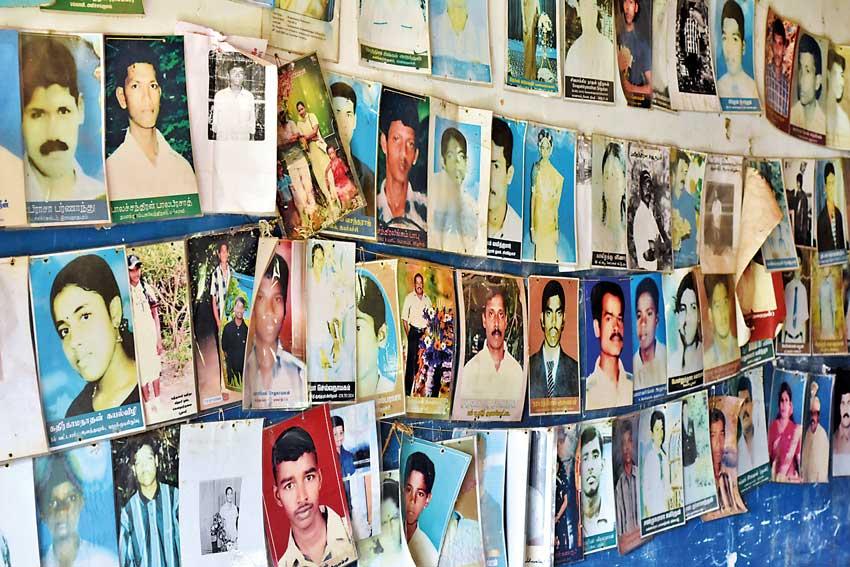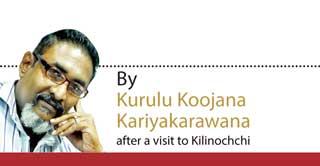 When the Aragalaya, which took a turning point in Sri Lanka's political history celebrated its first hundred days in Galle Face, another continuous struggle in the North had completed more than one thousand days in silence. When the Aragalaya in the South received exposure both through the local and international media, the struggle in the war-ravaged areas was hardly noticed by any intervening party. And when the Aragalaya achieved somewhat its primary targets, the struggle that broke out over the agonizing pain of the war widows, and those who had either lost their spouse or child, is still aimlessly searching for its sole purpose to be fulfilled.

The continuous struggle of the Association for Relatives of Enforced Disappearances (ARED) marked its sixth anniversary in Kilinochchi on February 20. The ARED, which comes as a collective body of all the five districts in the Northern Province launched its first protest by the Kilinochchi branch on February 20th 2017. Followed by this, the other branches in Mannar, Mullaitivu, Vavuniya and Jaffna commenced their movements in the weeks to follow.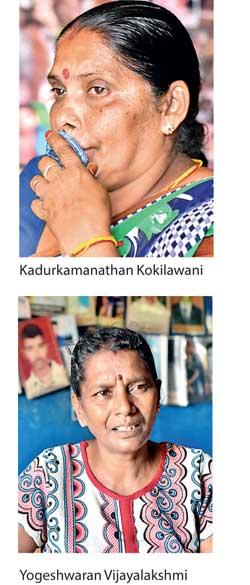 Several hundred parents gathered at the Kilinochchi town and staged a demonstration on Monday, February 20 morning not only to mark the sixth year of their endless struggle but to register their utmost displeasure against the moves by the Office on Missing Persons (OMP) to grant them a compensation of Rs.200, 000 for their lost loved ones.

"Do they think our children or spouses are like cattle to be purchased for a sum of Rs.200, 000," shouted angry mothers with tears in their eyes.

Walking along the A9 Road holding posters and photographs of their missing relatives, the demonstrators claimed that in Kilinochchi, they could buy a cow for Rs.150, 000.

The ARED Kilinochchi branch had established its office in a small confined space adjoining a grocery store facing the wide A9 Road close to the Kilinochchi District General Hospital.

Apart from its Tamil signboard on the outside, the first thing that catches a visitor's eye is a cardboard hanging at the entrance displaying the number 2,192, the number of days the organisation had already completed in their struggle from its inception in 2017.

On the other side of the placard bears the strong statement-"We are not ready to be cheated by the fake OMP again and again."

What strikes a visitor's mind the most is a large banner with a collage of graphic images of atrocities imposed on the victims of war during the last few weeks of the armed struggle.

The shock wave which runs across one's mind seeing this banner renews the gruesome memories of the graphic content that was circulated through the media and especially social media during the final stages of the war or its aftermath.

The disturbing feeling one would get after witnessing these images will transform into one of depression once their eyes are set on the wall next to it, which is filled with hundreds of photographs of men, women and teenagers, who were claimed to have gone missing or were subjected to enforced disappearances.

Out of many female protesters who took part at the February 20th demonstration, two middle-aged mothers agreed to share their pathetic stories with us after much convincing that their stories be heard once more in their truth-seeking mission.

Their distrust in the system and the authorities has made no difference to the media in the South during the last 13 years of never-ending failures in finding justice for their lost kith and kin. Thus, getting them to speak candidly was no easy task.

One of the two women had a gruesome experience of having had to hand over her only son to the security forces in Omanthai for screening purposes when the surrendering families were taken to the temporary safety shelters as the war had just ended. Her son had not returned to date. Whereas, the other female had a sad story to share about how her eldest daughter had gotten lost during the mass exodus to Mullaithivu from Kilinochchi.

53-year-old Kadurkamanathan Kokilawani of Kilinochchi explained how she lost her son Gowry Sargar, who was an 18-year-old student of the Central College Kilinochchi.

"It was early December in 2008 when heavy shelling was taking place over the skies of Kilinochchi from either side by the advancing troops of the Sri Lanka Army and the retreating cadres of the LTTE. The Army was advancing from Mannar and Vavuniya whilst the LTTE cadres holding on to its apex base in Kilinochchi had no option but to retreat to the further safer grounds of Mullaitivu.

Kilinochchi residents in large numbers were running away for their lives from the inward artillery shelling and the cadres who were stationed amongst the fleeing masses were retaliating with the same strength causing grave risks to civilians.

When the advancing forces were finally narrowing down their offensive, many of the retreating civilians had the opportunity to come in and seek military refuge as the cadres were further withdrawing," Kokilawani said.

"Following this, we were transported to Vavuniya by buses and before being released to the internally displaced camps, a thorough security screening was taking place at the Omanthai security forces checkpoints.

"All the teenage and young adults were separated from their families and taken into different groups, saying that they needed to be subjected to further security screening. Like many other parents, I too had to hand my only son over to the forces as per the orders we received. That was the last time I saw my child," she broke into tears.
After a pause, Kokilawani started again.

"Some parents were lucky as the representatives of the International Committee of the Red Cross (ICRC) were present amongst the military personnel who took the youth in for screening at Omanthai. All those who were taken in for screening when the ICRC personnel were present had been released to their families subsequently," she sighed.

The second mother who volunteered to speak with us, Yogeshwaran Vijayalakshmi (51) had a different type of story to tell. She was with her husband and the three children, the eldest daughter and two young sons when they were fleeing from Kilinochchi to Mullaitivu during the advancement of the security forces.

"Many residents of Kilinochchi were retreating to Mullaithivu for miles by foot and we were terrorized by the ongoing shelling from both ends. At one point, a heavy explosion took place within several hundred yards from us and we started running helter-skelter not realizing that we have ultimately lost our eldest daughter.

"My daughter Anusha was 18 years old then and there was little we could do to find her among thousands of homeless civilians who were desperately fleeing Kilinochchi.

"I really don't know what happened to my child. Whether she was killed in the crossfire or placed under arrest like many other youths. But I cannot stop looking at the road now and then thinking my girl would come at any moment looking for me," Vijayalakshmi sobbed.

There are many such mothers from the five districts of the North suffering to date because of their lost children or spouses. The struggle they started in 2017 didn't find a solution even by the then the Yahapalana Government after six years.

The struggle they started even before the Office on Missing Persons was established has come to a point where they do not trust any mechanism laid across by any authority or Government to bring about a solution.

Kokilawani, who is also the President of the ARED branch in Kilinochchi, said that they had lost faith in the OMP with the passage of time.

"They asked us to register with them and their latest joke was to compensate us with just Rs.200, 000 by issuing us with a death certificate for our lost child or spouse. We will give them 100 lakhs if they could find a single piece of information about our missing children.

"We have been cheated by so many people and individuals from time to time. Some who pose as Policemen or Security Forces Personnel in plain clothes would come saying that they have information about the whereabouts of our children. Some parents have been ripped off Rs.500, 000 to one million by these strangers but neither any child returned nor valid information leading to them were provided," she said.

"Out of all, the most distressing fact is how the law enforcement authorities would treat us. They think we are troublemakers and would take the harshest action to silence our woes and struggles whenever we take to the streets to register our protest.

"When President Ranil Wickremesinghe came into office, we were hopeful that he would find a solution to our problems. So we went to see him in person when he visited Jaffna for the national Thai Pongal festival on January 15 but we were beaten and manhandled by the Security Forces that dispersed our groups in no time. Many ask why we don't bring our men to these protests. We have a genuine fear that if men take part in these protest campaigns they would be dealt with legally or taken away by the authorities once again," she said.

Even the Tamil politicians in these areas are trying to deceive us by giving false promises. Whenever they visit these areas, they make big speeches saying that they would pressure the Government in the South to hold a legitimate inquiry. But they all lie to win a vote and nothing else," Kokilawani said in a tougher tone.

"We don't know if our children or missing family members are still alive even after 13 years of the conclusion of the war. We have lost faith in the OMP and their activities, which has not found a single missing person to date. All we ask is to do a proper and transparent investigation into this matter by an independent and trustworthy mechanism. Once that is concluded and if the findings are such that our family members are genuinely dead, we need the authorities to come forward and inform us that they are no more. Until then, we will not give up this struggle for life.

"It is not easy to lead this life. Every day we live and die with sorrow and anticipation that justice is meted out. Can you live for a moment if your child goes missing from home or lost his or her way back from school? Will the peace of your family last for a moment if something like that happened to you," questioned Vijayalakshmi looking at the setting sun off the western skies over Mannar.

The mothers claim that more than 1, 000 persons were lost in the Kilinochchi District alone and more than 20, 000 altogether in the other war-torn areas in the country. And about 158 mothers have died during the six-year struggle in finding their beloved. No matter how active the authorities are to find a solution to their problem or how genuine the political administration of any Government iswilling to find the truth, their agony will remain for generations to come.

Likewise Joseph Stalin once said, "The death of one man is a tragedy. The death of a million is a statistic". What we cannot forget is that every one of those millions that make up the statistics of death for the state, are still personal tragedies.
---
Response by the Office on Missing Persons (OMP)
Responding to these allegations Office on Missing Persons (OMP), now institutionalized under the Ministry of Justice, claim that it is a three-year roadmap to look into this matter and find solutions.

Executive Director of OMP J. Thatparam told the Daily Mirror that it was a very long and complicated process to do the preliminary inquiries of the complaints they have already received, to get basic details and to perform forensic investigations into them before concluding what has happened to a missing person.

The Executive Director however, categorically denied the allegation made by the mothers that the payment of Rs.200, 000 was offered as compensation to get them registered in the system in order to issue a death certificate for their missing kith and kin and close the file.

"We have made it clear that the payment of Rs.200, 000 is not made as compensation or reparation but as a lump sum for these relatives as a supportive payment for the family revival programme economically. And by no means will we issue death certificates for these.

"We recommend those who are eligible to apply and recive this payment and it is the Office for National Unity and Reconciliation (ONUR) that is facilitating this payment and not OMP," Thatparam said.

He said that the OMP do not classify the details of missing persons such as those who were of the war or any catastrophe but categorized data or complaints since 1969 to date according to district, gender etc.