---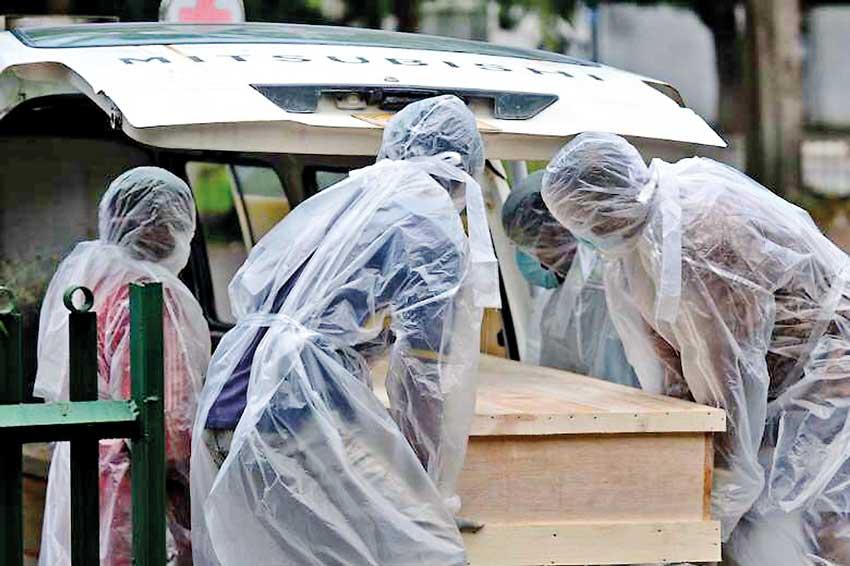 Image courtesy : AFP
But ever since the COVID-19 outbreak, misinformation, disinformation and fake news have added to the mounting challenges
PCR tests are not done on all bodies unless it is a death reported from an area under isolation, an area with higher number of positive cases or at a home under quarantine

Information helps save lives and during a pandemic a free-flow of vital, accurate information is paramount. Access to information has been recognised as a basic necessity apart from essential goods and services in the context of a pandemic. But ever since the COVID-19 outbreak, misinformation, disinformation and fake news have added to the mounting challenges. In this backdrop the public has to place its trust on statistics issued by local authorities. However, an alarming number of COVID deaths reported during a single day (which was later revealed as a cumulative figure) raised concerns about how authorities are calculating the figures.

Who's fooling whom?
Recent figures of COVID-19 deaths revealed by the Department of Government Information raised several doubts in the minds of the public. For instance, the press release on June 11 mentions that there were 2 deaths on June 9. But the press release on June 12 mentions that there had been 14 deaths reported on June 9. Similarly when 101 deaths were reported at once on June 11, there were doubts as to how 27 deaths were reported on June 6 and 7 when the press release on June 12 mentions that 7 deaths has been reported on June 6 and 8 deaths on June 7. (See pics)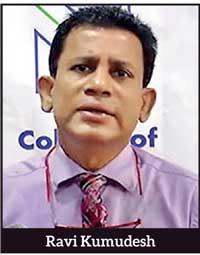 Inaccurate statistics?
Association of Laboratory Technologists President Ravi Kumudesh observes several shortcomings in the manner in which health statistics are being maintained at the Epidemiology Unit. "Accurate statistics are not revealed. There's a notion that only selected officials can disclose information and this leads to confusion. You don't need to follow complex processes to determine a death. By describing them as complex processes the authorities are distorting the truth." said Kumudesh.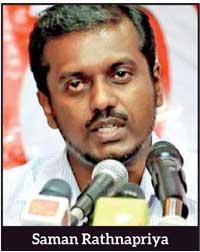 Weak administration
"It is paramount to disclose up-to-date statistics during a pandemic, but that is not a rule of thumb in this country," opined Health Services Trade Union Alliance President Saman Rathnapriya. "The Health Ministry should disclose which areas had a higher number of deaths and in which areas were higher number of cases reported every day. Recently they revealed data of 101 COVID deaths summing up statistics collected over a week. The number of positive cases reported on a particular day is also not accurate since certain PCR tests were done sometime back. This further shows the weak administrative capacities of the Health Ministry." he said.

Rathnapriya said that the main purpose of a lockdown is to identify the number of positive cases and control the spread of disease. "Therefore ideally they should increase PCR testing by five folds. But what happened was a reduction in PCR testing. Two days ago only around 18,000 tests were done. Such actions will have a further impact on the economy if the purpose of a lockdown isn't fulfilled." he added.

Backlog to be cleared soon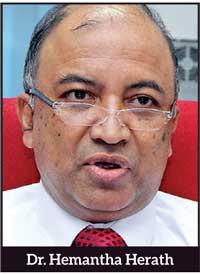 "Deaths are classified according to the International Classification of Diseases and this is a lengthy process," opined Dr. Hemantha Herath, Deputy Director-General of Health Services. "We need to look at immediate, associated and contributed causes of death. If there's no cremation there needs to be an inquiry and depending on the Judicial Medical Officer's recommendations a post-mortem has to be done. If a person died of COVID, then it's a COVID death. But if the patient had a terminal illness like cancer and at the time of death if he had a COVID pneumonia then it's a death with COVID. This is a complicated process and therefore you cannot arbitrarily classify deaths." said Dr. Herath.

When asked about the backlog of cases he said that it would be cleared soon. "There may be one or two extraordinary cases, but this backlog is not a big one. There may be a small delay in reporting cases because the date, time and declaration of death have to be confirmed. On the other hand when deaths occur at home they need to be brought down and PCR tests have to be done. This is once again a time consuming process. People are unable to travel to hospital under a lockdown and they would contemplate between going to hospital and observing the severity of the disease. People try to stay back and this poses a risk of people dying at home.
However we are taking maximum precautions to prevent deaths occurring at home," Dr. Herath affirmed.
Dr. Herath also said that PCR tests are not done on all bodies unless it is a death reported from an area under isolation, an area with higher number of positive cases or at a home under quarantine. "If the Public Health Inspectors or Medical Officers of Health clear the body as a non-COVID case we don't conduct PCR tests." he added.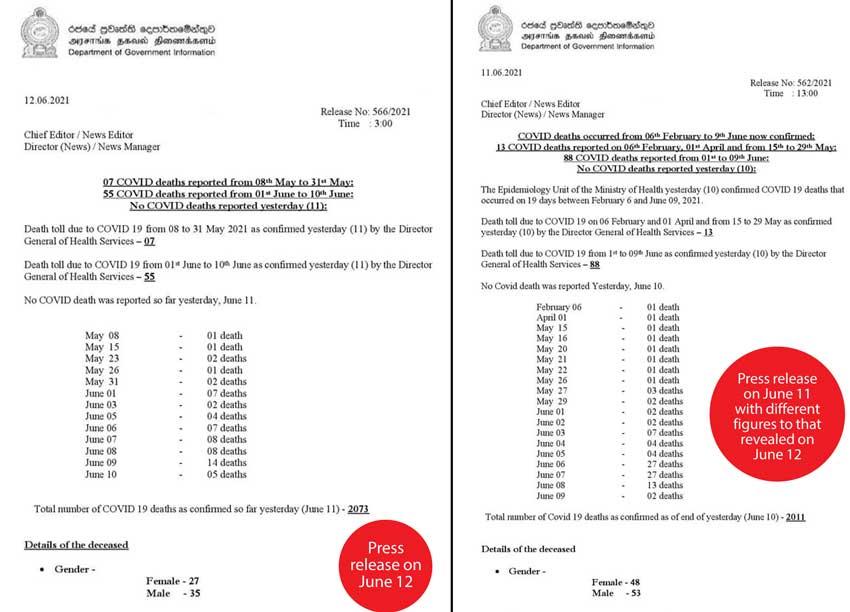 Reports updated
Following these revelations Health Services Director General Dr. Asela Gunawardena on Monday (June 14) announced that deaths that had occurred between 24-48 hours will be reported in the future. As a result the pattern of reporting has now changed with just the age groups and the number of males and females summing up the totals for June 13, 14 and 15.