---
Pioneer artist Vimukthi Samaraweera says he is moving to depict Greek and Roman God figures and Western divine concepts in future as he has painted sufficient South Asian Gods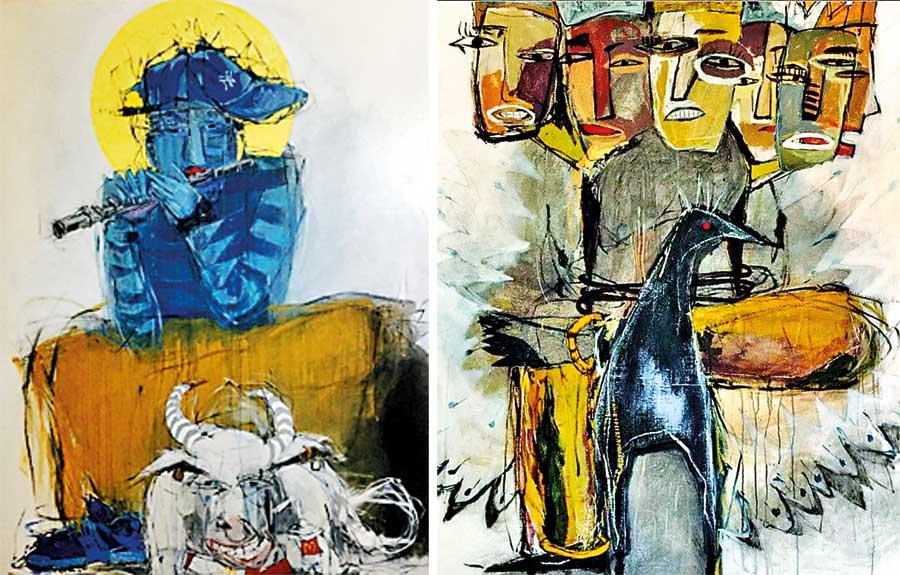 Krishna in millannal (L) Skandha (R)
Vimukthi Samaraweera is one of the pioneers of the Expressionist Movement in contemporary modern art

Vimukthi Samaraweera
in Sri Lanka. A graduate of the Faculty of Visual Art, of the University of Visual and Performing Arts, Sri Lanka, Samaraweera says he is inspired by legendary artists including David Hockney, Mark Rothko, George Michel Basquiat, Vincent Van Gogh and Pablo Picasso. Samaraweera's masterpieces are among many private collections around the world. In an interview with the Daily Mirror, Samaraweera shared his thoughts on his work, inspiration and future projects.
Excerpts:

Q Tell us a bit about your journey as an artist so far?
I obtained my Bachelor of Fine Arts degree from the University of Visual and Performing Arts, Colombo in 2010. Since my time as a student, I practised as a contemporary around the year 2007. Since then I have been a part of many group exhibitions. I've also had four solo exhibitions, and art events both locally and internationally. Among those events, I would say that my participation in the Park Art Fair in Kathmandu in 2014 is the most unforgettable experience in my journey.
Speaking about my art, I explore subjects through the distorted landscape, interior and figures. My new works mainly focus on distorted God figures.
Q Why 'God figures', is it an exploration of the divine?
As a public artist, I want to address issues of the general public. Most people are still very religious and they expect some form of relief from spiritual beings. So whenever they are suffering, they place their faith in the divine. Therefore I believe they are very close to the concept of God. With this in mind, I chose God figure, as I like to call them, to deliver my ideas and enlighten the general public about their social and internal sufferings.
Q In your works, you have featured Ganesh, Skandha, Shiva, Sarasvathi, Krishna and the Buddha figures. Why do you use these figures specifically?
As a Sri Lankan, I have seen these figures of divinity in Buddhist and Hindu shrines. The majority of our society being Buddhists and Hindus, Tamils and Sinhalese, I see that they are close to these divine figures. As a Sinhalese Buddhist by birth, I feel I too have a certain intimacy with these subjects. First of all, I want to deliver my own experiences to my society and then take it to the international level as well. I choose these Gods because they are familiar to me and my society. On the other hand, people of other countries, other religions too are familiar with these figures.
Q Your depictions of these divine figures are different to what we are accustomed to. Why distort these figures?
My works enrich my knowledge of my art forms and art history. I deliver these distorted figures because I want to depict the spiritual and mental distortion of our society, in a background where contemporary man searches for secular luxuries through spiritual practices.
They are not interested in real salvation. With these changes, some spiritual institutions tend to become corrupted and end up as money-making ventures. I imagine what Gods and spiritual beings think about this decline. I want to depict suffering and human decline. That is why I applied this deformation to God figures. I use this deformation not only in depicting Gods but also in my landscapes and human figures too. I am familiar with this particular deformation style since my days at the university and I know the power of deformation art. So I use deformation to express social issues.
Q Why did you add contemporary items of consumer society to God figures?
The man attempted to understand unknown universal facts and energies through Gods and they imagined divinity with their own experiences and tools available at the time. This happened a long time ago and that is why we see still envision our Gods in a traditional sense.
When we study spiritual figures of shrines, we see these figures are depicted with contemporary items of that era. But along with colonization and modernism, we began to think of our God as a separate entity from ourselves and society. I want to break this Colonial tradition, and I want to depict God again as a contemporary being. I want to depict contemporary social issues of our consumer society.
Q So many young artists have come to appropriate your style, what is your advice to them as an artist?
When I was studying at the University I saw how our master artists use historical figures and masterpieces to express ideas.
It was a great inspiration for me. But now many young artists abuse this style, because they seek instant popularity or attract the attention of NGOs, or even to attract public attention easily, especially in social media.
Appropriation is not a short cut. Art should be genuine. We should not use spiritual or historical subjects or anything else for that matter unless it's connected with our concept and experience.
Unfortunately, most of our young artists first distort some kind of spiritual or historical figure and then create false stories about it. This is not Radicalism. It's not art either.
Q What plans do you have for your divine subjects in future?
I have painted sufficient South Asian God figures now. So I hope to work with Greek and Roman God figures and western divine concepts in future.