---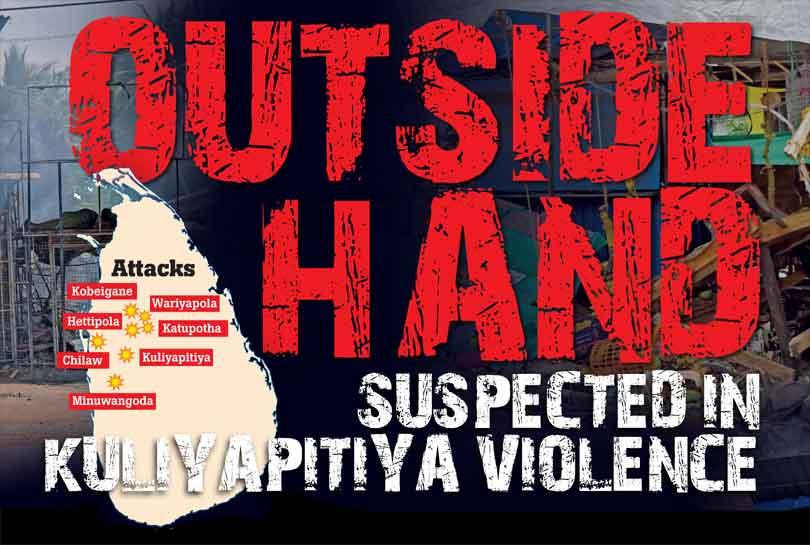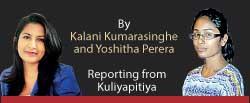 Daylight in Wayamba gives its residents the opportunity to assess the situation of their neighbourhood, following a grim and fearful start to the holy Vesak week. The Police curfew enforced early Monday (May 13) evening in the North Western  Province however, prevents them from setting about their daily work.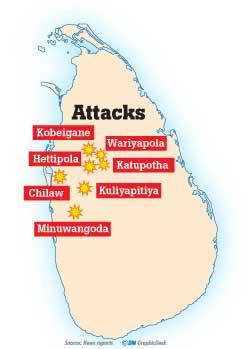 Mob violence broke out in several parts of the country on Monday resulting in an islandwide curfew which was lifted  at 4 am yesterday. However the curfew in the North Western province remained, as mosques and Muslim-owned shops were vandalised or set on fire by angry mobs. Tension continued to be high on Tuesday, as the overnight curfew was lifted while roads remained relatively quiet.
Despite the curfew and heightened security, in Giriulla, an outlier town in the North Western Province, several people were out and about their daily tasks, where the Police curfew was still in force. Although shops remained closed for business, men were seen travelling on bikes, with bags of rice and other rations. Some others were seen borrowing a minute or two to converse with a neighbour along the way. In inner corners of Giriulla however, the air is eerie and tense, with security personnel posted on every street. Doors and windows are firmly shut painting an eerie and grim picture in an otherwise pleasant, active town.
In nearby Kuliyapitiya a family is gripped with fear, after mobs surrounded their residence on Monday evening.  M.T.M. Sapuwan, a resident of Karanthipola, Kuliyapitiya, was a victim of a heinous mob attack, which has left his family devastated and displaced.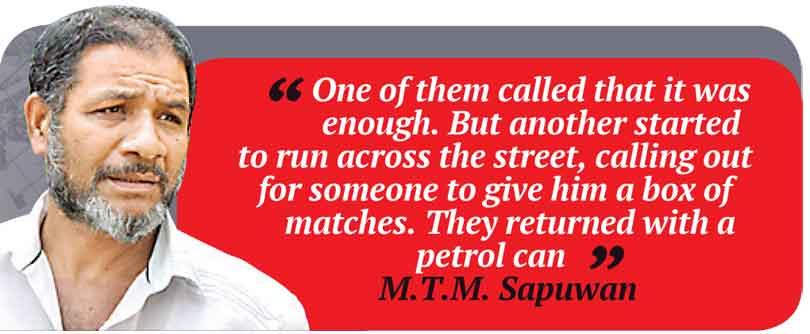 A blackened frame of a two storeyed building sits under an expansive, charred Margosa tree, on the Kuliyapitiya - Hettipola Road, where Sapuwan lived. A warped frame of what used to be the ground-floor storefront gate bends forward precariously.
"My family returned home from Wariyapola after breaking fast that day. We learned from our neighbours that the situation wasn't good. They said several roadside eateries and shops were pelted with stones, and our neighbours asked us to remove the vehicle from our house," Sapuwan recalled. 
Together with his son, Sapuwan drove his vehicle to a friend's place, where they parked their car, fearing the worst.  Upon their return however, Sapuwan and his young son found that their house was surrounded by an angry mob of about 150 people.
"Some of them even had swords and other heavy equipment in their hands," one of Sapuwan's two sons, who had been observing the frightening situation from the second floor of their house said. 
The mobs broke into the store and started crashing the clay pots and other wares on the floor. "My son called me from the house, saying that the mobs were about to do something terrible. My other son and I had no option, but to hide in the land opposite our house, waiting for a chance to rescue my family" he said.   "We called the Police, and tried calling everyone we knew to come and help us.  By that time, the crowds began to slowly disperse. One of them called that it was enough. But another started to run across the street, calling out for someone to give him a box of matches. They returned with a petrol can," Sapuwan recalled. One attacker was then heard saying that they've caused enough damage. Another was heard disagreeing, saying that Sapuwan's home must be set on fire.
Just as they feared, the mob set fire to their store. The plastic goods immediately caught fire and soon the ground floor was engulfed in flames.  "My wife, son, daughter and grandchild were trapped upstairs," Sapuwan said, adding that his neighbour managed to distract the crowd enough for Sapuwan and his son to rescue his family.

The store, full of goods to be sold during the Eid festival, had at this point started to burst and spew ash. "My son called and said that they couldn't bear the heat anymore," Sapuwan said. 
With the help of his neighbour, Sapuwan came out of hiding and helped his son out of the house, down the volcanic staircase. Army personnel who arrived at the scene, then helped his wife and children out of the house.
"We called the Police as soon as they started attacking our house. But they only arrived at the scene when it was too late. We kept watch over our house until dawn," the family said as they were of the view that someone would plant suspicious material inside the store," Sapuwan said, staring at the blackened remains of his residence.
Meanwhile the Kuliyapitiya Urban Council's pleas to provide the area with a fire brigade, have fallen on deaf ears, according to Councillors. "This area has a number of coir workshops which are prone to fires. Whenever there's an incident, we have to wait for a fire engine to be deployed from either Kurunegala or Chilaw, by which time, everything is destroyed by the fire," one councillor said.
According to Sapuwan, Sinhalese too were shocked by this incident. With water provided by the Pradeshiya Sabha, the fire was doused with help from the neighbours. But now, Sapuwan has lost everything. "It was our Sinhalese brothers and sisters who helped us, even in this situation. We don't believe anyone from our neighbourhood in Kuliyapitiya was involved," he added. Sapuwan's family now resides with the neighbouring Sinhalese family, whose members have housed them since the ill-fated day.
Although many shops and buildings suffered from stone-pelting, the attack on Sapuwan's home was the most detestable of them all.  Kuliyapitiya Mayor Lakshman Adhikari says that calm has been restored in Kuliyapitiya. "We were expecting the situation in the country to return to normal this week.
Unfortunately this incident disturbed the calm, which we had maintained for years," he said.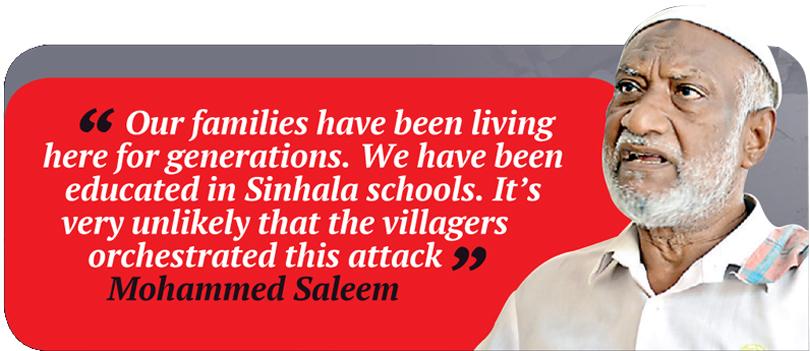 "Only 12 per cent of the population in Kuliyapitiya is Muslim. They are a peace-loving people and they have been co-existing with the community peacefully, all these years," Adhikari, who has been the Mayor of the city during two prior tenures, assured. Minister Akila Viraj Kariyawasam, following a visit to the area, has assured that peace will be maintained in Kuliyapitiya. The Mayor was also seen guiding relief programmes for the victims of the attacks as well as the shocked residents of the area. Police sources revealed that four suspects were arrested in connection to the attacks in Kuliyapitiya. "We're going through surveillance and CCTV footage to identify the perpetrators," an officer attached to the Kuliyapitiya Police station said.
Close-knit Hettipola attacked by rioters 
In Hettipola, Panduwasnuwara, more than 80 shops, houses and buildings owned by Muslims have been the targets of vicious mob attacks. While Prime Minister Ranil Wickremesinghe and Ministers Akila Viraj Kariyawasam, Rauff Hakeem and Kabir Hashim visited the affected families in the area, residents were visibly shaken by the violence that unfolded on Monday (May 13).
Along the Kuliyapitiya-Hettipola main road, vegetable stalls and roadside eateries were vandalised and attacked around 1.30 pm on Monday. Nawfer, a resident of Kotampitiya, said that the mobs started the attacks by pelting stones at their houses and shops. "As soon as they started to attack, the police announced the curfew and the mobs retreated," Nawfer recalled. According to Nawfer's wife, about 1,000 rioters then followed the police vehicles. "They were beyond the police officers' control," she said. We abandoned our houses, and ran towards the fields at the back of our house, to escape from the mobs, with our neighbours and their children," she reminisced.
Dozens of families along Kotampitiya, followed suit, as the crowds began to break into Muslim houses and smash mirrors. 
"They didn't loot, but they broke-in and broke all the mirrors of our houses," Nawfer said. His family believes that even though the majority of the mobs were outsiders, their attack couldn't have been carried out without the help of a few villagers. "How could they identify which house was owned by Muslims?" they questioned. M. Deen, the proprietor of the neighbouring eatery, said that the Police were overwhelmed by the mobs, despite their best efforts to control the situation and ensure the safety of the villagers. M.C.M Abdul Bari said his brother's motor spare parts store was completely gutted in fire, causing them losses in millions of rupees.
Masjid Al Huda, the central mosque in Hettipola, was attacked by the same mobs on Monday evening. The caretaker of the mosque, Mohammed Saleem, believes that it was a well organised attack. "Trouble started brewing in Chilaw, over a facebook post and now it has reached us. During the past 12 hours, the mobs carried out vast property damage to this area. 
I believe their only motive was this, I never felt that bloodshed was their intention," Saleem said.
"Our families have been living here for generations.  We have been educated at Sinhala schools. It's very unlikely that the villagers orchestrated this attack. Young girls from this area, work in a nearby apparel factory, during all sorts of odd hours of the day. Their safety has been assured by the entire community, including the Muslims. This is an attack instigated by a few rebellious minds. It may have no solution, but we hope there will be an answer for this unanswerable question," he added.