---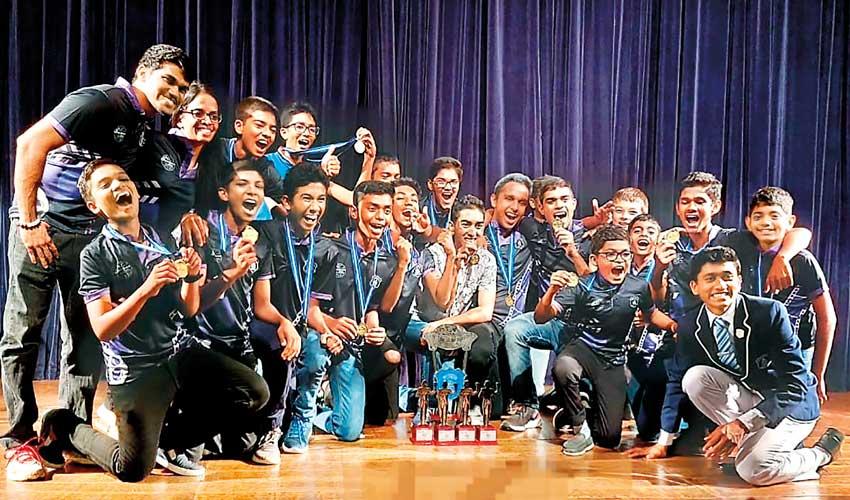 The 6th Annual Inter-House Drama Competition of St. Joseph's College Colombo 10 was held recently at Lionel Wendt

The 6th Annual Inter-House Drama Competition, organised by the English Literary Union of St. Joseph's College Colombo 10, in collaboration with Cold theatre 7 was held recently, in front of a capacity crowd for the first time at Lionel Wendt, considered as a performance dream stage.

Young Josephians of 4 houses, namely Marque , Bonjean, Coudert and Melizan exhibited their skills and displayed hidden talents at this colourful night. Internationally acclaimed and versatile actor Wilson Gunaratne graced the occasion as the Chief guest.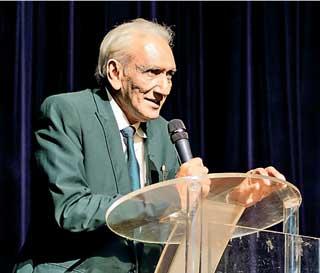 Internationally acclaimed and versatile actor Wilson Gunaratne graced the occasion as the Chief Guest
Marque house was crowned as the Champions of the 'Inter-House Drama Competition 2022', which was directed by Sulo Perera and Heshal Peiris who won the Best director's award While Melizan House emerged as the runners-up and their drama was directed by Dulika Jayamanne and Tahsha de Silva.

The winning Drama titled, "The Road Home", inspired by Khaled Hosseini's classic novel 'The Kite Runner', delved into the lives of two childhood friends, Amir and Hassan; who despite growing up together in Kabul have contrasting social and economic circumstances. In a pivotal moment, Hassan was brutally attacked while running a kite for Amir and Amir fails to defend him, leading to a rift and eventual estrangement of the once inseparable pair. Consumed with guilt Amir's journey to redemption begins many years later as he returns home to Afghanistan as an adult to rescue Hassan's son and make amends for his past actions. Through its portrayal of complex themes such as friendship, betrayal, guilt, and atonement, the story sheds light on the struggles and complexities of human nature, society and culture.

This achievement of success by the performers of Marque house now paves the way to represent and participate in the Inter-School Shakespeare Drama Competition to be held in this year.

The victorious Marque House performers comprised;
1. Devin Tissera (Assef), Niven Nanayakkara (Amir), Helindu Karunathilaka (Rahim Khan), Senula Fernando – (Hassan), Jevin Indran (Baba), Devin Fernando (Female Merchant), Dasidu Fernando (Assef Servant), AvishCooray (Wali), John Mckenzie (Guard), Nevindu Edirisinghe (Kamal), Hayden Tissera (Ensemble), Ayush Anthony (Soraya), Nishka Gamage (Ensemble), Dhananjaya Seneviratne (Ensemble), Ritesh Fernandez (Sohrab/Ensemble), Yevin Perera (Ensemble), Yonal Dissanayake (Ensemble), Levankhe Perera (Ensemble), Caleb Andrew De Alwis (Ensemble).

The individual performance awards were won by the following,
Best male Portrayal- Master Niven Nanayakkara from Marque House for the role of Amir
Best female Portrayal- Master Dewvin Perera from Coudert House for the role of Sam
Best supporting male Portrayal Joint award- Master Devin Tissera and Master Senula Fernando from Marque House for the role of Assef and Hassan

Best supporting female Portrayal Joint award - Master Thenuk Nanayakkara from Melizan House & Master Thinuk Jayasinghe from Bonjean house for the role of Lillian and Sarah, respectively

Best Ensemble - Melizan House
Fan Favourite Bonjean house – Master Jason Rodrigo, role of Henry
Fan Favourite Marque house - Master Helindu Karunathilaka, role of Rahim khan
Fan FavouriteCoudert house – Master Semitha De Silva,role of Bill
Fan FavouriteMelizan house- Master Shawin Indran, role of David the star.

Rev.Fr.Ranjith Andradi, The Rector/Principal, Rev.Fr.Kamal Kumara, the Vice Rector, Rev.Fr.Samesh Anthony, The Priest-in-Charge of English Literary Union, Rev.Fr.PriyanTissera, Principal, Primary School, Rev.Fr.ShireshKandanearachchi, Spiritual Co-ordinator, and many priests, teachers ,students from the invited schools, parents, students and drama enthusiasts filled the audience.

Noteworthy presence of Rev.Fr.Rohitha Rodrigo,the Rector of St.Peter's College,Colombo 4, showed the solidarity between the two brother schools.

Rev. Fr.Ranjith Andradi, The Rector/Principal of St.Joseph's College, Colombo 10, praised and thanked the performers for maintaining the high standards, the members of the board of Administration, Coaching Directors and Co-Directors and Ms.Sonali Perera, the Teacher-in-Charge of the Josephian English Literary Union for their unstinting support given to nurture, mould and craft the young Josephians to confidently exhibit their innate talents on stage and outside,Parents and Teachers for inspiring the young Josephians and the Management and the staff of Lionel Wendt Theatre for their support extended to the College.