---
Mr. Cooray was a source of pride to his kith and kin. The memories of him are still strong and precious and would always linger in our minds and hearts till the end of time. September12th proved a sad and fateful day for his wife Rani and children. He died of a brief illness at the age of 87 years. Mr. Cooray answered God's call and was taken upon his heavenly home to be with his creator. His death removed from our midst an affable personality.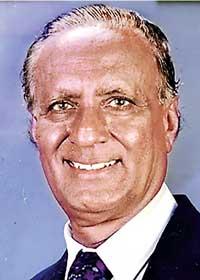 His passage through life was always unruffled and without any friction. He hailed from a well-known distinguished respected and conservative family. Mr. Cooray was educated at St. Sebastian's College, Moratuwa. He worked at Lake House well over four decades. He then joined Wijeya Newspapers Ltd. and worked for two decades or more and served the organization with utmost honesty, and dedication as a Sales Promotions Consultant.

Mr. Cooray had a charm and charisma of his own. He was loved by all his colleagues and other close associates for his good humour. I had known him for the past 15 years while working together in the same Department. When I lost my only sister 5 years back I would break in tears daily when I walked in to the office and Mr. Cooray would comfort me saying "now, now, Marian cheer up, life has to go on. These words keep ringing in my ears even now.
He was an unassuming man, and sincere friend. Above all he was a gentleman par excellence. He had an excellent command of the English Language and was an eloquent speaker who possessed the rare quality of being knowledgeable on any subject. He would never be troubled even in time of danger or difficulty.

Mr. Wilfred Cooray was a devout Catholic. He never failed to perform his daily religious observances prayer and rituals. His daily activities and outlook of life guided by his religious convictions.

Mr. Cooray was a Charter Member of the Lions Club of Moratuwa District 306 A1, and held different positions such as President, Director etc. He will also be remembered for the wonderful work that he did as a Past President in the Club. But at the same time he never ever lost the common touch. His memory will remain in their minds and hearts for a long time.

There were four brothers in the family. Rev. Brother Kingsley OMI., sisters Esme and Monica are sure to miss him. His loving and dedicated wife Rani and children and his home were the heaven to which he looked forward and returned for support, comfort and happiness which he enjoyed for many years. His daughters Ravini (USA), Viranthi, Roshini, Romaine (Australia) and only son Rajive (USA) of whom he would speak to me and say, "Marian I am very happy to see these loving children of mine are doing well and they are very concerned about myself and my wife Rani". He would also speak about his loving wife's talents and achievements being a housewife. It is also praiseworthy that he would never fail to speak about his in-laws, grandchildren and great grandchildren and when he did I gave a patient hearing to him.

He died as he lived in peace and without struggle, for his life was free of conflict and he never ever brushed against anyone.

May the Gracious Lord in his infinite mercy grant him eternal perfect peace. I am sure that Mr. R.S. Wilfred Cooray would have been welcomed at the portals of his Lord and Master with the complimentary words, "Well done thou good and faithful servant."
LION MARIAN J. RODRIGO CANDAPPA.
KOTAHENA