---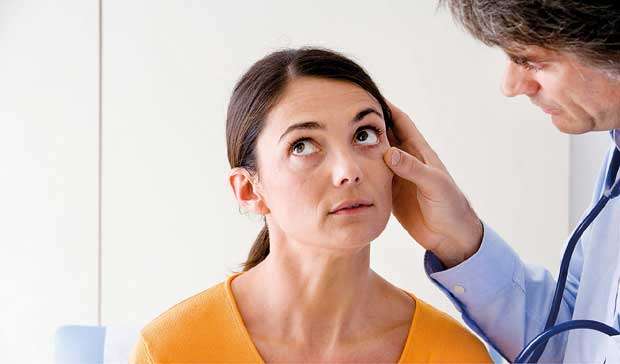 Anemia is a condition in which the number of red blood cells or the amount of Hemoglobin in red blood cells is less than the normal level. There are several reasons for anaemia to occur and Iron deficiency is the commonest. So today we are going to shed light on this important topic of Iron deficiency Anaemia. It is known to be a common problem with a significant incidence in the Sri Lankan community, but often goes un-diagnosed due to the lack of awareness. We spoke to Dr. Vindya Wellella, Registrar in Medicine,Teaching Hospital Karapitiya, Galle, to enlighten you on the subject.

Iron deficiency Anaemia is a specific type of anaemia which occurs due to the lack of mineral IRON in the body which is a major constituent of hemoglobin , which ultimately results in less quality Haemoglobin giving rise to a reduced oxygen carrying capacity in blood.

The incidence of Iron deficiency Anaemia in Sri Lanka
The Sri Lanka Demographic and Health Survey in 2007 found an estimated overall prevalence of anaemia of 34%, with 20.7% mild anaemia and 13.3% moderate to severe anaemia. The most common causes are iron deficiency according to Sri Lankan statistics.
The estimated prevalence of anaemia during pregnancy is approximately 17%. Risk groups include pregnant women; as there is an increase in body demands and children due to possible erratic dietary habits. Special population with gastrointestinal disorders which makes an impact on the absorption of Iron are among the others who are vulnerable.

Causes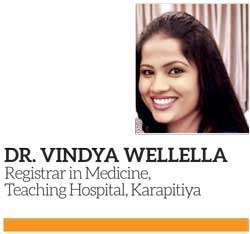 Iron is supplied through our diet and this iron in food comes from two sources; animals and plants. Iron from animal sources is known as heme iron and is found in Red meat and fish like Shell fish and shrimps. Iron from plants is known as non-heme iron and is found in certain vegetables like Spinach and Moringa as well as in iron-fortified foods such as breakfast cereals. However, Heme iron is better absorbed by the body compared to non-heme iron.

Furthermore, there are certain factors which affect the absorption of Dietary Iron by the body. For an example Vitamin C, meat, fish and poultry increases the absorption of iron whereas Tannin in Tea, coffee and calcium reduce it. Intestinal disorders like celiac disease which affects your intestine's ability to absorb nutrients from digested food, can lead to iron deficiency anemia. Also if a part of your small intestine has been bypassed or removed surgically, that can affect your ability to absorb iron as well as other nutrients.

Iron Deficiency is also caused by blood loss due to chronic gastro-intestinal bleeding (gastric ulcers, Haemorrhoids) and heavy blood loss during menstural periods.Pregnancy is a potential time where a woman is likely to develop iron deficiency anaemia because their iron stores are supposed to serve the increased blood volume as well as act as a source of hemoglobin for the growing fetus.

How to know that you are anaemic
An anaemic person often appears pale and weak and may feel breathless or faintish. The individual may be aware of a pounding heart. An anaemic person may have insomnia, decreased appetite or a general feeling of malaise. Most individuals with Iron deficiency Anaemia would often ignore symptoms due to vagueness and less interference of them with the quality of life. However, the symptoms tend to worsen as the severity of deficiency increases, so it is important to be aware of the ways you would present and why early identification is important.

Diagnosing a patient
People without overt symptoms of Iron Deficiency Anaemia will be diagnosed often as an incidental finding, but individuals presenting with symptoms will be diagnosed with the help of complete clinical details in order to find out the cause for anaemia and the duration of presentation.Your physician would carry out a thorough physical examination to find out the cause and complications (to exclude visible Haemorrhiods etc.) followed by investigations including Full blood count (to assess the level of Haemoglobin), and microscopic study of blood constituents which we call a blood picture which would help in confirming the diagnosis.

To confirm the presence of iron deficiency anemia blood levels of iron should be carried out in the means of Iron, ferritin, iron binding capacity etc.Once iron deficiency anemia is confirmed, we need to identify the cause. Patients suspected to have chronic GI bleeding will be advised to undergo Image studies like Endoscopy, colonoscopy to exclude colonic cancers and ultrasound , computer tomography and rarely, a sample of bone marrow may be taken to see if red blood cells are forming in the normal way.

Treatment
Finding the cause of iron deficiency is mandatory in order to proceed with the treatment. In fact if the cause is bleeding Hemorrhoids, the patient should be referred to a surgeon and treated accordingly to stop further bleeding which would in turn reverse the body's iron levels within few months. Women who have heavy blood loss during menstrual periods are advised to seek medical advice and further necessary action plans to reduce bleeding.

The best way of treatment is the modification of dietary habits. Recommended dietary allowances (RDA) for iron are based on requirements for absorbed iron, the proportion of dietary iron that is absorbed, and estimated iron losses (eg, due to menstruation). So increase intake of fish meat products will efficiently replenish your iron stores if deficiency due to dietary problem. You need to avoid taking coffee or tea with meals as it interferes with iron absorption.

The most common treatment for Iron deficiency Anaemia is a course of oral iron tablets. Reversal of the Haemoglobin levels doesn't happen overnight so its advised to stick to the prescribe dosage until the next blood report comes normal and 3 months more-to replenish the stores. We strictly advice of compliance as it is cumbersome to adhere to the treatment as iron tablets causes Gi irritation, constipatin. And it will discolour your stools in to black and brown which one should not be afraid of.

Although iron is best absorbed on an empty stomach, taking it this way commonly causes a feeling of sickness. This can be prevented by taking it with some food and vitamin C (for example in orange juice) which increases the absorption. On the other hand milk, tea, coffee and certain medicines such as calcium tablets together, which interfere with iron absorption, should be avoided.

If iron deficiency anemia is severe, you may need iron given intravenously or you may need blood transfusions to help replace the levels of iron and hemoglobin quickly. However we try to avoid this as much as possible as it can cause hypersensitivity reactions and also a higher expenditure.

One cannot have excess iron due to over treating as iron absorption is well regulated by the intestine. However individuals with intestinal problems are advised to be concerned about iron overload if advised by a health care professional.There are liquid preparation for children which occasionally cause gray staining of the teeth or gums. These effects are temporary and can be avoided or minimised by brushing the child's teeth and/or rinsing the mouth with water after administration of the drops. Liquid iron may also stain fingernails if the child places its hand inside the mouth after iron administration.

The response to treatment is assessed by general improvement of the well-being and improvement of blood compositions.

Moreover, the treatment of iron deficiency in pregnant women is important for both the mother and the developing fetus, and iron repletion should occur promptly. So there are guidelines to provide iron supplementation during pregnancy from the second trimester onwards and after delivery as well.