---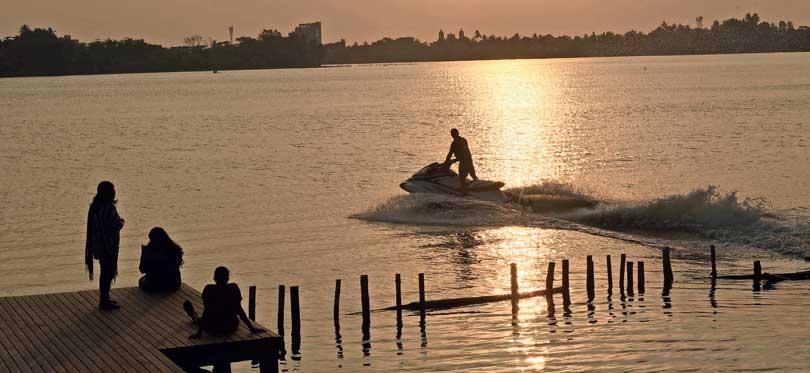 Bolgoda has long served as a vacation hotspot for those seeking a quick getaway from the city of Colombo, and is, unsurprisingly, home to a plethora of properties providing vacation-goers a memorable stay. The newest property on the block, WAVE Bolgoda by Singhe, is hoping to set itself apart from the rest with its offerings and personalised attention to detail in helping curate your perfect getaway. An Aqua Sports Hub, a Marina, an Adventure Boutique Hotel & a Restaurant all in one, WAVE is a charming, intimate property that will appeal to every type of holidaymaker.

With WAVE, Singhe Group of Companies, who already have a footing in the furniture industry, ventured into leisure for the first time, but according to Malaka Rubasinghe, Managing Director, WAVE started off as a Marina. Having identified a gap in the market, Rubasinghe decided that the Marina would serve as a hassle-free setup for Personal Water Craft (PWC) owners, providing them with every conceivable facility, including maintenance. "I realised these people never came alone, they always came in groups. So we decided we would provide facilities for the groups in the adjacent property, which also belonged to us". This led to the development of WAVE, a property that Rubasinghe hoped would provide a boutique experience for guests.
An Aqua Sports Hub, a Marina, an Adventure Boutique Hotel and a Restaurant all in one, WAVE is a charming, intimate property that will appeal to every type of holidaymaker.

When we reached WAVE after a short drive from Colombo, we were welcomed by friendly staff who were the epitome of Sri Lankan hospitality - welcoming us with genuine smiles, and most importantly, helpful without being overbearing. Also, considering the ongoing pandemic, the staff ensured that the necessary precautions were in place so guests could enjoy themselves and be safe. At only 7 perches, the property is cosy, but only on paper. The open concept architecture of WAVE tastefully blends nature with design, providing an unobtrusive view of Sri Lanka's largest and only natural lake; a sight we were able to enjoy while sipping our welcome drinks.
WAVE has two rooms; the Superior Room offers the luxuries of a panoramic view of the lake and a Jacuzzi, adding a sensual touch to the overall ambience whilst the Deluxe Room offers a soothing, comfortable blend of meticulously designed interiors with all modern amenities. While both rooms are comfortable and tasteful, you'll undoubtedly find yourself relaxing in the pool, lounging by it or engaging in the many water sports on offer at WAVE like Speed boating, Wakeboarding, Tube rides, Kayaking, Flyboarding and Jet skiing. Among the most unique and exciting offerings by WAVE, however, is their Facebook game "Wave Rush" which they've developed so you could play and stand a chance to win dinners and jet ski rides at WAVE.
If all the fun in the water has you parched and ravenous, they've got a culinary team who count many years of experience in top tier hotels in Sri Lanka and abroad behind them. From Bites to Mains, there's a small but varied menu to pick from which includes crowd favourites such as Devilled Chicken/Prawns, Hot Butter Cuttlefish, Cutlets, Garlic Bread, as well as Mixed Grill Platters, Ribs, and even Pasta! While they do have a variety of non-alcoholic beverages, it's BYOB with no corkage.

While we explored the upper deck, which comprised the two rooms and the dining area, we savoured a few of the bites before heading off to engage in some water sports. The Hot Butter Cuttlefish was delicious, while we were especially wowed by the Vegetable Pakoras - or should we say, the wasabi mayo sauce that came with it. Whether you're a water sport newbie or a pro, there are instructors on hand to guide you and ensure you have a fun, safe experience. This is especially recommended for Flyboarding, which is only offered by two providers in the country, one being at WAVE. Despite the fact that there are plentiful water sport adventures to keep everyone from the very adventurous to the more laid back explorers busy, guests could also opt for activities to do around WAVE, such as birdwatching, fishing, visiting places of cultural/religious interest, romantic getaways to islands around Bolgoda & exploring the Moratuwa locality known especially for its rich history of 'carpentry'. Since we were all famished after an evening of water sports, dinner comprised a 3-course menu, with starters, mains and dessert - an array of good old homemade ice cream! They will even arrange a BBQ if you like.

Winding down in the evening and enjoying the myriad colours in the sky during sunset is a must-do while here, whether you're doing so from the pool, seated on the jetty or even from the upper deck. The idyllic ambience at this time is unmatched, and most certainly a welcome respite. Although they have tailored packages like the Romantic Getaway Package, Weekday Special Package and Water Sport Package, the team at WAVE are very flexible and are willing to curate your stay according to your whims, fancies and budgets. So whether you're seeking a tranquil haven or an adventure out on the water, WAVE Bolgoda by Singhe is bound to win you over with their personalised service, and their numerous offerings.
Pics BY: Kushan Pathiraja
Address: 14/4/D, Upper
Indibedda, Moratuwa.
Website: www.wavebolgoda.lk.
Contact: 076 758 8143