---
A chat with Roanna and Dulaj of Savage Art Ink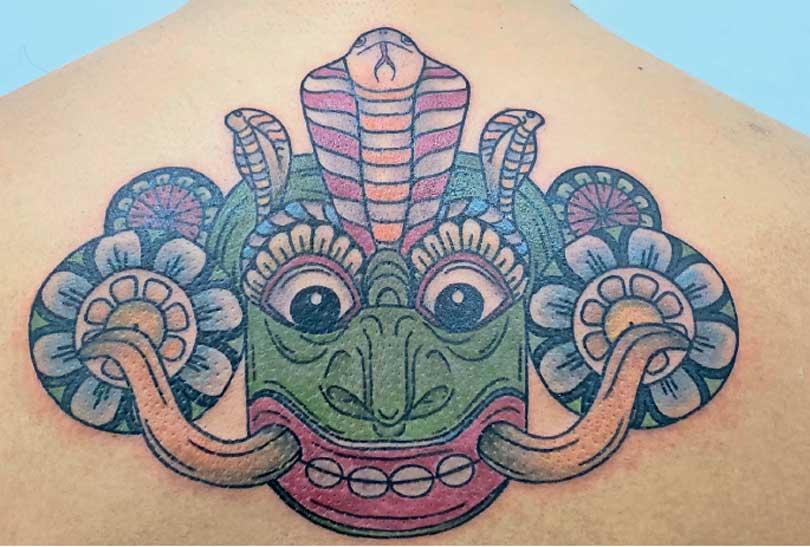 From being symbols of gang affiliation and protests to being symbols of free expression and thought, the perception of tattoos over the years is a true indication of a 'glow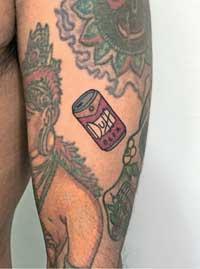 up' if any. Sri Lanka has had a budding tattoo culture for a long time but it is in the recent years that we've seen the culture fully bloom into something more sustainable and acceptable. Savage Art Ink down R.A De Mel Mawatha appears unsuspecting at first, but as you amble your way to the third floor, the slightly busy walkway into the studio gives you a glimpse of the brand that has been carefully curated with good word of mouth and loyal clients. Savage Art Ink is co-owned by Roanna Webster and her husband ShafrazDeen. Roanna is the studio's main artist and probably the first female professional tattoo artist in Sri Lanka. Her husband Deen is the studio's main piercer. Joining Savage Art Ink as a guest tattoo artist and piercer is Dulaj Rangana who brings with him over 9 years of experience in the tattoo industry. We speak to both Roanna and Dulaj about tattoos, styles and taboos.
ROANNA WEBSTER
Q
How did you get into tattoo art?
Actually, I lived in America but because I had family here, I would come to Sri Lanka on and off on short stays. Right after school, I was doing a degree in Aviation and I did it for about 2 years and I realized that what I really wanted to do was tattoo art. So, I started with my apprenticeship under Dimmu Fernando back in 2014 practising on fruits and just learning the basics. Then in 2015, I went back to the US and I continued and finished my apprenticeship in California at the Touch of Ink studios and I got my professional qualification as a tattoo artist. I came back to Sri Lanka after that and I worked independently for a while before opening up Savage Art Ink with my husband.
Q
What's your signature tattoo style?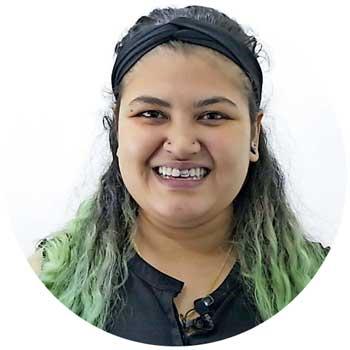 When you are learning about tattoo art, one thing you are always encouraged to do is to try every kind of style there is. So, I really did try everything from geometrics to black ink work and then line work and characters and after experimenting with it all, I realized that what I enjoy doing and what I excel at are traditional colour pieces and thin line work. I really liked to do traditional tattoos, I got really inspired when I was working in the US. I think in Sri Lanka there is not a lot of artists who do colour tattoos really well because they are still trying to understand which colour tones work with our skin types.
Q
What sets Savage Art Ink apart from the rest?
When I opened Savage Art Ink, I had two main priorities – hygiene and comfort. I'm crazy about hygiene and we are big on educating our clients about it. We wipe down every little thing we use and we clean every equipment and work space after each client. We also give our clients very thorough aftercare instructions and we request that they come in and get their dressings changed by us so we can monitor and make sure there are no infections. We import all our products and machines from the US so everything is of good quality and standard.We also make sure our clients are a 100% comfortable and that's the feedback we've always received from the clients we've worked with. They love the vibe we have here because all three of us are good friends and we have a great working environment and all of that, makes the clients feel very comfortable when
they come in.
Q
You were probably the first professional female tattoo artist in Sri Lanka –how have you seen the industry change?
Well, it's been mentioned several times that I was the first professional female tattoo artist here. I've definitely seen more female tattoo artists come up over the years and I think that's great for our industry. A lot of females and even men feel comfortable getting tattooed by women. 5 years ago, when I first started working in Sri Lanka, not a lot of people were getting big tattoos and especially not a lot of females. But now we see people getting tattoos in visible areas and I think it'll only keep getting bigger as our generation grows older..


*Follow Roanna Webster's work on Instagram @rowebs
DULAJ RANGANA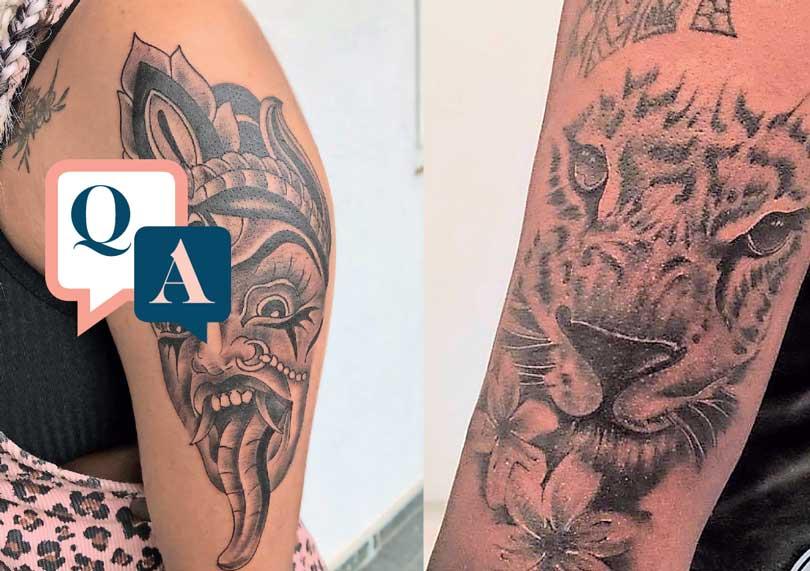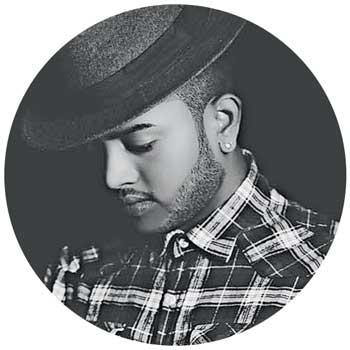 Q
You've been in the tattoo industry for 9 years - how did you get involved?
I actually walked into a tattoo shop one day and just asked them to teach me! Even when I was in school, I really liked art – I was crazy about it. When I left school, I got into the hotel field because I really wanted to get into the tourism industry. But I also really wanted to do tattoos. I learnt my basics with Dimmu Fernando, which is where I first met Roanna! And then I actually managed to learn everything else from watching videos on YouTube and just through practice. With the experience I've gained, I managed to travel to countries like India, Dubai, Bangkok and Bali to do guest spots. When Roanna opened Savage Art Ink, I joined as a guest tattoo artist because I now work on an appointment basis only.
Q
Have you found your signature style?
I always knew the kind of tattoo art I wanted to do. I only do black ink work and my signature style is portrait work, geometry and abstract. For me, realism tattoo work is such a challenge because it's so intricate and there is a lot of detail involved and I enjoy working on it.
Q
What's something you would insist on before inking a client?
Surprisingly, a lot of clients don't really know what they want. I hardly ink walk-in clients because especially with my kind of pieces, I first want to plan the tattoo ahead and discuss exactly what they want. So, one thing I would insist on is having a conversation with the client. It's important to know the background of the client, like the work they are involved with because we then know what is a good area for the tattoo and what isn't given their line of work. It's very important for me to talk to my client and discuss their ideas and give them what they want - tattoos are for a lifetime after all.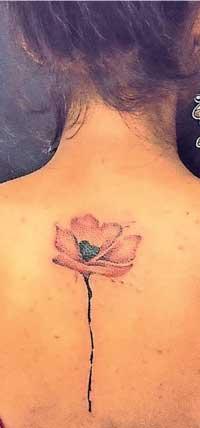 Q
How have you seen the tattoo industry grow over the years?
I've seen the tattoo culture grow a lot over the years. When we started, we didn't even have good machines – we had really low-grade Chinese machines, but now everything is imported and it's of very good quality. The trends have changed significantly. Those days, tribal designs or 'pachcha' tattoos were very famous but only a very few people got it – mostly men actually. But now, tattoos have become a trend in itself and the styles have changed significantly. You either have people going for very minimalistic tattoos or people going for realism and portrait tattoos and we see a significant increase in women coming in for tattoos.
Q
How many tattoos do you have?
Haha, I think I have about 10? I only trust Roanna to do my tattoos so she's pretty much done all of it!
Q
Despite the growing culture, do you think tattoos are still a taboo?
I think there is a greater acceptance of tattoos in today's society specially in work places, which back then, wasn't so accepting. But of course, there are still certain stereotypes attached to tattoos but in all honesty, does it really matter? I personally don't care for the stereotypes. It's your body, as long as you are happy with it - I don't think people can judge.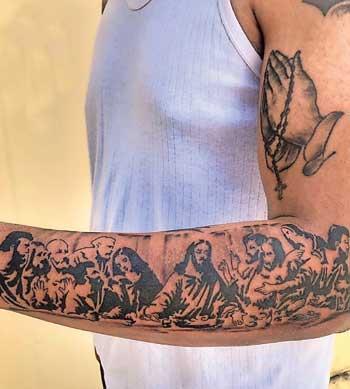 *. Follow Dulaj's work on Instagram @amigos_ink and on Facebook @DulajRanganaTattoos Address: 375 R. A. De Mel Mawatha, Colombo 003
Instagram: @savageartink, Facebook:https://www.facebook.com/savageartink/