---
text Panchali Illankoon
Sri Lanka is not immune to the hype surrounding Japanese cuisine and Colombo has seen more than its fair share of sushi restaurants popping up during the last few years. And what's not to love? It's one of the healthiest cuisines in the world, its exotic and delicious and….it is also not unaffected by Sri-Lankans trying to 'localise' it as we do with every other cuisine. While localising foreign food has been more 'yay' than 'nay' for most cuisines – Japanese is just not one of them.

So finding a restaurant that does good Japanese; the right way, the authentic way, is always a plus in our books! That is why the new Japanese restaurant in Battaramulla, 'Nozomi', left us with a great dining experience on our visit.

Photos
Kithsiri De Mel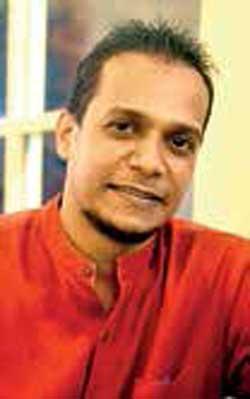 Nozomi's owner, Thushara Ekanayake has been in the hotel and tourism industry for 20+ years and runs a successful tourism business in Japan. His frequent visits to the country and his love for the cuisine is what has translated into the opening of Nozomi – a word that means 'hope' in Japanese. "At the end of the day, everything is about hope, right?" asks Thushara.

A purist when it comes to Japanese cuisine, Thushara opened Nozomi with the strict ethos of serving traditional, authentic Ginza style food and the menu is a reflection of such serving an assortment of sushi, sashimi, maki, nigiri, yaki-soba, gyoza, tempura, ramen and bento boxes. Quality, even at a high operating cost, is important for Thushara and for that reason, many of the food items are specially imported from Japan. From imported Norwegian salmon, Saba (Japanese mackerel) and crab meat to sticky rice, spices, noodles and flour; Thushara wants to serve the best quality food at Nozomi and what he can't import he would only opt for the best in the local market such as export quality Grade A tuna.

Nozomi opened to the public early 2021, and over the course of 6 months; the restaurant has already created a good buzz for itself and even has a few regular clients. The restaurant's head chef Chandana specialises in Japanese cuisine and has previously worked at Hilton hotel.

"The remarkable progress we've made in just 6 months is all thanks to our staff at Nozomi. Headed by Manager Damith, all our staff are very hands-on and very well skilled. While quality of our food is priority, service is also very important to us and our customers always commend us for it" shares Thushara.



Nozomi goes for a very cosy ambience with its warm colours and earthy tones. The restaurant offers both indoor and outdoor seating, separated by a glass divide and also has a private dining area that can accommodate a maximum of 10 persons. The restaurant itself occupies a small space but the layout and the interior are set up artfully to give guests a private but inclusive dining experience. They set the ambience of a Japanese restaurant with their themed décor and Japanese music.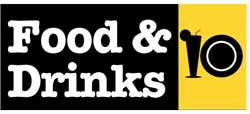 We start off our meal with a warm cup of Japanese green tea (a must!) and a complementary appetiser; batter-fried salmon bites with a sweet sauce to whet our appetite. Snacking on the salmon bites, we picked out the dishes we wanted to try off their menu;

Sashimi: Maguro (Tuna) and Sake (Salmon)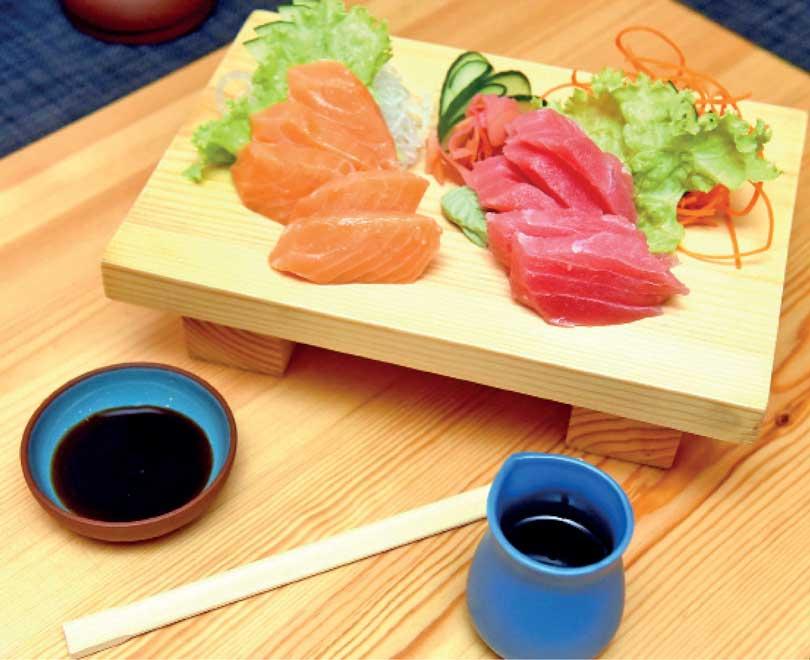 With the promise of quality fish, sashimi was a must try. While we can't profess to be experts on good fish or bad fish, it was clear from the taste that the raw fish was fresh and of quality. The salmon and tuna were cut into sizable pieces and melts into your mouth when eaten. It also didn't have a bad smell nor did it taste as fishy – which are usually good indicators of fresh seafood.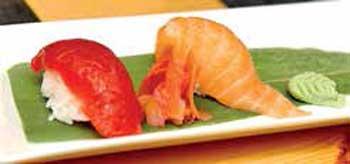 Nigiri: Maguro (Tuna) and Sake (Salmon)

Nigiri is a hand pressed sushi with thinly sliced raw fish topped over vinegared sticky rice. The vinegared sticky rice added a hint of sweetness and tang to our rice while allowing the salmon and tuna to dominate with its fresh and natural flavours. Just a small dip into the soya sauce and a smidge of wasabi tied the dish together.

Crispy Salmon Maki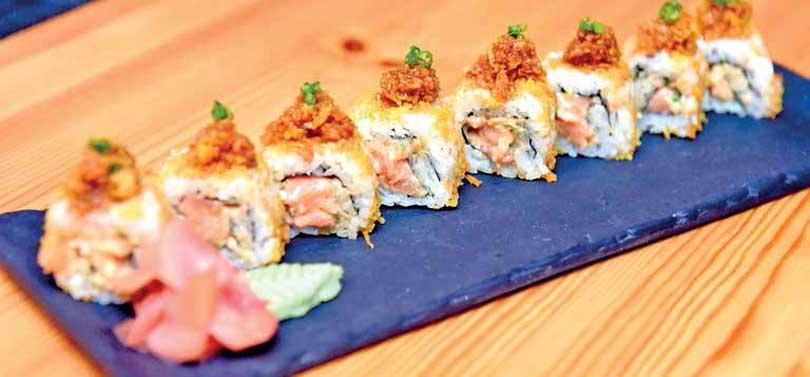 This dish was wiped clean from the serving tray just minutes after it was brought to our table. This was absolutely yummy goodness and a dish too good to share. The maki had a delectable fresh salmon filling, topped off with golden-fried, crispy rice flakes and tempura and a spicy sauce on the side that was just so good. We'd recommend this any day.
---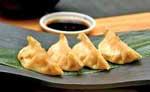 Chicken Gyoza

A portion of the Gyoza has 4 pan fried dumplings stuffed with minced chicken and served with a special ponzu sauce – a tangy soy sauce. The dumpling wrappers are made inhouse and they were some of the thinnest wrappers we've eaten. They were also very generous with the chicken stuffing so even a portion of 4 dumplings was quite filling.
---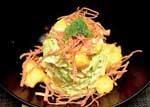 Crispy Volcano Salad

The crispy volcano salad is a theatrical dish which had a lot going on (hence the name volcano, we presume). The salad has tempura prawns, crispy crab stick meat, iceberg lettuce and apple mixed together in a creamy spicy mayo dressing and topped off with a heap of tobiko. It's a fun dish that is very rich, and we would have better enjoyed it as a standalone order.
---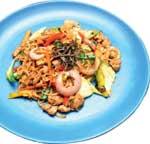 Chicken Yakisoba

This classic Japanese stir fry noodle dish with chunks of chicken and vegetables was a great choice of flavour as our ending dish. The yakisoba noodles is made of wheat flour and is pretty similar to the texture of ramen noodles. The yakisoba sauce made sure the dish was the right balance of sweet, savoury and tangy.
---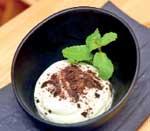 Matcha Ice Cream

Nozomi makes their own range of ice cream flavours and we couldn't resist trying it out for ourselves. The ice cream is very creamy and we loved the soft undertones of the matcha flavouring in our ice cream.
---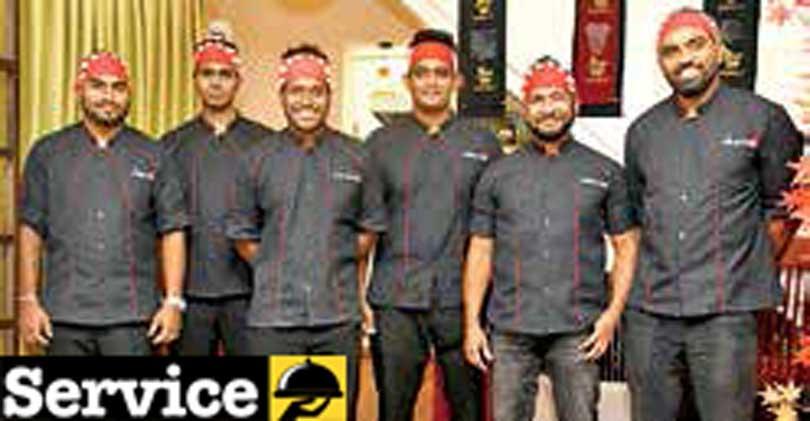 Nozomi operates with a team of 9 staff who are all very polite and accommodating. Our server was cheerful and friendly; ensuring a seamless process of having our order prepared to be served one after the other. He would also constantly top up our pot of green tea when it ran cold and would occasionally stop by our table to ensure everything was alright.

It's always a good dining experience when the food matches your expectations, and we enjoyed our dinner at Nozomi. As promised, the fish was of quality and the food remains authentically Japanese. As a new restaurant in the Colombo food scene, we hope that Nozomi continues to offer consistently good food in the future.

Restaurant Tip: Nozomi is BYOB!