---


The much anticipated Mrs. Sri Lanka World 2020 pageant ended up in a melee after the crowned contestant was de-crowned following a 'mishap' with eligibility criteria. The gala event that took place at the Nelum Pokuna Mahinda Rajapaksa theatre attracted a crowd mainly representing the beauty industry. After months and months of training, 20 contestants were selected to face the grand finale.
Origins of the Mrs. World pageant

The concept for Mrs. World has its roots in one of the oldest of all competitions – Mrs. America. Mrs. America created in 1938 was the pageant celebrating the uniqueness of the married woman, her family and community. The contest has always focused on various aspects, like beauty and charm, but also featured a plethora of contests on many different aspects of home economics. The contest has been one of the very few pageants for married women in the recent past. In the old days, many women would have been disqualified from entering contests if they were married.

Sri Lanka produced a Mrs. World back in 1984 when Mayoress Rosy Senanayake was crowned with the coveted title. Back in 2019 Sri Lankan born Caroline Jurie was crowned Mrs. World making her the second in the list of married Sri Lankan beauty queens.

Emergence of beauty pageants in Sri Lanka

Sri Lanka witnessed its first beauty pageant in 1953, known as Miss Ceylon and is considered to be the oldest of its kind. Manel Illangakoon was Ceylon's first ever representative at Miss World who achieved Sri Lanka's highest placement at the coveted pageant as third runner up. Apart from main beauty pageants including Miss World, Miss Earth, Miss Universe, Miss Asia Pacific International, Sri Lanka has now witnessed many other beauty pageants which have come under much scrutiny. At a time when body shaming and colourism has been frowned upon by groups voicing for equality, these groups are also of the view that beauty is only in the eyes of the beholder. The lack of a regulatory body has been identified as the main reason for the emergence of all sorts of beauty pageants and ad hoc selection processes. Favouritism, and harassment are serious allegations that have in most instances been dismissed. While many believe it to be a money spinner, many young girls also feel it fit to have their appearance judged or critiqued. Today there are many pageants that lack professionalism.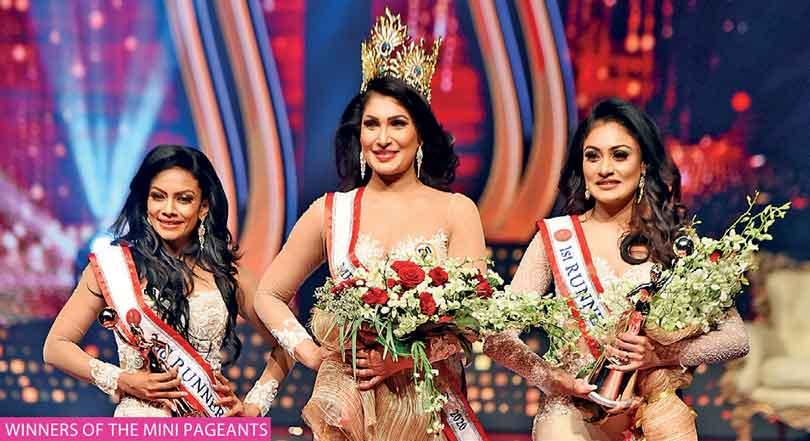 Mrs. Sri Lanka World 2020

With Caroline Jurie being adjudged Mrs. World 2019, Sri Lanka was yet to produce a representative to be sent to Mrs. World 2020. Mrs. Sri Lanka World National Director Chandimal Jayasinghe in January announced that the much awaited pageant will take place this April. After a hefty selection process, signing of agreements with sponsors, partners and even with contestants, the run up to the grand finale continued for days at various locations in the country. With 12 mini pageants to judge the best in various mini pageants, the contestants were fine tuned in terms of fitness, grooming, personality, communication and other aspects. Judges for the finale included Ramani Fernando, Dhananjaya Siriwardana, Stephanie Siriwardana, Christina Pieris, Shanika Arsecularatne, Mrs. India World 2016 Mohini Sharma and Madhimalar Muralitharan.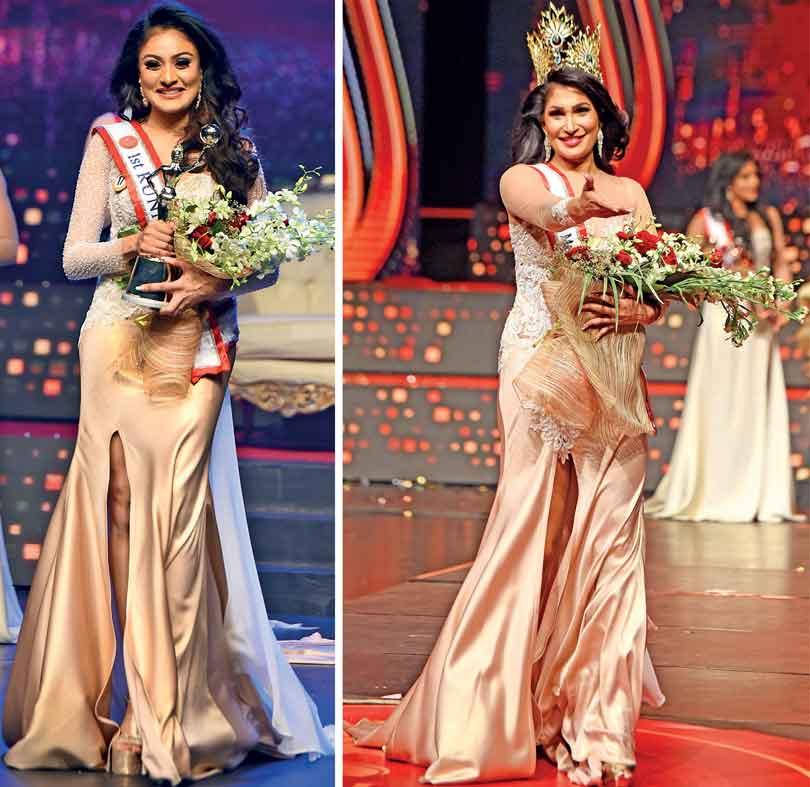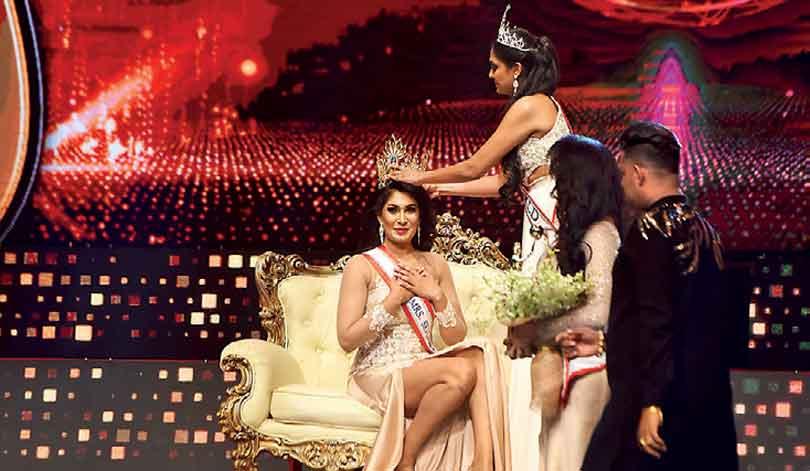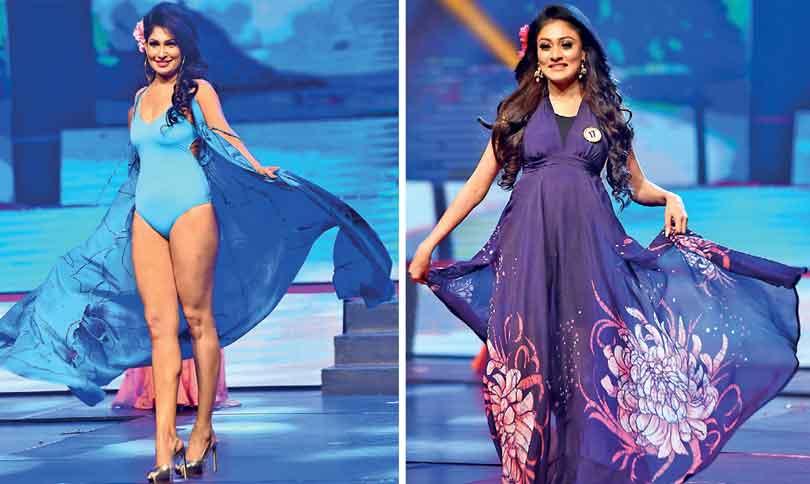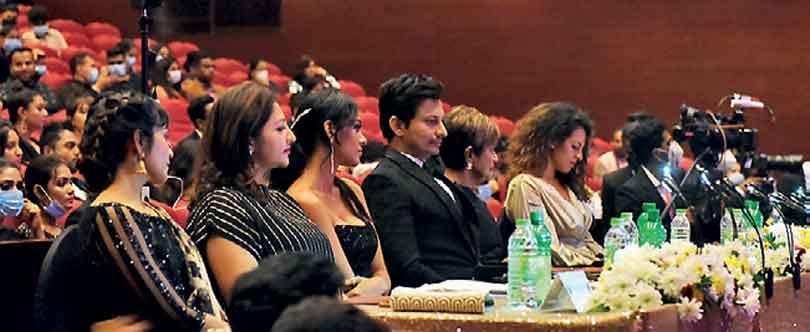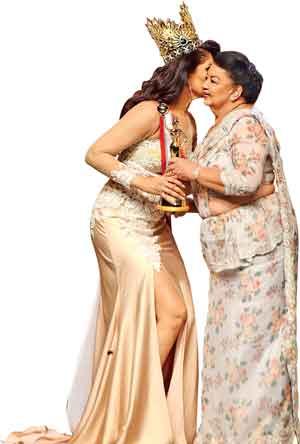 The brawl

Reigning Mrs. World Caroline Jurie crowned the winner and the winning moment was graced by the presence of Shiranthi Rajapaksa and Colombo Mayoress Rosy Senanayake. However as soon as Pushpika took her first walk as Mrs. Sri Lanka World 2020 and the announcers called it a day, Jurie stepped back on to the stage and announced that as per selection criteria, a divorced contestant cannot wear the crown. What followed was confusion. The crown taken off the contestant with Chulpadmendra storming in to the scene, the crown being placed on the first runner up, the new winner being congratulated and De Silva making a hasty exit. The incident was considered unprofessional as well as an insult, with many commenting that it could have been handled more diplomatically. The social media frenzy was to be expected, with lines clearly divided and sides taken. The event organisers announced that the crown would be returned to Pushpika. At the time of going to print the press conference was still in progress.
Appalled by the incident

In his comments to Daily Mirror Life, Mrs. Sri Lanka World national director Chandimal Jayasinghe said that when De Silva appeared for auditions there was evidence to prove that she wasn't divorced. "We checked for all qualifications prior to selecting all contestants. All 20 contestants also signed a legal agreement with the organisers confirming that they have met all eligibility criteria. On the other hand Caroline Jurie was heading judging panels since the beginning of this pageant. Therefore she had ample time to rectify any issues. Even the main panel of judges had mostly her contacts. I only invited Dhananjaya Siriwardana and Shanika Arsecularatne."

He alleged that there was 'something' going on. "We will be making an official complaint to the world body to take stern action against Caroline Jurie for her inappropriate behaviour," he added.
comments
Towards the end of the event a few guests shared their thoughts with us :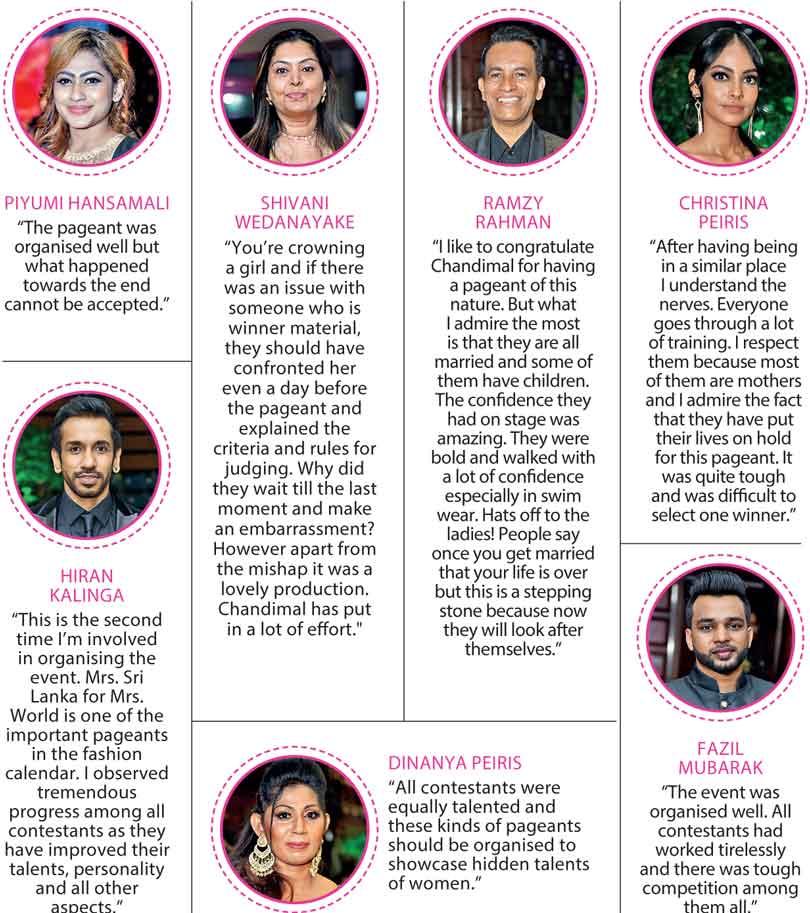 After the show..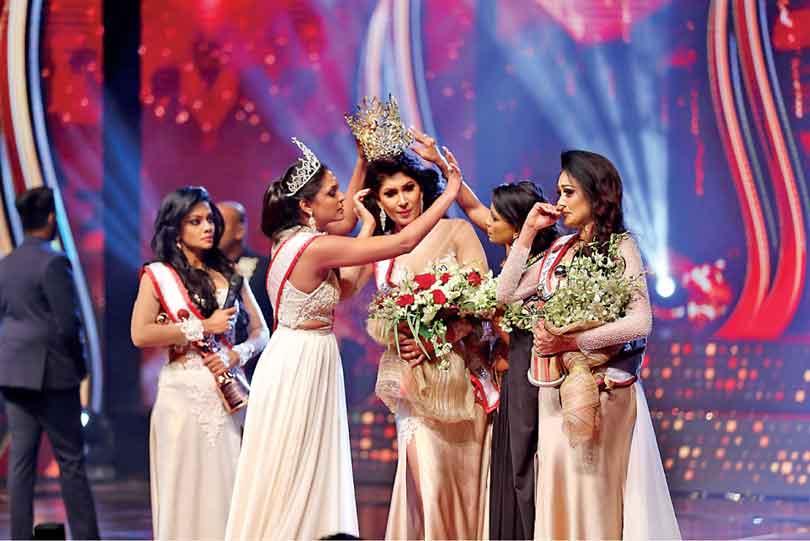 Following the incident, contestant no. 20 Pushpika De Silva claimed that she had suffered head injuries and was reportedly admitted to hospital. Meanwhile, Pushpika's husband took to social media stating that their divorce is in the process of being finalised. Concerns were then raised as to how she could represent the country at the International pageant if the divorce gets finalized prior to that pageant. However, on Monday evening the event organisers announced they would re-crown Pushpika as Mrs. Sri Lanka World 2020. A press release by the world body mentioned that the actions by current title holder Caroline Jurie go against the Mrs. Sri Lanka code of conduct as per predetermined regulations she is obliged to follow during her reign. The statement further states that Chandimal Jayasinghe should request a personal statement from Jurie apologising for her conduct.
Pix by Manoj Ratnayaka