---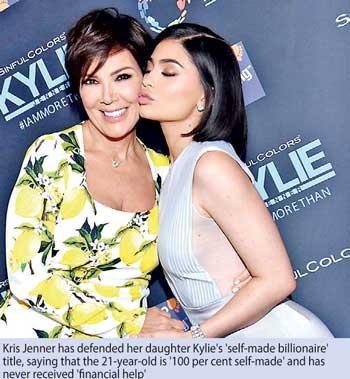 Kris Jenner wants to end the debate over whether her daughter Kylie Jenner is really a 'self-made' billionaire. The 63-year-old reality TV matriarch insists that Kylie, 21, is '100 per cent self-made' and never had any financial help. 'She saved up her own money and built this amazing business and I just feel like there's nothing not self made about that,' Kris told Refinery 29.

Earlier this year, Forbes magazine ran a cover calling Kylie 'The Youngest Self-Made Billionaire Ever,' estimating that Kylie Cosmetics is worth $900 million alone. The title certainly sparked debate, with many arguing with Forbes' definition of self-made — sure, she may have earned it instead of inherited it, they said, but didn't she get the money and influence to start that business from her rich and famous family?

But Kris insists that no one gave Kylie a dime and she fully earned being called a self-made billionaire. 'I feel like she's 100% self made in the true sense of the word,' she said. 'She's been independent her entire life — from the time she was a little girl all the way up to her teens. 'She took the money she had earned working since she was eight or nine years old, and she put that into her business,' she added.

Daily Mail