---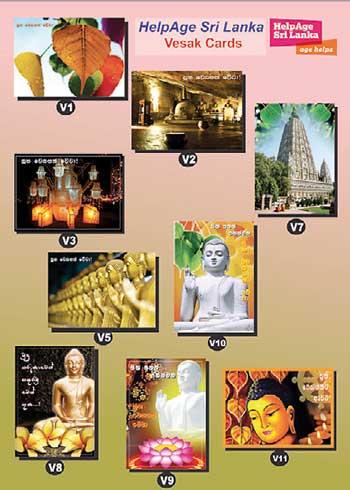 During this Vesak season the name of HelpAge Sri Lanka (HASL) comes to the minds of everybody, especially those who send HelpAge Vesak Greeting cards to their loved ones.
This year too HelpAge has printed over 200,000 new designs of Vesak greeting cards and pocket Vesak cards to coincide with the forthcoming Vesak festival that commemorates the Birth, Enlightenment and the passing away of Lord Buddha

The proceeds from Vesak card sales will be utilised to perform free cataract surgeries for our own underprivileged Senior Citizens.

According to a recent survey it was revealed that many destitute and underprivileged elderly citizens in the country, especially who live in remote and rural areas need cataract surgeries. The survey further reveals that due to the high cost of Cataract Surgeries most of these people are not financially stable to get their surgeries done in private hospitals.

At this juncture when HelpAge Sri Lanka came to their rescue, it is the duty of everybody to extend a helping hand by purchasing HelpAge Vesak Greeting cards to send their friends and relations and support this worthy cause of restoring the vision of elders.

The cards are adorned with colourful graphic designs and depict the important events of Lord Buddha's Birth to the Parinibbana. The cards also depict Vesak lanterns, Bo-leaves, ancient dagabas etc. HASL, Manager Fundraising, Ruchilalani Batuwantudawa said the cards are printed on high quality Linen Boards.

She said those who purchase over 1000 cards will be offered attractive discounts while individuals or institutions that purchase cards could have their official logo printed in the cards free of charge.

Commenting on the free cataract surgery programme, HelpAge, Executive Director, Samantha Liyanawaduge said HelpAge Eye Hospital which is located at Sinsapa Road, Wellawatta, Colombo 6 (Opposite Savoy Cinema ) perform 20 to 25 free Cataract Surgeries a day and has already performed over 35,000 Cataract Surgeries up to date.
Cards are available at all leading Super Centres, Book Shops and also at HASL Head office at no- 102. Pemananda Mawatha, Raththanapitiya, Boralesgamuwa.
For further details
contact- 0114926358 , 0114926948
and 0112803752-4.