---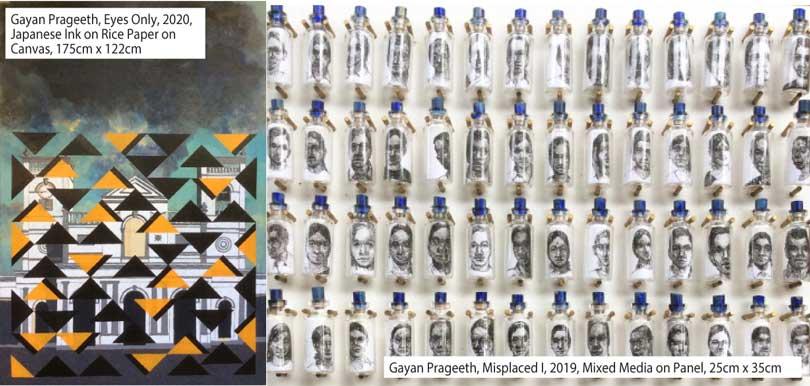 Gayan Prageeth's latest exhibition, titled Eyes Only, revolves around the developments of the development of politics and corruption in Sri Lanka post-war. His thought provoking use of intricate illustrations of destruction and imagery illustrating these stories makes these art pieces distinct and interesting for the viewer. The floating images presented upon a surrealistic backdrop create dream like images, intricate and beautiful in their nature, perhaps as an intentional juxtaposition of the narrative and the implications of beautification. In this series the artist incorporates his geometric and realistic painting styles in surrealistic visuals that provide a critical and analytical view. The works, in various approaches, document the development of recent events tainted by corruption, war, ethnic conflict and disappearances. His canvases are a juxtaposition of delicate illustration and intense conceptual work that lead the viewer into a sensitive debate of current affairs.

Gayan Prageeth was born in 1980 in Horana, Sri Lanka. He holds a Bachelor of Fine Arts from the University of Visual and Performing Arts in Colombo, Sri Lanka. Soon after graduating the artist presented his first solo exhibition of works at Paradise Road Galleries, Colombo in 2010 featuring a series of mixed media works on paper on canvas titled 'Paradox'. The artist exhibited his second solo show with Paradise Road Galleries in 2013 and has since presented three solo exhibitions of work at Saskia Fernando Gallery between the years 2015 and 2017.
In 2008, 2011 and 2017 he was awarded in the 'Best Painting' Category by the State Art Festival organised by Ministry of Cultural Affairs. In 2017 he also received an award in the 'Best Installation' category for the festival. In 2008 and 2012 he presented his work in the Asian Art Biennale in Dhaka, Bangladesh. In 2016 he was also selected to participate in the Colombo Art Beinnale: Conceiving Space curated by Alnoor Mitha.
His thought provoking use of intricate illustrations of destruction and imagery illustrating these stories makes these art pieces distinct and interesting for the viewer.

In 2011 and 2013 he participated in the SAARC Artist Camp held in Sri Lanka and the Maldives. In 2016 he participated in the residency 'Insight of Chain' organised by the Cultural Ministry of China in Beijing.In 2020 he visited a residency organised by the Sri Sri University in Bhubanesvar, India under the theme 'Colour Beyond'.

In his 2016 exhibition titled 'Since 1983', Prageeth began exploring installation, with a subtle link to the ready-made, transforming manufactured steel buckets into time critical objects. In contrast to the political carnival portrayed in Prageeth's previous exhibition 'Extravagance', these new works illustrated the turmoil of the eruption of the civil war through installation and geometric symbolism. His works have since moved further into controversial politics facing the island over the past years. The subtlety with which he approaches his subject combined with a strong detail in his technique make him part of the growing trend of artists choosing to use contrast as a mechanism of representation in their art.

In 2018 the artist presented his works with Saskia Fernando Gallery at Art Dubai and in 2019 he was included in the group show Crossing Place, a collaborative exhibition presented in Los Angeles by Baik Art Gallery with Saskia Fernando Gallery.
Gayan Prageeth's exhibition will be on display to the public at Saskia Fernando Gallery.
No. 41, Horton Place, Colombo 7. Open 10am to 6pm.