---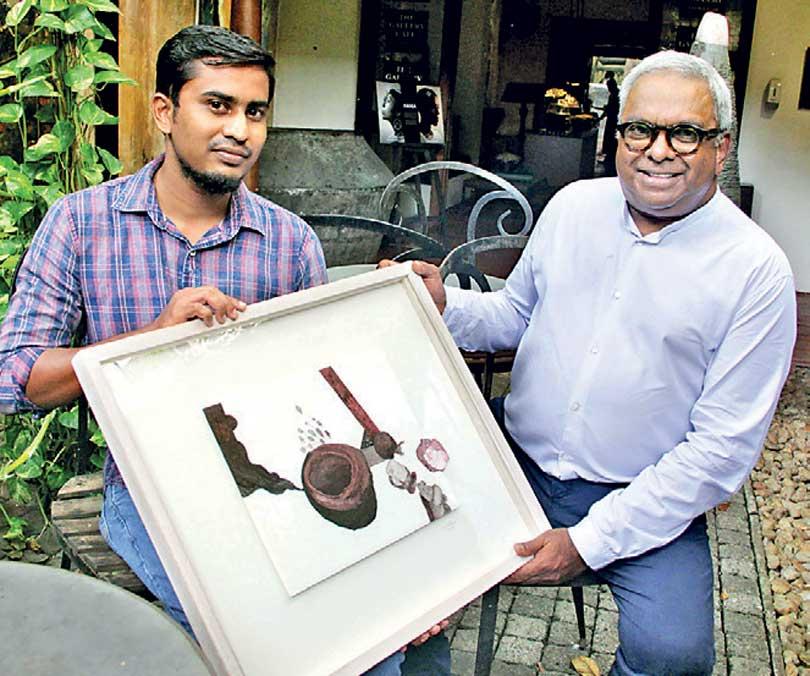 Artist with Shanth Fernando

Connoisseur and collector of all things beautiful; Shanth Fernando will host and present artist Rupaneethan Pakkiyarajah at the Paradise Road Galleries from 1st April. Born in Batticaloa in 1991 Rupaneethan Pakkiyarajah is a visual artist and teacher of sculpture and drawing at the Swami Vipulananda Institute of Aesthetic Studies of the Eastern University of Sri Lanka. Hailing from a family of artists and dramatists Rupaneethan has been exposed to many outside experiences and international artists, all of whom have shaped his art . His work depicts landscapes and land based conflicts, alongside the construction of identity in Sri Lanka. His work observes how landscapes can embody caste, class, race and religious identities, but also offer space for difference and interdependency between people and the possibility of collective identity where connections can be forged across borders and divisons.

Q
What is your passion? What drives you?
My passion is ART. I really enjoy doing art using a range of different materials, and I seek to share my sensations through these works to both national as well as international audiences. I also love teaching art, and I put a lot of effort and care into being an effective teacher at SVIAS, Eastern University. My teaching and art are thus both very important and they are inter twined, thus forming and shaping each other in my practice.
Q
Who and what inspires your art?
In my childhood, I had no idea about who an 'artist' was, but I was inspired by my elder brother, Dayashingam Pakkiyarajah, who was a teacher at a school in Batticaloa. In our family, he was the one who first started to draw portraits, landscapes, and wrote banners for school events. Then, my other brothers and sister were inspired by him and started drawing in their free time. I learned to draw from and alongside my siblings.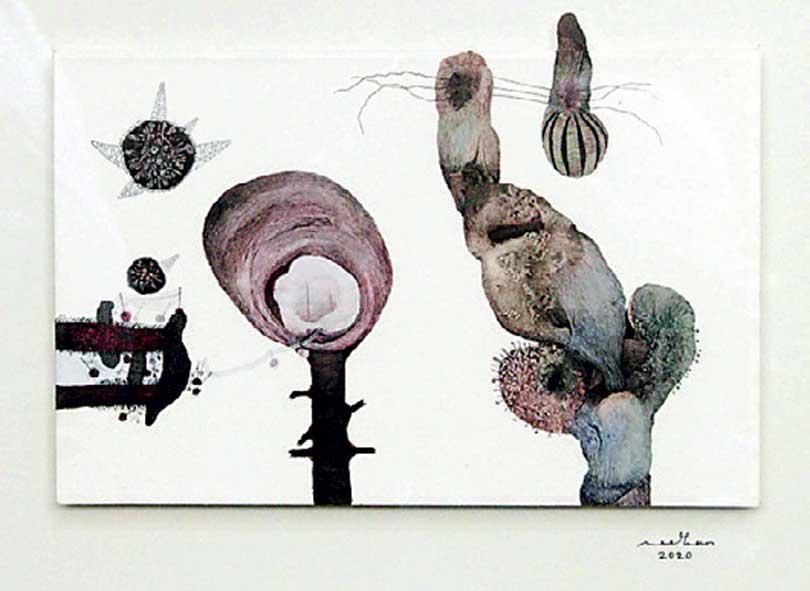 In University, when I was in my first year, Dr. T. Sanathanan, who is a prominent artist and art historian, was the coordinator of the Department of Art and Design, University of Jaffna. He was able to invite and bring senior artists from other areas in Sri Lanka as visiting lecturers . That was a great opportunity for me to learn art from practising artists such as Muhanned Cader, Pradeep Thalawatta, and many others. I also learned art history from Dr. T. Sanathanan. All of these people have deeply inspired me and formed my Art.
My brother, Pushpakanthan Pakkiyarajah, also graduated from the same university and has been exploring his own ideas using different materials, participating in national and international art events. I have learned much from his art and achievements, too.
Where my art is concerned I take inspiration from the landscapes surrounding me. I investigate community-based identity, my own identity, and the role of nature in shaping identity, with the hope of uncovering flexible or permeable spaces capable of connecting both lands and peoples. It is important for me to work with and through different materials; this helps me to resolve the questions that I am faced with and express my thoughts and feelings.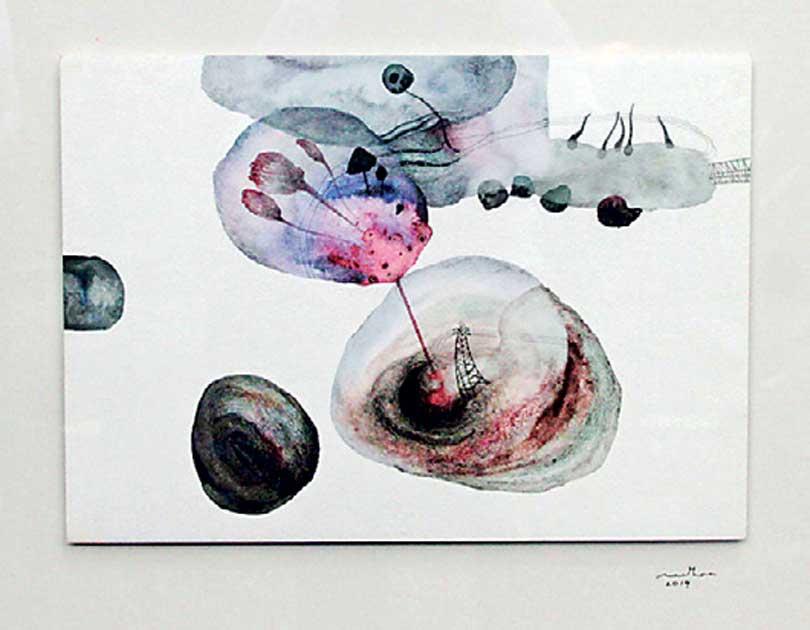 Q
Who was the greatest influence in your life when it came to art?
When I was in my third year, I had participated in a workshop conducted by Dr. Mariah Lookman (from Pakistan). This was a great opportunity for me to learn and benefit from her and to explore different ideas and different art forms. After finishing my studies at the University of Jaffna, I participated in a group show that was curated by Dr. T. Sanathanan in 2018. This was an exciting and important time for my thought process and my art, and I learned many things from him and my friends through discussions that continue to influence my art to this day.
Q
Growing up with the war, how great a role did this play in your art ?
We were displaced as refugees in Batticaloa during the war period, because, we had lived in our village between the camps of the Sri Lankan Army and LTTE earlier and it was very uncomfortable. Therefore, after 1994, we moved to Batticaloa city and we have been living there since then. Displacement and losing your loved ones in the war zone, has influenced my work enormously and my art reflects that sense of loss and displacement. I think many artists today think about the effects of the war and the LTTE. I give life to my experiences during the war through my landscape paintings.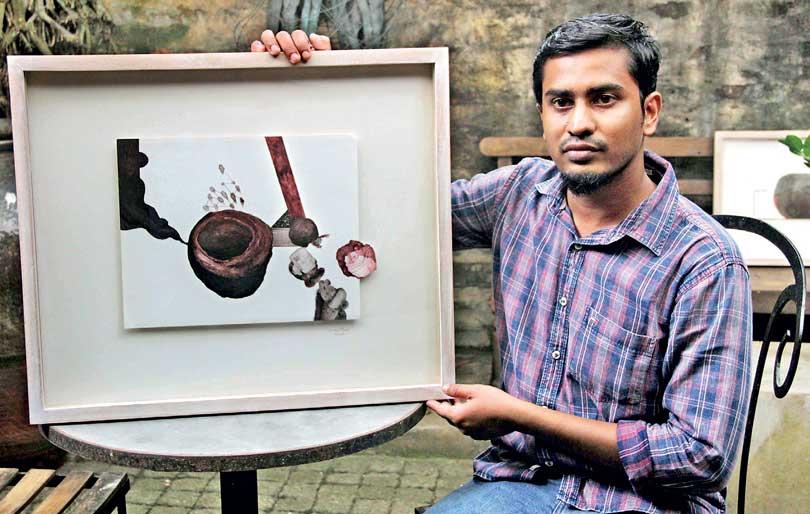 Q
Do you admire the Old Masters and have they influenced you ?
Yes, I do and they have. I love the works of Leonardo da Vinci, Michelangelo, J. M. W. Turner and so on. They have influenced me by their attention to every minute detail . I also love miniature paintings from Asia and that too has influenced me.
Q
Name the painter who has influenced your work the most –
Sri Lankan or foreign Muhanned Cader.
Q
You have a brother in the USA who is a fulbright scholar.This is an amazing achievement having come from a war torn background. How did this come about and do you have plans to emigrate ?
He is a very talented artist, and one who works very hard. He received this scholarship to develop his own knowledge and skills and as well as develop the institution, SVIAS, Eastern University, Sri Lanka. He hopes to return and be of use and benefit to the people of Sri Lanka. I would love to study abroad but I would never emigrate. As an accountable and responsible human being, I feel that I need to contribute to the development of my country.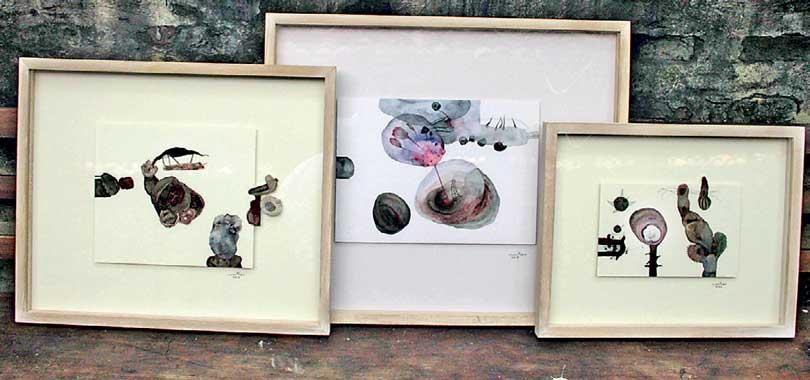 We were displaced as refugees in Batticaloa during the war period, because, we had lived in our village between the camps of the Sri Lankan Army and LTTE earlier and it was very uncomfortable. Therefore, after 1994, we moved to Batticaloa city and we have been living there since then.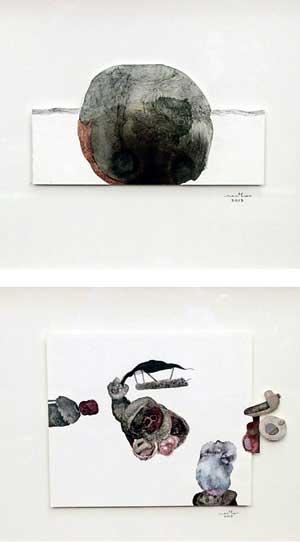 Q
Your grandfather was a well-known dramatist. How great an influence did he have on your family and its inclination towards the world of art?
My grandfather "Nagamanippody" was a very famous traditional dramatist in Batticaloa – the form of this drama being termed Annaviyaar and Kuththu. He learned this from a traditional performer and when he became a good performer and a leader (Annaviyar) of the group to perform at temples, he also started creating many stories based on Hindu mythology. Even though my mother and her siblings were not too interested in practising these art forms, they appreciated his work. I feel my grandfather was a good, creative person, trying to spread his ideologies through his work. However in our family, my siblings and I were more influenced by visual art forms, rather than drama. Having said that, today we see the performing arts drawing their influences from traditional performing art forms.
Q
You are a painter and a sculptor, which is the greater passion?
I feel that both sculpting and painting art forms are important to me, because, each art form helps develop the other and inspires me to cross borders, thus creating new and wondrous visual experiences.
Q
Would you consider exploring other art forms as well?
I usually go around and collect different objects and materials, and take photographs and videos of landscapes. I unearth objects on which I could paint such as waste material and natural materials to make three-dimensional art works. I have also been experimenting and exploring photo manipulation and video art .
Q
The Arts do not receive due recognition or assistance in this country. What in your opinion needs to be done to encourage the Arts as a whole in Sri Lanka?
In Colombo, The Colomboscope, The Threertha Red Dot gallery, and the Museum of Modern and Contemporary Art have been playing a vital role. In Jaffna, the Sri Lanka Archive of Contemporary Art, Architecture & Design has been developing and building a learning environment there. I learned many things from the events that these organizations have conducted. I feel these organizations play a very important role in Sri Lanka and I hope they will expand their programmes to help artists from all around Sri Lanka. However having said that, being a fulltime artist in Sri Lanka is huge challenge.
Q
Do you have plans to open your own gallery?
No, I don't have any plans to build or open my own gallery. But I am into encouraging and supporting students and developing a common building to support artists and artisans in the future.
Q
Are you influenced from what you see and hear or do you draw inspiration from within?
I usually have no plans about my compositions or what the end result will be. I only know that I am going to draw landscapes. Once I start, my subconscious leads to me towards completion. I feel that whatever I see, hear, and feel, they all unite to influence my art and that practice connects both my childhood as well as my current life experiences.
Q
In most countries art is considered a rich man's pastime. Do you think art should be made available to the masses and would this help them in their daily lives?
Art is a language, which should be very open and accessible to people who love it . Many art biennales (Art festivals) are open to all and they have been encouraging artists and audiences to participate and gain good experiences. I have been working with Colomboscope for more than one year and they support artists to create non-sellable works as well. Other than that, I and my colleagues have been inviting artists across the world and have been conducting Art Talks online, where people who are into art join the meeting and enjoy events.