---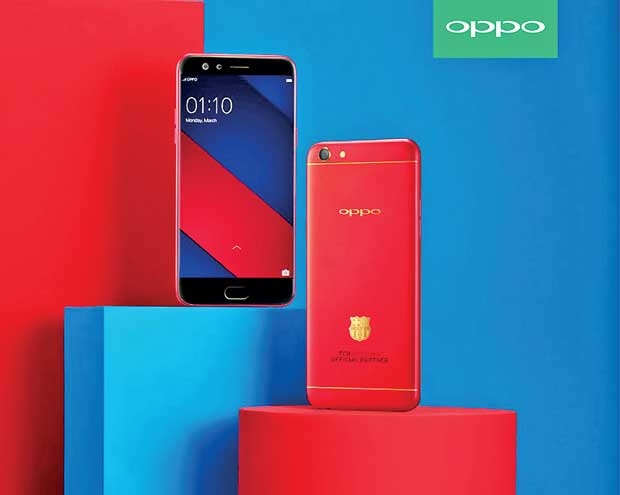 The camera phone brand OPPO has just brought OPPO F3 'FC Barcelona Limited Edition' to Sri Lanka - celebrating one of the most popular football clubs in the world, the FC Barcelona or Barca, a club which has a myriad of prestigious achievements and considered the 'Most Loveable Club'.

Packed with advanced technologies, innovative features and a new Vibrant and sporty look plus design, OPPO F3 "FC Barcelona" Limited Edition is priced at Rs.43, 990.00for the mid-range market.
The limited edition of OPPO F3 FCB will have livery from the famous Spanish football club, the enthusiastic red and gold - the colours of FC Barcelona. Whilst In terms of dimensions and shapes there is no difference, from the design perspective, there is a striking difference with the use of red colour that dominates the body, whereas F3 on the market currently offers only Gold, Rose Gold, and Black.

Barca Red has been chosen as the main colour, matching with gold-plated bands and FC Barcelona logoon the back with a golden accent and reads 'FCB Barcelona Official Partner' at the bottom. The red and gold comes together to meet the classic fashion trend.

With vivid, bright and all metal red body, every detail of the red and gold comes together to give an impression of FC Barcelona spirit and young fashion. Based on Barca red, OPPO has taken significant effort to find a right and bright color value to show the spirit of youth. As a result, the red seen in the limited edition is so fresh and vivid to reflect the passion, high spirit and optimism. Meanwhile, two thread-thin metallic bands have been widened to achieve a perfect proportion, with a customized golden painting technology.

The golden FC Barcelona's logo is lying in the back, aligned with the golden bands and what is truly fascinating to note is that the logo is made of 18 carat gold. The red colour is apparently interpreted as a reflection of the spirit of the Blaugrana, which became the pride of Barca.

Every detail of the red and gold comes together to give a perfect limited edition for FC Barcelona spirit and young fashion. It is not just that the packaging is different from the original F3, but from the wallpaper onwards it's exclusively Barca-ish.

'In the light of the victory of FC Barcelona in the ICC 2017, we are delighted that we can make football enthusiasts of Sri Lanka more closer to a world-class performance, which is what makes this launch more special, said Tom Zou, Chief Executive Officer of OPPO Sri Lanka.

'We're proud to be a global partner of one of the most widely supported sports teams in the world. Our OPPO F3 FCB limited edition fuses sport with technology to deliver a phone not just for die-hard fans of FC Barcelona but for all those who appreciate what great sportsmanship could bring about to the world', he further added.