---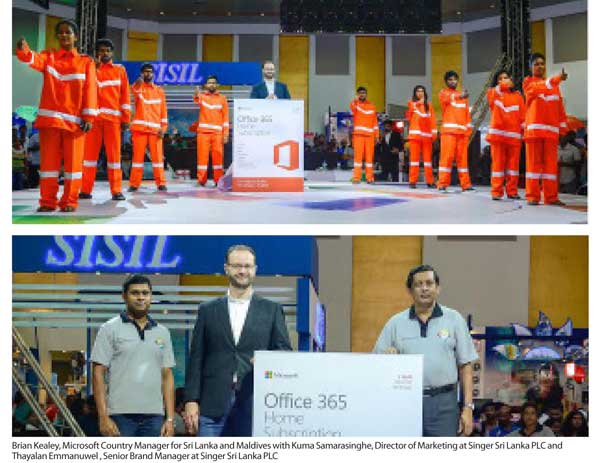 Microsoft Sri Lanka announced the launch of the Office 365 campaign for the consumer market at the Singer Lifestyle Fair and Exhibition 2016.

Participating at the biggest consumer fair which had footfall of over 1,000 a day, Microsoft engaged the audience in a flash mob which resulted in event attendees pledging to use genuine Microsoft Office software. The campaign highlights the features of Word, Excel, PowerPoint,One note,Onedrive,etc and illustrateshow Office 365 helps improve efficiency and productivity.
"Individuals themselves are more digitally active at home than they are at work therefore our consumer market is as important as our commercial market. In fact, the CEO of Microsoft Satya Nadella announced in April this year that there were projected figures of 22 million consumers and 70 million commercial customers on a global scale. Office 365 for home allows the family to use genuine licenses that are secure and are accessible on 5 pcs, 5 tablets and 5 phones and only costs less than Rs. 1500 per month. As we venture into new markets and influence more businesses, the best practice starts at home and we encourage everyone to invest in Office 365to increase productivity," said Rena Chai, Chief Marketing and Operations Officer, Microsoft South East Asia New Markets.
The Office 365 campaign will be shown on social media channels, movie theatres, and retail stores such as Singer, Soft logic and Microsoft stores. The software package will be available at Singer and Softlogic outlets island wide as well as the Microsoft online store. The Office 365 home and personal package includes applications such as Word, Excel, PowerPoint, OneNote, Publisher and Access. It has Easy Smartphone access, Skype, additional OneDrive storage of 20 GB and is up-to-date with an easy subscription. Accessible on multiple devices, Office 365 is available for Android, Mac OS and Windows. With constant service updates, Office 365 is a commonly used software that equips customers with the right resources to get any job done.

Singer and Microsoft have been partners for many years and this new addition to Singer's software product portfolio will strengthen this partnership further.