---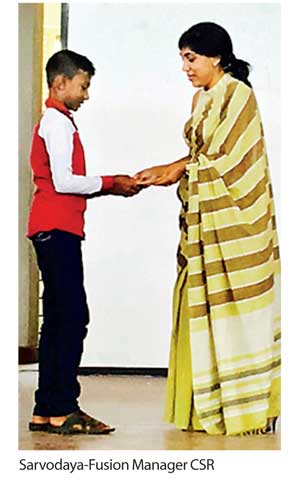 The global demand for technologically-advanced products and services has risen, creating more opportunities for jobs in the IT sector. In line with that, Microsoft together with Sarvodaya-Fusion has initiated a project to educate 5,000 youth from rural areas around Sri Lanka in computer science.
Focusing on the areas of coding, computer application and computer science, youth from Gampaha, Ratnapura, Kandy, Kurunegala, Badulla, Monaragala, Jaffna, Anuradhapura, Polonnaruwa and Matarawill be educated in three phases over the span of a year.

"As a developing nation, Sri Lanka is in the running to be a technology-savvy leader in the South Asian region. This project in particular will prepare youth and equip them with basic IT skills, paving the way for our nation to be tech-savvy and on par with global standards in the future," said Telecommunication and Digital Infrastructure Minister Harin Fernando.

Development of outskirts in Sri Lanka has become a subject of interest both internationally and locally. To stay on par with the globally changing ICT landscape, Sri Lanka too has to be more equipped with advanced IT skills, especially in computer science. The project commenced in Kurunegala on September 17, 2016 and hosted 300 youth and parents at the Kuliyapitiya
Town Hall.

The development of IT skills has been an ongoing conversation worldwide and one that is very relevant to Sri Lanka as well. As researched by CompTIA, the demand for ICT skills is expected to reach US $ 3.8 trillion in 2016, from US $ 3.7 trillion the previous year.

With a mission to enable digital access, digital literacy and digital benefits, for every person in Sri Lanka Sarvodaya-Fusion Sri Lanka General Manager Isura Silva said, "With over 10 years of experience in the field of ICT, I understand the importance of ICT skills for all youth. As we commence this project, we hope to have a positive domino effect in the 10 chosen districts and create an ICT ready labour force in the coming years."

Microsoft, together with Sarvodaya-Fusion is making a concerted effort to positively impact rural areas of Sri Lanka with ICT skills and knowledge. Microsoft Sri Lanka has given on-going support in IT adoption for national productivity and contributed immensely to the education sector in Sri Lanka.
"Abiding by our value to achieve national productivity and trust through digital transformation and innovation, under the grant of the cross-company initiative YouthSpark, we have embarked on this project to enrich the lives of the children who lack access to technology. Believing that equality and a better future for Sri Lanka is key, we, at Microsoft, have created platforms to help productivity be achieved at all levels," commented Microsoft Sri Lanka Communications and Community Lead Janakie Karunaratne.