---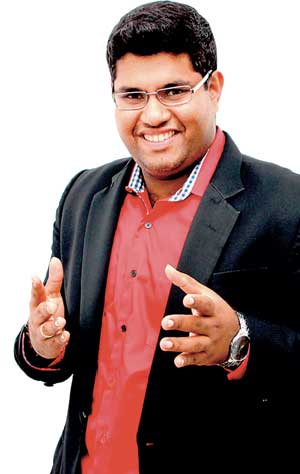 Communication skills coach, 2015 impromptu speaking champion, social media marketing specialist, experienced lecturer and entrepreneur Tharindu Ameresekere will host a first of its kind evening of motivational and empowerment speaking titled "Dream Believe Conquer 2016 – Unleash the Warrior Within". The event will be held on the 21st of July at the Winchester Ballroom, Kingsbury Hotel from 5.30pm to 7.30pm.

The evening will target managers, executives, entrepreneurs, management students and youth leaders who are interested in being inspired to work on their dreams and unlock the next level of their life.Through a series of experience sharing speech segments, the audience would be imparted with the confidence to follow their dreams, believe in them and conquer their life long goals. Companies would benefit from having a better motivated and inspired work force and team members while individuals will be triggered to reach higher and achieve more in life.

The program "Dream Believe Conquer" takes the participants through the 3 main stages or phases they need to follow in order to be successful in their careers or entrepreneurial ventures.Some of the techniques Tharindu will discuss are The Warrior Culture, The Cycle of Dreams, Belief Creed,Conquering theMonkey of Procrastination etc...

Tharindu Ameresekere is the Founder and CEO of Tharindu Ameresekere Consulting, a specialist social media consultancy with a portfolio of over 40 national and international brands.He is also a senior lecturer for CIMA at Wisdom Business Academy. As a toastmaster member he competes regularly in the public speaking circuit and in 2015 won the District 82 impromptu speaking competition which covers Sri Lanka & Tamil Nadu of India. Tharindu'straining experience spans over 12 years and has conducted regional training programs across the Middle East and Asia in both professional exams and professional competency training. His academic work has been recognized at the Global Education Summit in Malaysia as well as at the Global Winter Business Conference in France. He has carried out motivational speaking assignments in organizations across Asia such as Nike and Thai Airways.

For more information and ticket reservations please contact 0775 917914 or email
reservationsdbc@gmail.com